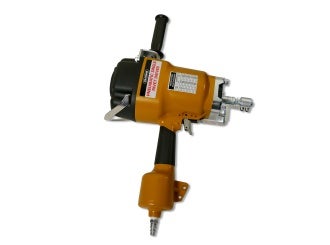 Flexco has announced that its Pneumatic Single Rivet Driver is now compatible with the Flexco BR™ Rivet Solid Plate fasteners and installation tools. This tool, when used in conjunction with the fasteners, speeds up installation by up to 33%.
The driver features a dual handle for balance and ergonomic gripping, a heavy-duty drive rod for high-quality splices, and pneumatic driving power for a robust installation.
A single trigger pull per rivet saves time and reduces worker fatigue. Collated rivets with washers and a specially designed steel guide block assure that each trigger pull contributes to a consistent splice.
Flexco product manager Patrick Mukushina said: "The pneumatic single rivet driver really takes the guesswork out of rivet driving to give users a uniform, long-lasting splice every time."
"The tool allows for more compression of the fastener plates, which results in a smooth and consistent splice that is compatible with conveyor components."
The air-powered, heavy-duty tool is built to last in even the most abrasive conditions, and is protected by a portable carry case that also makes it easy to transport.
BR Solid Plate fasteners are ideal for use in sand and gravel, limestone, crushed rock, hard rock mining and cement. The tool is also compatible with Flexco's SR™ Rivet Hinged fasteners, which are used in surface mining, coal and hard rock, asphalt plants, pulp and paper, sand and gravel plants, and other demanding applications.
For more information on the Pneumatic Single Rivet Driver or any other Flexco products, visit the company website.
---
Image: Flexco Pneumatic Single Rivet Driver. Photo: courtesy of Flexco.
Flexco has announced its plans to exhibit at MINEXPO 2021, held in Las Vegas Sept....