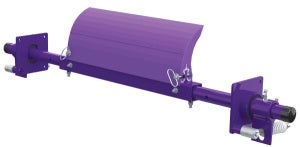 Flexco recently announced the addition of the MHP Precleaner to its line of heavy-duty belt cleaners. The MHP Heavy-Duty Precleaner features the largest, most abrasion-resistant urethane blade offered by Flexco. Multiple material path options and extended pole lengths ensure the cleaner fits each application perfectly.
The large blade on the MHP Precleaner provides an extended life so the cleaner can run longer and more efficiently. A variety of material path options and a faceted profile design with continuous blade edge renewal improves cleaning efficiency throughout the life of the blade.
The molded-in wear line available on all Flexco MegaShear blades makes routine visual maintenance checks easy.
The rugged three-piece pole design on the MHP Precleaner provides additional strength, and extended pole lengths to fit varying conveyor or chute wall widths. Dual tensioners come standard for both spring (PST) and air/nitrogen (PAT) systems.
The MHP Heavy-Duty Precleaner is made from heavy-duty steel with corrosion-resistant powder coating and is ideal for rugged mining applications.
"When combined with the MHS Secondary Cleaner, a system is developed that delivers maximum cleaning power to get the job done," said Ryan Grevenstuk, product manager for Flexco. "In applications where excess water is present, a third component, the MDWS Dry Wipe, can also be incorporated."
Flexco has announced its plans to exhibit at MINEXPO 2021, held in Las Vegas Sept....