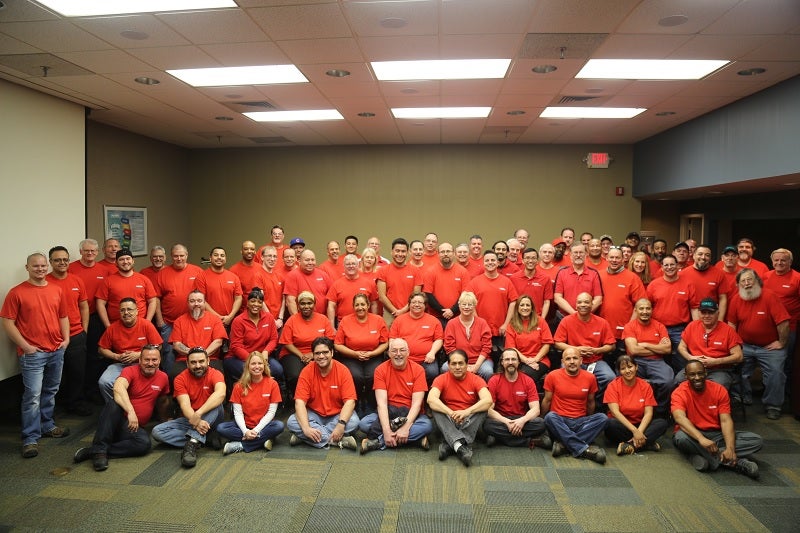 Last week, Flexco celebrated 110 years in business with week-long celebrations all over the world that consisted of special surprises and giveaways, site luncheons, and 'spirit' days, in which employees were encouraged to wear Flexco gear.
When Flexco opened on March 27, 1907, it was founded as Flexible Steel Lacing Company and was located in a small Chicago workshop. It has since grown to become a global leader in providing superior solutions for improving belt conveyor productivity for our customers around the world.
Today, Flexco headquarters are located in Downers Grove, Ill., with two additional locations in North America – Woodridge, Ill. and Grand Rapids, Mich. Flexco also operates subsidiaries in Australia, Chile, China, England, Germany, India, Mexico, Singapore, and South Africa, marketing its broad line of products through a worldwide network of distributors.
"We're delighted to be commemorating this milestone anniversary with a week-long celebration involving all Flexco employees worldwide," said Richard A. White, Flexco president and CEO.
"Although we are all extremely proud of our long tenure in the industry, we are especially thankful for the enduring support and loyalty provided by our customers, the real contributors to our long history of growth and success."
Flexco's vision and underlying values are built on many of the same operating principles put in place by company founders George E. Purple, Albert B. Beach, and Phillip S. Rinaldo when they opened their workshop 110 years ago. The Flexco vision is to become the leader in maximizing belt conveyor productivity for our customers worldwide through superior service and innovation. Company values include great people, integrity, collaboration, innovation, achievement, and commitment to our customers.
A two-time winner of the 'Best and Brightest Companies to Work for in the Nation' in 2015 and 2016, Flexco focuses on six major aspects of an employee's life: family, communications, wellness, improving processes, safety, and learning.
Flexco provides the world's belt conveyors with efficient, safe products, services, and solutions for splicing, belt cleaning, belt tracking, spillage, and slippage.
Flexco has announced its plans to exhibit at MINEXPO 2021, held in Las Vegas Sept....