Cintasa
Conveyor Belt Systems for Bulk Material Handling and Load Transporting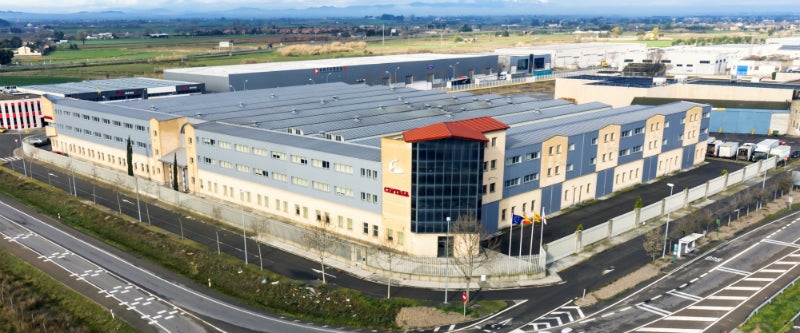 Cintasa's main activity is engineering, manufacturing and installing material-handling systems, transport and warehouse element systems. The company offers conveyor systems that are tailored to the customer's operation, using the most appropriate belt, roller or plate combination to fit the purpose.
Engineering and installation of material-handling systems
Cintasa engineers high-quality, versatile equipment. The standardised designs can be used as they come, or combined and customised according to the customer's operation. The company's research and development team strives to continually develop its products in-line with industry innovations.
Fully qualified Cintasa staff are available to advise on the best systems, materials and designs for the application, the assist in implementation and install the machinery for a convenient and efficient start-up. The experienced team can also recommend modifications and upgrades to improve the efficiency of existing equipment.
Cintasa has years of experience installing material-handling systems for a wide range of different industries and applications, including:
Cement and mining industry
Chemical industry
Aggregates and quarries
Metallurgy industry
Construction and demolition
Alimentary
Manufacturing industry
Concrete, gypsum and asphalt
Public construction
Energy industry
Industrial plants
Recycling and environment
Fixed, mobile and extendible conveyor belts
Cintasa offers an extensive selection of conveyor belt systems, including:
TTL: the lightest conveyor for both fixed and mobile use and not relevant capacities
TTR: a conveyor that can be any length and easily installed up to 250t per hour (t/h) capacity
TCL: a robust model for large loads up to 2,000t/h
TUL: ideal for a mobile, reversible or overland conveyors
TCP: specially designed for recycling industry
TUC: suitable for water treatment plants, with modular and light frames. Stainless steel options are available
TCC: destined mainly for packaging industries and can incorporate automation
Feeder: manages loads from hoppers or silos, shredders or mills
Apron feeder: sturdy and safe with high throughput and uniform feeding
Vibrant feeder: optimum and uniform feeding of the product to the different processes
Elevator belt conveyors and buckets
Cintasa offers two types of elevator conveyor for industrial use.
The TEB conveyor can transport any bulk product with low levels of humidity. The elevator offers many benefits, such as:
Working at angles of up to 90º
Eliminating transfer points by combining horizontal and vertical stretches
Low power supply to save energy
The elevator belts selected depend of the product being transported.
The typical bucket elevator, TEC type, can be viewed in Cintasa's catalogue.
Rolling road tables and curve conveyors
Powered rolling road conveyor belts can be used in all aspects of the manufacturing industry, including assembly lines for consumer goods, finished products, packaging, logistics and interior transport.
Curve conveyors support transport lines, easily change the direction of motion and connect belt lines.
About Cintasa
Cintasa material-handling systems meet the highest standards of quality and service, as all products are engineered and produced by Cintasa and the company continually strives to improve its technology, expand its range of products and make its offerings as adaptable and fitting to a range of applications.
The company has spent the last 40 years growing its business offering to cover elevation, warehousing, treatment of residues and more.