Belle Banne Conveyor Products offers conveyor belt equipment to optimise material-handling systems, focusing on safety, performance, productivity and financial savings.
The company supplies a diverse range of conveyor products, including:
Belt conveyor products – frames and structure, belt cleaners, ploughs, skirting and trackers
Lagging – ceramic and rubber strip lagging
Moulded rubber products – impact and abrasion-resistant rubber and ceramic linings, haul truck liners and conveyor skirt liners
Composite rollers – high density polyethylene (HDPE) and fire-resistant anti-static (FRAS) nylon materials
Mechanical fasteners – light and heavy
Mine asset performance tracking software – proprietary software used to monitor asset performance
Engineered pulleys
Belt conveyor cleaners, skirting and tracking systems
Belle Banne's tried and tested primary, secondary and internal belt cleaners, combined with its skirting systems and tracking devices, deliver improved conveyor performance.
All belt conveyor products are available in mild steel and stainless steel, and with a choice of tungsten carbide and polyurethane blades.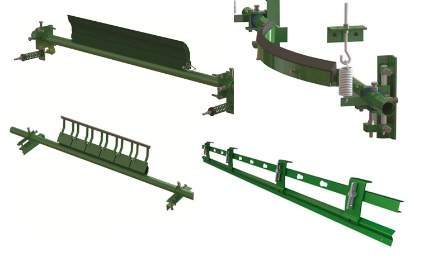 Belle Banne Belt Conveyor Products have been used in the Australian mining and aggregates market since the early 1970s. They are tried and tested for the harsh Australian mining community.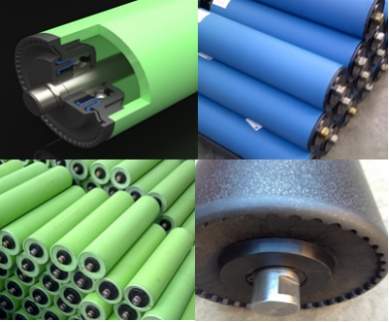 Belle Banne composites have a roll for each application, offering superior performance in areas with high abrasion and corrosion, and where fire-resistance and anti-static properties are required.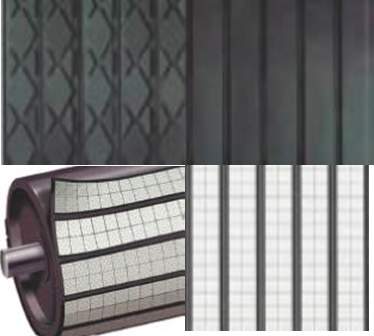 The Belle Banne strip lagging range is designed to suit both workshop and in-situation applications. Wider strip widths means fewer joint seams and rubber lagging roll availability reduces wastage when lagging a pulley.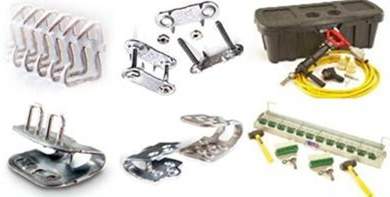 CAI mechanical fasteners are specifically designed to suit applications in the light and heavy-duty industries. Mechanical fasteners are a proven method for splicing belts, as a temporary and permanent splice solution.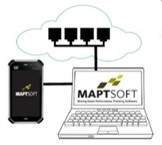 Maptsoft is the ultimate means to inspect, monitor and track asset performance on-site, providing quantifiable data that enables both the customer and service provider the opportunity to optimise conveyor performance.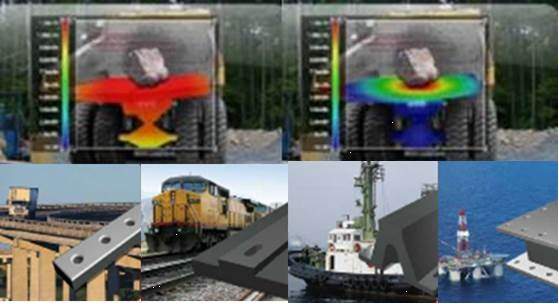 Rubber moulded products are custom built to operate in the harshest of environments, ranging from haul truck liner beds to inflatable chute liners, serving industries such as the mining and aggregates.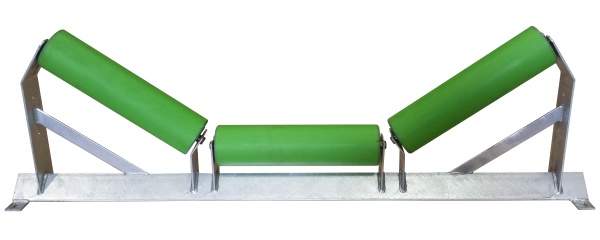 Frames are engineered to suit specific applications. The frames are available in mild, galvanised or stainless Steel, and with composite or steel rolls. Offset or inline configurations are available.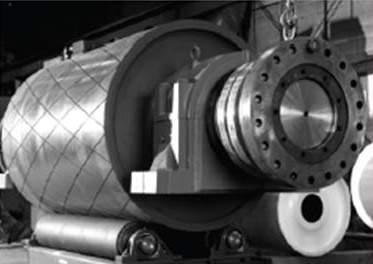 The company provides proven processes and designs. Products are supplied standard with industry-leading three-year warranty, and designed per application, lighter and stronger than competitors.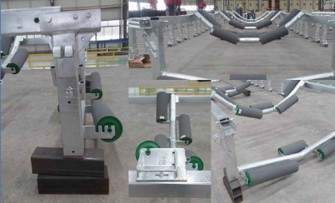 Belle Banne Conveyor Products supplies underground conveyor structure, which is built according to Australian Underground Standards.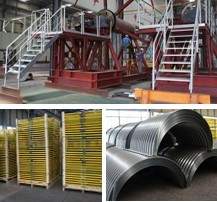 Belle Banne Conveyor Products offers standard and bespoke handrails, stairs, walkways and belt covers to compliment its conveyor structure and frames.
Composite conveyor rollers
Belle Banne's composite rollers have been developed using industry leading composite roll design technology. The design of the product line is based on stringent mining standards, which are constantly used for quality and performance assessments.
These rollers are available in a range of materials, including HDPE and nylon, in both standard and FRAS materials.
Belle Banne Conveyor Products supplies composite rolls in sizes from 114mm to 196mm diameter and any length up to 3,000mm. They are designed to suit client's existing structures and provide additional benefits in safety, weight and power consumption reduction, abrasion, corrosion and chemical-resistance.
Rubber and ceramic pulley lagging
Belle Banne offers high-performance pulley lagging products designed for ultimate performance, while providing product installation flexibility.
Effective lagging allows conveyors to operate efficiently while keeping belt wear to a minimum. The variation of lagging products available ensures compliance with most lagging applications, whether in a workshop or on-site.
Belle rubber and ceramic lagging is available in 250mm-wide strips. The ceramic lagging is designed for specific pulley widths while the rubber lagging is available in 10m and 50m roll lengths, making material wastage negligible.
All lagging products come standard with CN backing, further increasing the adhesion of the lagging to the pulley.
Surface and underground conveyor frames and structure
To compliment the comprehensive range of Belle Banne Conveyor Products, the company now supplies Australian Standard conveyor frames and structures.
The frames and structures are available for both surface and underground applications. All frames and structure are available in a variety of materials, namely mild, galvanized and stainless-steel.
Conveyor accessories, mechanical fasteners and belt tools
Belle Banne Conveyor Products supplies a complete range of conveyor maintenance products. Categories of mechanical fasteners supplied are bolt solid plate, rivet hinged, staple and lacing fasteners.
To ensure a complete, worry-free service, a range of tools for fastener installation is available, including belt cutters, belt skivers and clamps.
Rubber moulded products for conveyor systems
Belle Banne Conveyor Products proudly represents an international rubber moulder for the Australasian region, complementing the company's conveyor system products.
Belle Banne Conveyor Products now offers tailor-made, fit for purpose, moulded products ranging from ceramic and rubber liners for chutes and skirting systems, inflatable chute liners and magnetic patch liners, through to heavy-duty haul truck liners.
Maptsoft mine asset performance tracking software
Mine asset performance tracking is vital to ensure optimal performance of any asset, resulting in increased productivity and a reduction in the costs of asset spares.
The Maptsoft tool enables the tracking of an entire operation's assets, inspections, reporting and maintenance schedules. The scalable software can be deployed across specific sectors or rolled-out across the entire asset collection, including conveyor drives, conveyor components, gearboxes and chutes.
Information is gathered via RFID technology and ruggedised PDAs, so the system is paperless and information can be easily collated, accessed shared and actioned.
Engineered pulleys
Belle Banne Conveyor Products engineered pulleys are globally renowned for exceptional quality and guaranteed performance. These engineered pulleys rely on flexible designs, which distributes loads evenly across materials and components.
Using high-grade alloys and advanced fabrication techniques, lighter pulleys are produced with higher safety factors. The net result is lighter, stronger, fully engineered, infinite life pulleys that utilise modern technology to increase conveyor uptime.
Underground conveyor structure
Belle Banne Conveyor Products offers underground conveyor structure built to Australian Underground Standards.
Complete structure can be supplied as floor-mounted rigid structure, roof-mounted rigid structure and catenary structure. Idler frames can be supplied as fixed or in the garland format.
Belle handrails, stairs, walkways and covers
To compliment the manufacturing and supply of conveyor structure and frames, Belle Banne Conveyor Products can also provide handrails, stairs, walkways and belt covers, in customizable or standard format.
All relevant Australian Standards are adhered to in the manufacturing of these products. These products are available in a variety of materials such as mild steel, galvanized-steel, stainless-steel and aluminium.
About Belle Banne Conveyor Products
Belle Banne's belt conveyor products have been successfully used in the Australian materials-handling industry since the early 1970s. Belle Banne's products are designed to work as a holistic system, ensuring that the correct products are selected for the correct application. They provide optimal conveyor system performance, resulting in increased productivity and lower costs of spares and labour through reduced conveyor downtime.
Belle Banne Conveyor Products aims to supply clients with quality products at industry leading prices, with the support and service that allows these products to perform to their design potential.