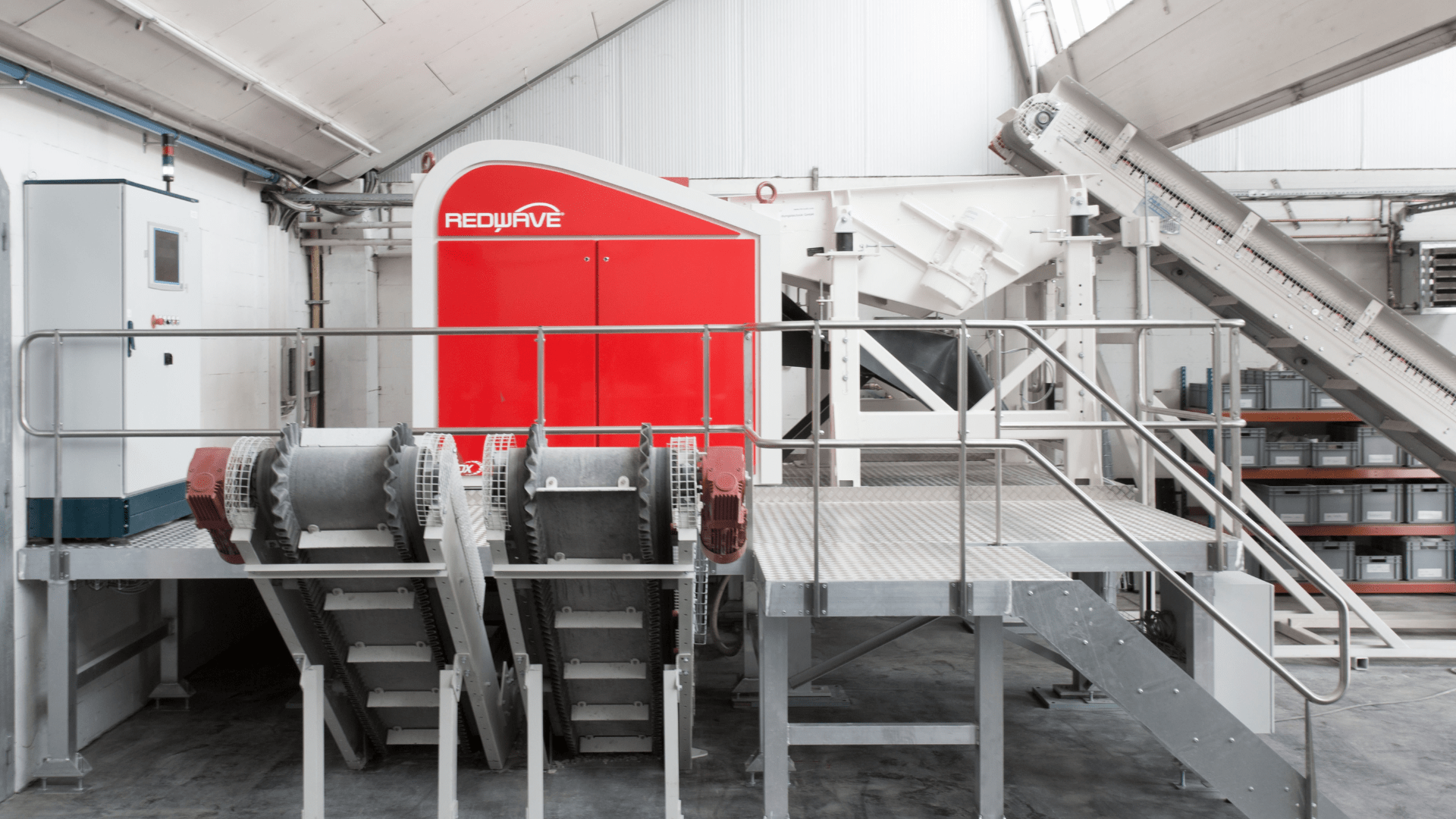 REDWAVE is an industry-leader in the development of innovative and economical solutions in the recycling, waste and mining industries.
Our advanced sorting technologies and systems are used for the efficient recovery of recyclable materials. We not only help our customers to become pioneers in the recycling industry, but also make a positive, sustainable contribution to the planet.
Solutions for the mining industry
REDWAVE's innovative ROX solution was developed for sorting many different minerals, ores and precious stones, such as limestone, calcite/dolomite, quartz, talc, magnesite or lithium in the industrial mineral sector.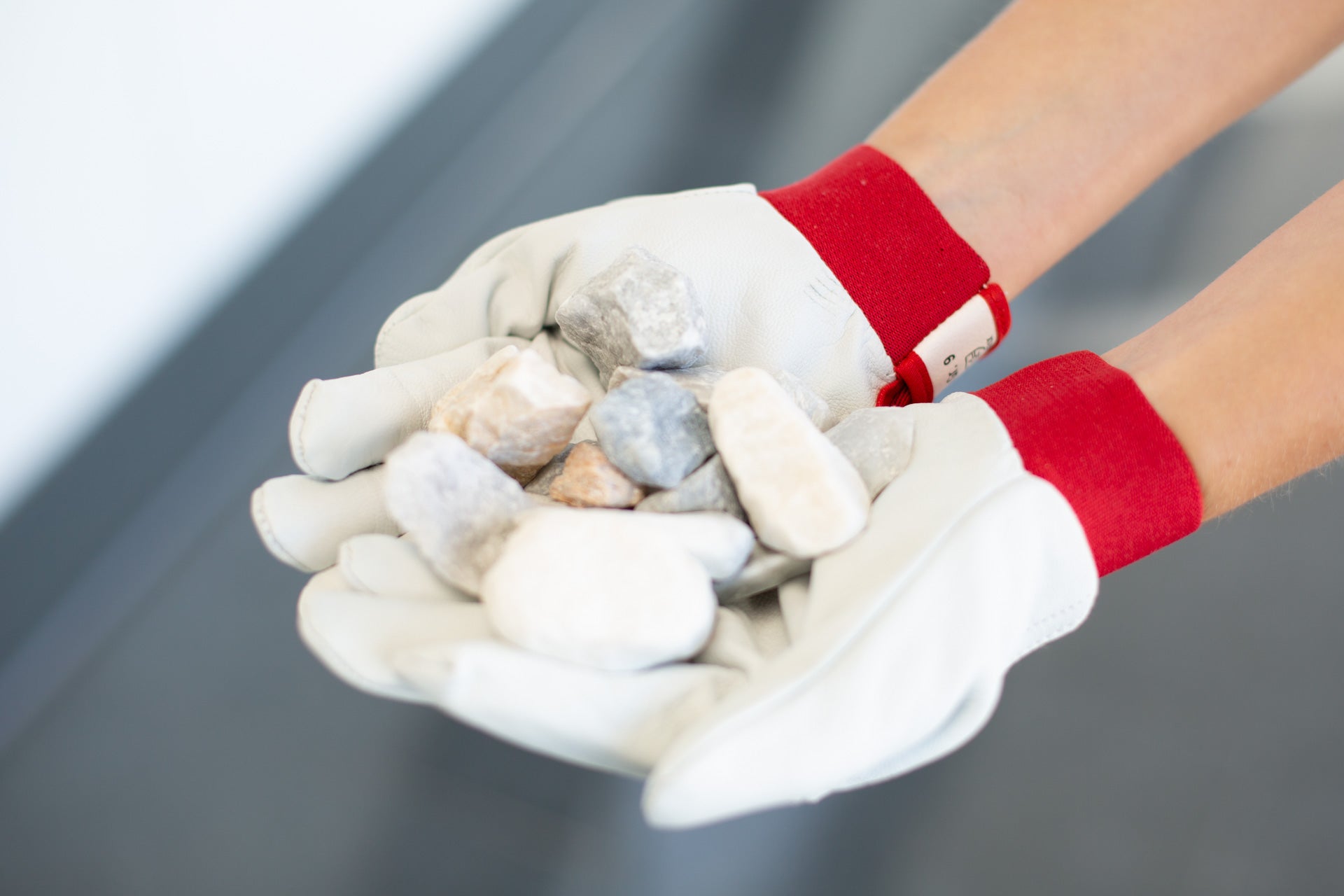 Best quality results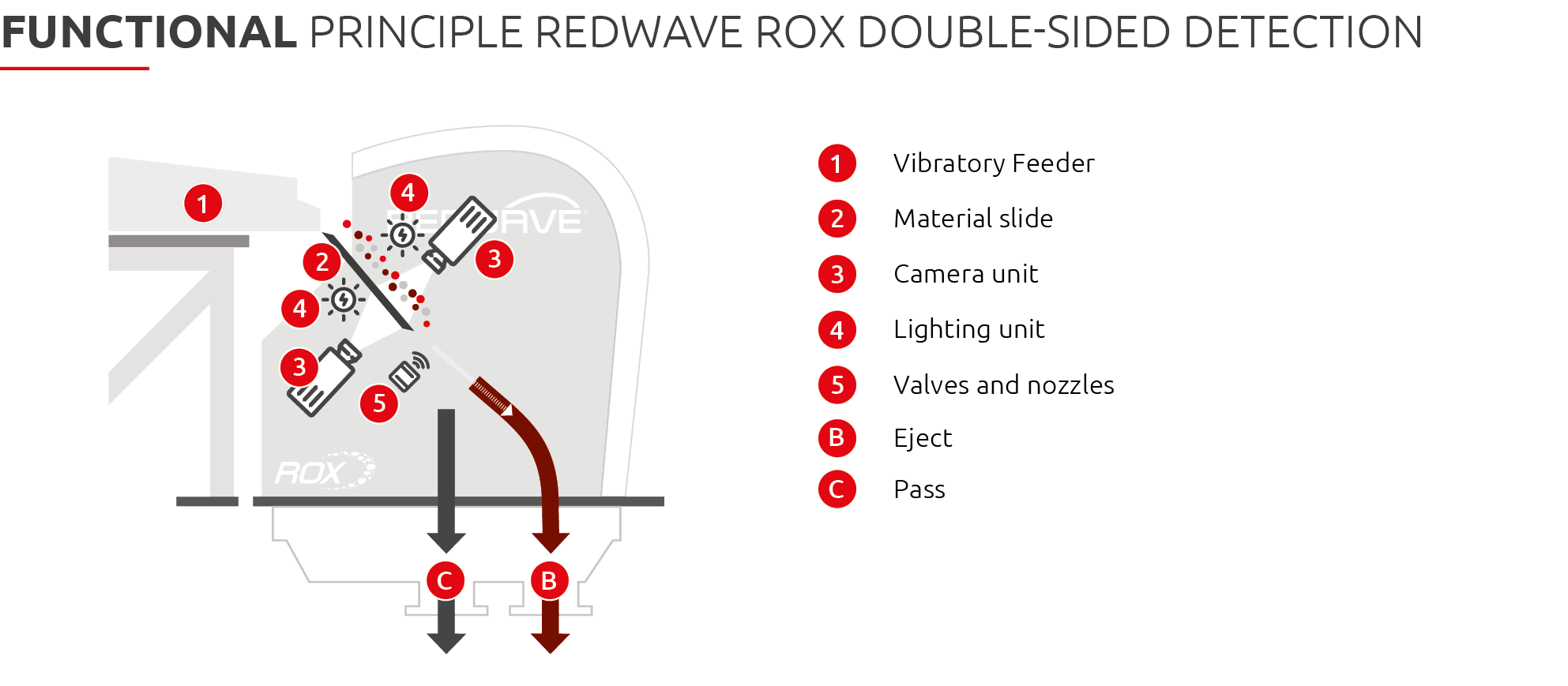 Functional principle REDWAVE ROX double-sided detection
Functional principle REDWAVE ROX one-sided detection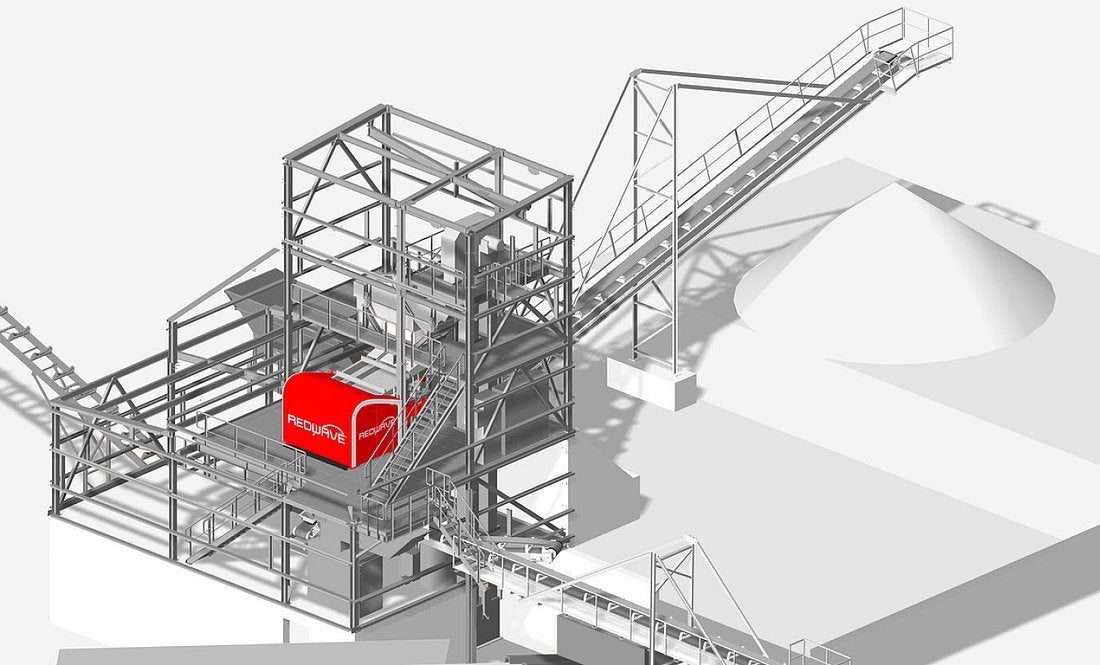 Processing plant for mineral bulk material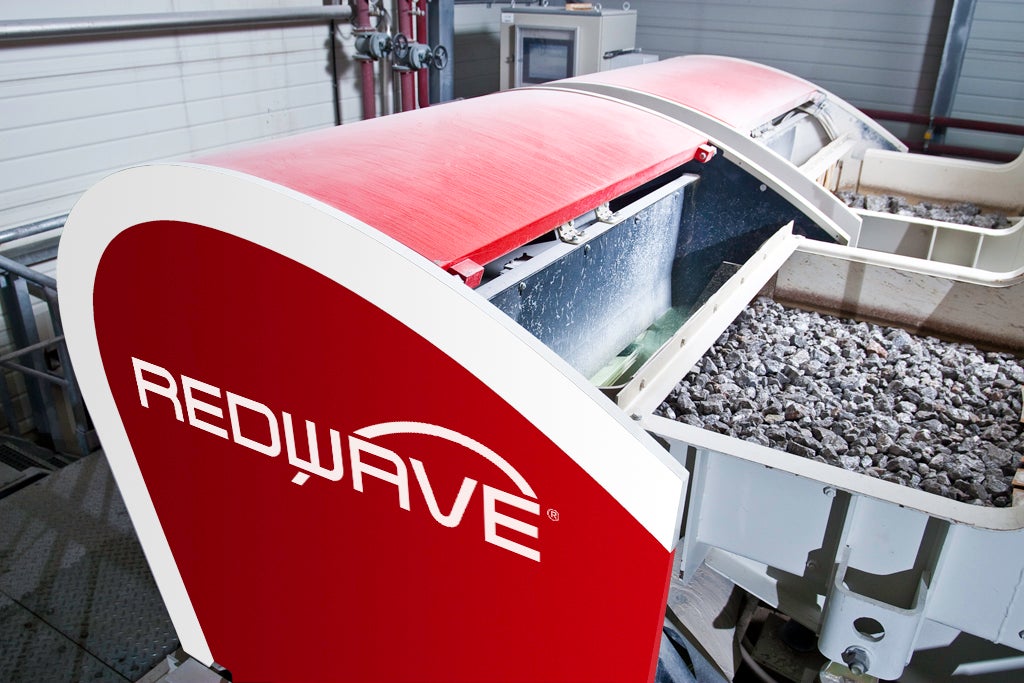 REDWAVE ROX-Mineral Sorting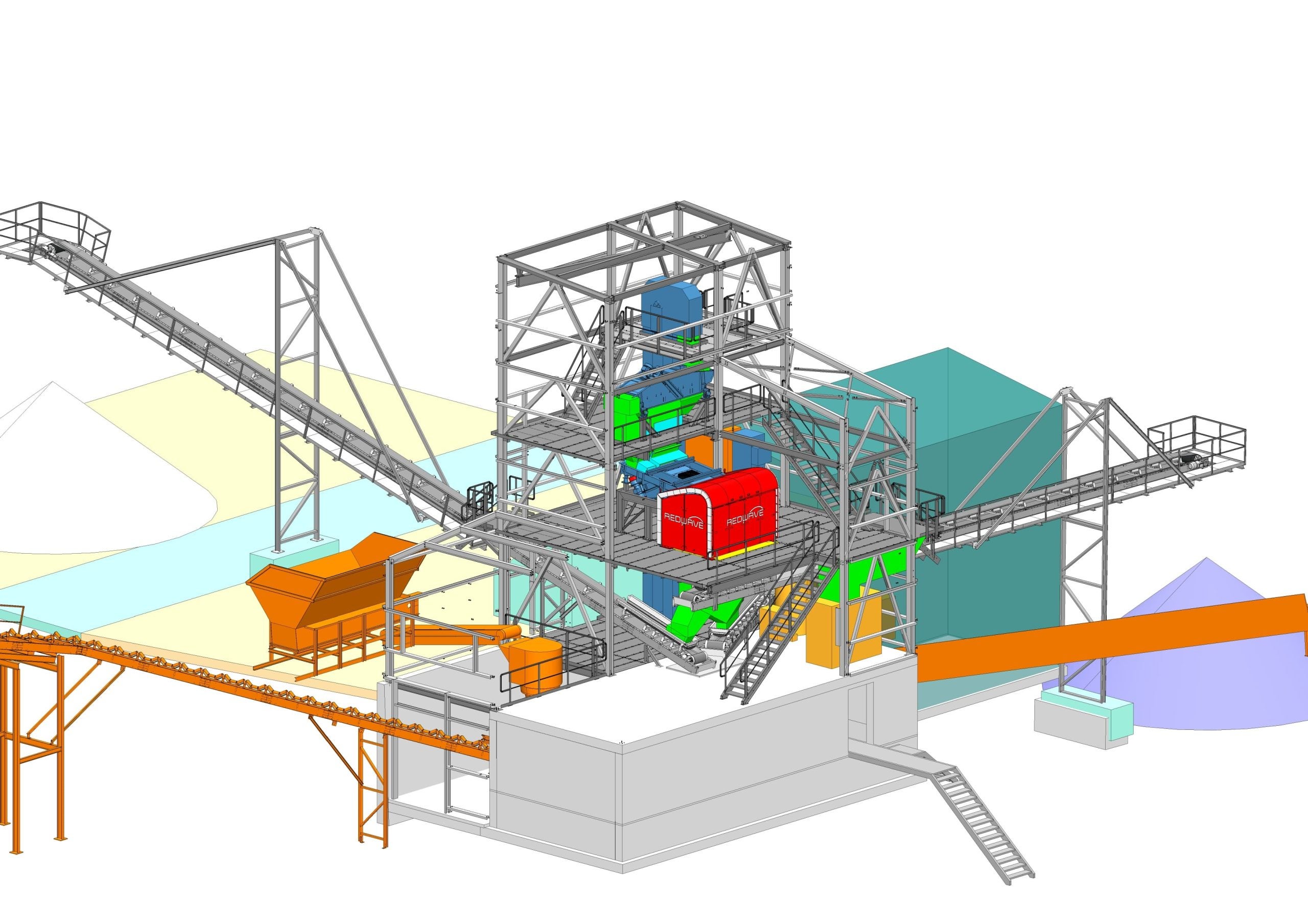 Plant Solutions for the mining industry
It can also be used for copper, zinc, lead, nickel or gold and silver in the ore sector (metals). With its stable detection quality and intelligent sorting technology, REDWAVE ROX ensures both high selectivity and throughput rates.
In partnership with our sister company BTW Plant Solutions, we have also successfully implemented facilities and facility components in locations across Europe, the USA, Asia, and the Middle East.
Advantages of REDWAVE ROX
The REDWAVE ROX sorting machine has been specially designed with the purpose of improving the quality of various minerals, ores and gemstones, such as calcite/dolomite, quartz, talc, gold, nickel, and magnesite.
Some of the key advantages of the sorting machine include:
Ability to detect and sort materials according to colours, brightness and transparency
Detection of materials with minerals of the same colour
Detection and sorting according to chemical composition
Single side or double side detection
Combined systems (colour and material recognition)
Working width up to 2,000mm with colour sorting
Lighting with automatic cleaning
In addition, the solution has been designed to optimise efficiency, and benefits from high throughput at maximum output rate. It as a short amortisation period and is capable of sorting both wet and dry materials.
Functional principle of REDWAVE ROX
When using the REDWAVE ROX, a material is fed over the entire sorting width by a vibration feeder. The material is then scanned and identified by the sensor system single or double sided while in free fall. If the identified minerals meet the set ejection parameters, a signal is sent to the ejection units.
Single high speed air jets operated by compressed air then eject the identified mineral. The number of activated single solenoids depends on the size of the identified part.
REDWAVE's vision and mission
REDWAVE are the clear choice for innovative plant solutions for the efficient use of resources in the bulk materials industry.
Through our technologies and expert knowledge, we help our customers become pioneers in their industry. 
REDWAVE has a clear mission: to offer our customers the best possible solution by working together as partners, to provide them with our expert knowledge and to accompany them before, during and after project realisation.