Established in Tauranga in 1955, Page Macrae Engineering has built up a reputation as one of New Zealand's premium engineering companies. Operating from Aerodrome Road in Mount Maunganui, Page Macrae is within one kilometre from Tauranga Airport and three kilometres from New Zealand's largest and busiest port.
Engineering services for the mining industry
Offering a wide range of engineering services and products from design through to fabrication, on-site installation and project management, we pride ourselves on the ability to solve problems through innovation and 'thinking outside the square'.
We have extensive knowledge and experience having completed a large range of complex engineering projects in industries such as power generation, petrochemical, pulp & paper, food processing and materials handling.
Page Macrae's facilities are situated on a 4ha site in Mount Maunganui's industrial area. With over 6,500m of covered workshops, all equipped with the most up to date plant and together with a team of approximately 150 employees, we have the facilities and resources to tackle any project.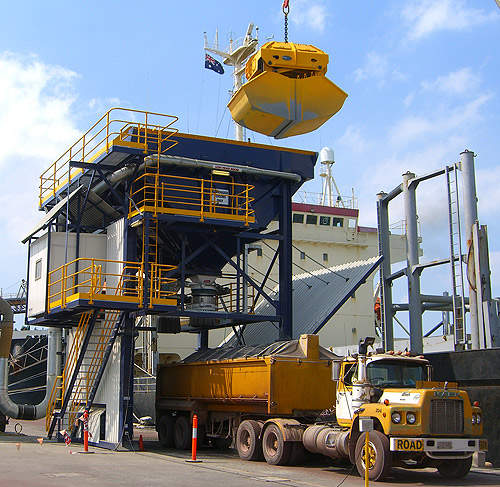 A hopper in use in Perth, being loaded with one of Page Macrae's diesel hydraulic bulk grabs.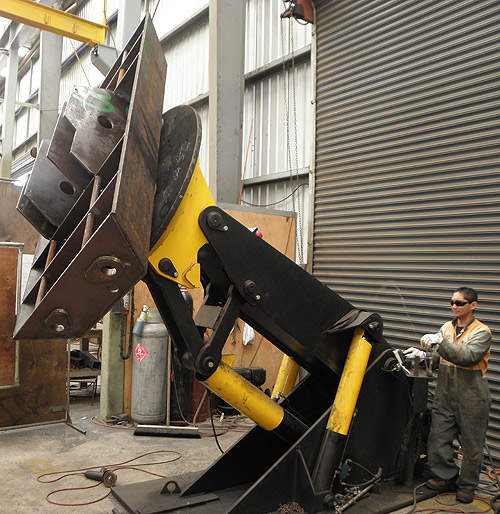 A bulk grab carriage being rotated with the 5t multi-position manipulator during the fabrication process.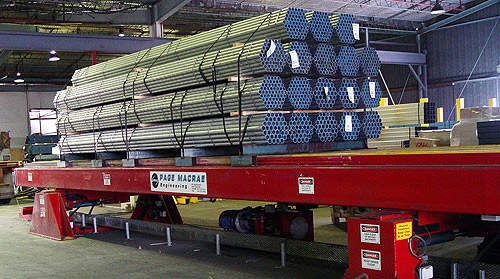 A Skate Table with a load of steel tube from Australian Tube Mills ready for dispatch at AG Walters Auckland warehouse.
Mine project fabrication, on-site installation and management
Communication is the key to an efficiently run project, we strive towards working alongside our clients to build long-term win-win relationships creating the best solution and the greatest value for them.
Along with being ISO9001-2008 accredited our capabilities include the following:
Project Management
Turn-key design / build projects
Heavy fabrication
Pipe spooling
Stainless-steel fabrication
Manufacture of cargo handling equipment
Production fabrication and welding facilities
3D modeling and design
Specialised coating solutions
Manufacture of pressure vessels (to ASME VIII)
Manufacture of bulk storage tanks (to API 650 and 653)
On-site manufacture, installation, repairs and maintenance
Mechanical maintenance and plant shutdowns
Boiler surveys and repairs
Mine material handling equipment
Page Macrae provides a diverse range of material handling equipment from high capacity bulk grabs to welding positioners. Our range of Material Handling products include:
Diesel hydraulic bulk grabs
Mechanical bulk grabs
Dust controlled hoppers
DCL loading spouts
SR log lifters with touch release systems
Container spreaders
Multi-position manipulator (welding positioner)
Skate table
Bulk handling for mining materials
In 2010 we were awarded the Australian Bulk Handling Innovative Technology Award for our Diesel Hydraulic Bulk Grab. Operated via remote-control by a crane operator, the grabs are designed for discharging large volumes of bulk material. Capable of carrying up to 20t of material at a time, their ability to move over 200t an hour is valuable in any industry.
More recently, Page Macrae supplied four diesel hydraulic grabs to one of the world's largest nickel projects, Koniambo, New Caledonia. A key requirement of the US$3 billion project was strict control over the environmental impact of the mining and discharge activity.
The design of the grabs that appealed to the judges was the manner in which we managed to reduce the noise and dust emissions, whilst incorporating some innovative features that make these grabs class leaders for discharge productivity.
Multi-position manipulator
Our multi-position manipulator was designed originally for our own use to aid our production facility. Having proved their success in house they are now marketed to customers both in New Zealand and overseas. The machines are designed to conform to CE standards and are certified accordingly.
The Positioner enables the job to be placed allowing the most advantageous position to be easily obtained for either assembly or welding. This reduces gantry usage and operator fatigue as well as increasing safety dramatically.
Traditionally chain slings were used to turn the job and the need for these has now been removed completely, avoiding pinched fingers and less damage to the job. Time savings of 40% are typically achieved with this unit.
These manipulators are very well received by operators with several businesses owning multiple units. They are available as both 2t and 5t units, with research into a 10 tonne model underway.
Fully automated Skate Table
Our Skate Table is fully automated and an ideal solution for improving productivity when scaling up business. High cycle times can put pressure on delivering goods to the customer and often leads to over-handling and people taking short cuts, which can cause damage. By using our Skate Table there is no need for extensive truck alignment. The system can deal with 20ft to 40ft containers, allowing you to utilise more space inside the container.