Mine Site Construction Services specialises in the provision of heavy earthmoving, civil contracting and related civil infrastructure construction services to the resources, industrial and domestic sectors throughout Australia and abroad.
Mine engineering and civil construction services
Mine Site Construction Services is DNV accredited for quality (AS/NZS ISO 9001:2008), safety (AS/NZS 4801:2001) and environmental management (AS/NZS ISO 14001:2004). In conjunction with our internal management systems and procedures this allows specialist professional, competitive execution of engineering and civil construction services to be undertaken in a timely and professional manner.
The company owns and operates a large fleet of Caterpillar earthmoving equipment and has extensive operational and regional geographic experience. We have previously completed regional and remote contracts for the Commonwealth, state and local government, institutional land developers and major resource mining companies throughout Western Australia.
We specialise and have substantial experience in all aspects of the following disciplines: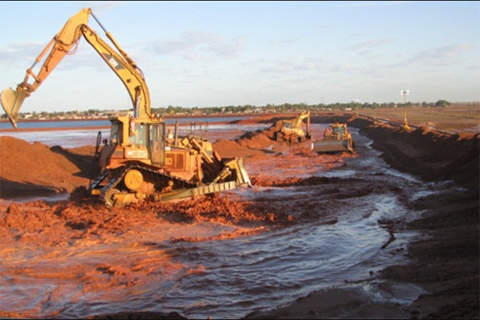 The BHP RGP6 Reclamation Port, Hedland Finucance Island.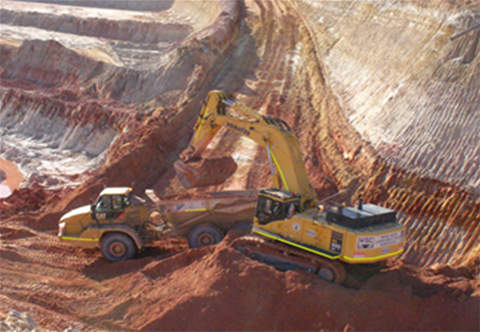 BEMAX Gwindinup, North Mineral Sands Mine.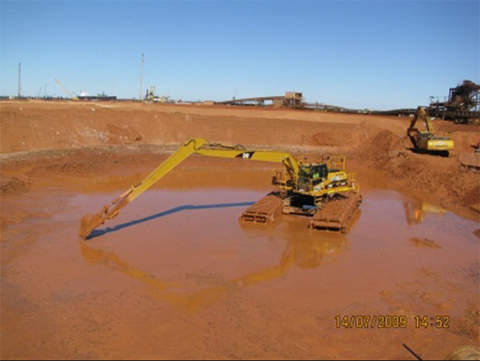 Mine Site Construction Services and its unique 320D long-reach amphibious excavator in operation at BHP Finucane Island RGP6-2008.
Civil engineering and mining contracting services
Earthmoving / mining heavy equipment rental
Bulk materials transportation services
Civil infrastructure utility construction
Civil and earthmoving solutions
Fixed mining and quarry operations
Mobile crushing and production of raw materials and quarry crushed aggregate products
Environmental clean-up services in toxic, chemical, industrial domestic and post-mining closure rehabilitation
Transport and marine logistics
Late model mining and construction equipment
Mine Site Construction Services incorporates one of the largest privately owned mining and construction equipment fleets in Australia. The comprehensive range of late model mining and construction equipment is tailored to meet industry quality, health, safety and environmental requirements.
The company has a dedicated and experienced mechanical and parts procurement division. In combination with our proprietary designed and operated quality maintenance database system, the company assets are maintained above and beyond OEM and industry standards. MSCS is committed to providing the highest level of service and support when it comes to equipment safety, maintenance, performance and availability.
Heavy equipment assets for the mining industry
It is 50 years of owning and operating heavy equipment assets throughout a wide variety of project scopes which has built the company's fleet selection policy. The policy acknowledges that it is paramount to invest in modern, diverse, specialised, and unique equipment technologies, which are developed and customised to the specific operational requirements that our industry presents. It is through owning these assets that the company and its clients are provided with the most efficient, cost-effective and reliable instruments in delivering project success.
About Mine Site Construction Services
The way we conduct our business is a social and ethical responsibility and is part and parcel of the disciplined way we conduct business, in line with securing sustainable livelihoods. We strive to achieve the following principles:
Corporate social responsibility
Principles for responsible investment
Creating opportunity and mobilising strengths
Ensuring viability and action responsibility
Our own sustainability management system follows the participation set out by the United Nations Global Compact
Executing contracts to the Australian (AS) codes and standards