3B Hungaria specialises in the planning, production, assembly and commission of material for conveying and processing systems.
Belt and vertical conveyors for the mining industry
3B offers a wide range of products for the construction of cost-effective, modern and energy saving plants.
3B produces 50 types of belt conveyors with different shell constructions made from the company's own materials, which are the result of years of development and experience.
All products are equipped with covers, touch protectors, material guides and emergency switches to ensure the safety of the user.

3B produces belt conveyors for the mining industry.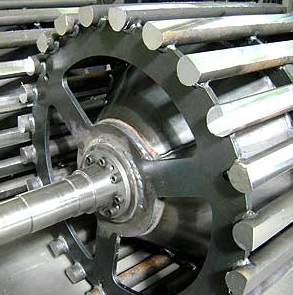 The company produces, assembles and commissions materials for processing systems.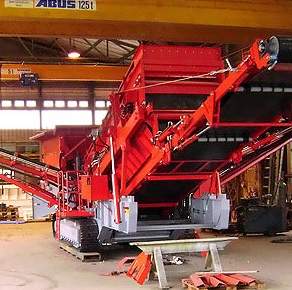 3B offers drum screens with a range of hole shapes for different materials and applications.
3B creates belt conveyors based on individual requirements and instalment positions according to the client's requirements, which includes a transport capacity of up to 1,200MTPH.
Bucket elevators and screw conveyors
3B offers a complete product line of standard equipment with transport capacities between 10m³/h – 500 m³/h.
Screw conveyors operate reliably even in harsh on-site conditions. Both the trough and flanges can be created with wear-resistant materials.
Gaskets and internal bearings provides durable operation, even in very dusty environments. Conveying capacity can be from 20m³/h to 500m³/h, depending on the screw conveyor diameter.
Remote controlled mobile belt conveyors are available with a tracked crawler undercarriage and can be customised up to 1,200MTPH capacity for adverse environments.
Sand washers for wet and dry technologies
3B provides a standard line of sand washer and dehydrating machines that are customisable, off-the-shelf designs and can be altered to meet specific requests.
Sand washer and dehydrating machines can be equipped with vibrating feeders and connected to an existing conveying system.
Vibrating screens and drum screens
3B designs and produces vibrating and drum screens. Vibrating screens can be built with up to four levels and highly reliable screening is guaranteed through collaboration with sieve manufacturers.
Drum screens offer multiple levels of screening within one unit, with various types of hole shapes for different materials and applications.
Screens can have an open design or can be completely sealed and covered for reduced noise and dust emissions. If purchased individually, 3B can fit inlet and outlet chutes, as well as the required support construction.
About 3B
3B was founded in 1992 as a joint German-Hungarian company and is now a Hungarian family business. The company has continuously grown through the development of manufacturing technology.
3B ships equipment to Europe and have representatives in Germany, Romania and Ukraine.
Using 3D designing software, 3B designs products and designs plants and technologies. All products and equipment are built with the support of world leading component suppliers such as SKF, SEW, SIEMENS, FESTO and BOSCH-REXROTH.