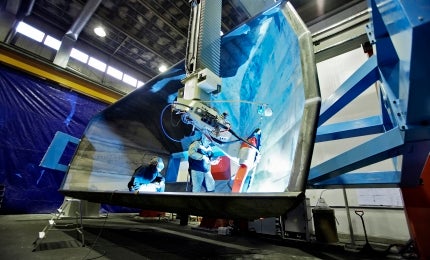 Kiruna Wagon specialises in the custom design and manufacture of ore wagons and logistic systems for heavy rail transports above and below ground.
The company efficiently manufactures its products based on existing drawings or design new logistics systems to suit a client's requirements. All wagon types can be customised to fit line loads and loading gauge preconditions.
Customised wagons for maximised payload and effective discharge
Kiruna Wagon's freight wagons and logistics solutions meet the industry's requirements for maximised payloads and effective discharges and are based on extensive experience of working with mining logistics in challenging locations.
Kiruna Wagon is situated north of the Arctic Circle and its wagons are proven to withstand temperature extremes and provide a reliable service throughout the year.
New-generation ore wagons
Constructed mainly in high-strength steel, Kiruna Wagon's new-generation ore wagons enable increased productivity through lower tare weights and raised discharge rates.
An improved overall wagon economy is achieved through high reliability and availability and Kiruna Wagon's modularised service concept ensures easy maintenance. The majority of the company processes are remote-controlled to ensure operator safety.
Customised ore transportation solutions
Kiruna Wagon's customised designs start with a careful analysis of a customer's unique logistical needs, incorporating local climate and terrain considerations, as well as an understanding of the unique properties of the material to be transported.
Kiruna Wagon's current product portfolio includes side, bottom, rock and helix dumpers, which are designed for optimal productivity and effective discharge. The low-tare weight of its wagons means a more environmentally friendly method of transporting ore.
Bottom Dumper for high discharge
Kiruna Wagon's bottom dumper is a strong feature of its product portfolio for modular standard products. Suitable for heavy transport of easily unloaded commodities, such as pellets and rock, our robust bottom dumper has a mechanically controlled unloading system and a large bottom door for high-capacity continuous discharge of up to 20,000t / h.
Thanks to its modular design, the wagon is optimised for easy replacement of individual components and the low-cost unloading station can unload up to 200 wagons an hour.
Kiruna Wagon has customised its bottom dumper for two Nordic mining companies, LKAB in Sweden and Rana Gruber in Norway. The NO-RG Fanoo for Rana Gruber is built for a 30t axle load and is a refined version of the Fammoorr050 model manufactured for LKAB.
Side Dumper for sealed transports
Kiruna Wagon's side dumper is equipped with a roof and optimised for sealed transports of hazardous, highly refined or valuable ore products in smaller volumes.
The side dumper handles sticky materials and is designed for symmetrical discharge and loading. The unloading station is simple and creates a good overall wagon economy. The estimate lifetime is 30 years and it has been proven in a subarctic climate.
Kiruna Wagon's side dumper is currently used by Boliden to transport copper ore from Aitik, Sweden's largest copper mine, to the smelter in Rönnskär.
Rock Dumper for big boulders and small drifts
Kiruna Wagon's rock dumper with effective bottom discharge is a heavy-duty concept that can handle drop-loaded boulders in sizes up to 1,000mm. The wagon is designed for rolling discharge and has a discharge capacity of approximately 10,000t / h.
The rock dumper can be used under or above ground and is based on a proven technology that has been in use since the 1970s. The main wear surfaces are repaired through an effective and low-cost maintenance programme.
Featuring an 891mm rail gauge, Kiruna Wagon's rock dumper is designed for a small drift with a width of 2,056mm and a height of 1,825mm. These dimensions can be adjusted according to the customer's needs. Rock dumpers from Kiruna Wagon are currently in use in LKAB's underground mine in Kiruna.
Helix Dumper for tough-flowing commodities
Kiruna Wagon's helix dumper combines optimal productivity with simplicity. Built for continuous, rolling discharge, the helix dumper empties its load by rotating the loading cube 148° while the underframe remains on the rail.
The rotation, along with the round shape of the cube, creates optimal conditions for effective discharge. Suitable for rock, pellets and concentrate, the helix dumper has a discharge rate of up to 18,500t / h. It is the wagon of choice for small fractions and for commodities that are not suitable for bottom discharge.
The helix dumper's discharge process is powered by the train that pulls the unbroken train set through the unloading station, which is a robust and low-cost system.
About Kiruna Wagon
Since 2004, Kiruna Wagon has established itself as a reliable supplier to the world's most modern mines.
The world's lowest lifecycle cost (LCC) per metric tonne on rail-bound ore transports.
Kiruna Wagon AB
Truckverkstaden
981 86 Kiruna
Sweden
Fredrik Kangas, Managing Director

Bengt Bolsöy, Technical Manager