Triple R is a supplier of oil filtration and cleaning products for the mining industry. Triple R oil filtration was developed in the 1960s, based on an American patent. Initially the objective was to develop a product that would increase the lifespan of engine oil in trucks. In those days it was necessary to change the oil every 3,000km – 4,000km. The very first oil filter produced by Triple R made it possible to extend the interval between oil changes to every 100,000km.
From the outset, our company has made product development its highest priority; we are constantly upgrading our products to deliver the best quality filtration, as well as meeting the challenges of a constantly-changing industry. Triple R cleaning systems have become fundamental in protecting oil-based machinery and systems.
The quality of our systems and their unequalled performance has made Triple R oil filtration the undisputed market leader for over 40 years. From water and oil separators to centrifuges and vacuum systems, our range of products means that Triple R can deal successfully with just about every modern industrial contamination issue.
Increased production reliability = increased production throughput
Dirty oil costs so much more than clean oil.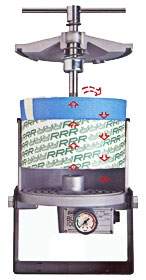 Exploded view of a BU-100E: red arrows show the oil flow path. Similar to that used for oil and diesel fuel filtration.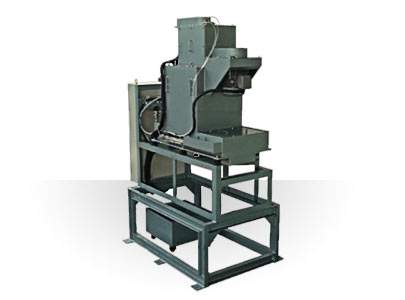 3,000rpm centrifuges remove solids down to 5µ.
A highly efficient vacuum purifier for removing emulsified water, free water and air and other gases.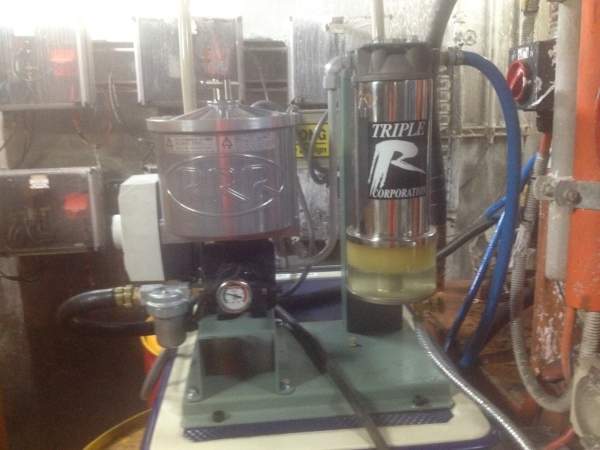 This WS-WD unit was fitted to a 700lt hydraulic reservoir in Victoria after a water cooler failed. In an eight-hour period, 100lt of free water was removed from the system.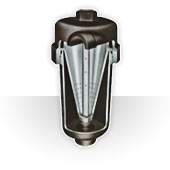 The Quicktron series continuously removes fine bubbles mixed in the oil.
The OSCA series provides a range of mobile service rigs and offline filtration for large tank volumes, up to 50,000l.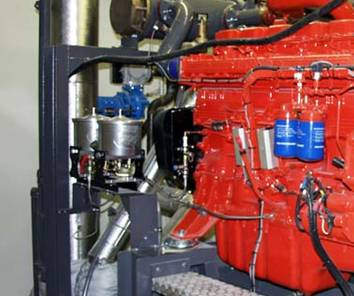 Additional oil filtration fitted to standard filters.
Increased machine reliability means increased throughput and consistent quality. Contaminated oils can have a major effect on the speed and cost of production due to down-time, extra man hours and replacement parts. Through Triple R, the benefits of modern filtration can be delivered with a rapid return on investment – usually in a matter of weeks.
Triple R understands that oil cleaning is not limited to removing solid particles, but also removing water, sludge and oil oxidation residues. Our products provide an all-in-one system – discover how our TR, BU and SE series can solve all your contamination issues.
Small particle removal from oil
Every hydraulic and lubrication system has filters built in to it, and most of the time these filters are 3µ, 5µ or 10µ. So why does the oil still eventually become dirty?
Inline filters must deal with high flow and high pressure often in a pulsating manner. Standard surface filters are ill-equipped to cope with these high fluctuations. As a result, the theoretical micron rating of a full-flow filter is rarely achieved in practice. Bypass oil filtration is highly effective at removing contamination in a single pass.
At Triple R, we guarantee clean oil.
Oil filtration with a high dirt load
One of the biggest challenges in industry is to deal with fluids containing a high contamination load. Normal filters will block very quickly, at significant cost to production.
At Triple R we have several solutions to overcome frequent filter changes:
SS and SU-series: cost efficient, high-capacity filter systems with a high dirt absorption capacity
Centrifuges: Triple R centrifuges are a one-off investment and remove particles down to 5µ
Backwashing filters: Triple R backwashing filters are self-cleaning systems from 10µ -100µ; no consumables
Separating oil and water
Many industries suffer from continuous water contamination, including marine applications, metal industry, paper industry, windmill gearboxes and many other applications. Removing water from oil has always been a big challenge, especially from a cost perspective.
Triple R offers you three solutions that can solve your water problems:
WE100 filter element: the WE100 filter element acts as a sponge and removes water, down to less than 90ppm in a single pass
WS-series: Triple R water separators are highly effective in removing free water from oil
Vacuum dehydrating systems: Triple R's TRVS-series are very efficient and very fast in removing high concentrations of water from oil
Environmentally conscious oil filtration systems
In industry, saving resources while cutting costs is paramount. We are proud of our contribution: continually developing advanced filtration and separation technology to do just that. All our products are aimed at providing solutions that reflect the essentials: to reduce, to reuse and to recycle. Our brand says it all – Triple R.
Reducing, reusing and recycling go hand-in-hand with Triple R philosophy:
Optimising production expenditures and delivering cost savings
Improving machine reliability and increasing production capacity
Contributing to environmental conservation
Diesel filtration
Filtration of diesel fuel is crucial to achieving operational savings and performance improvements.
Components affected by dirty diesel are mechanical parts such as injection pumps and injectors. OEM filters will not remove all the contamination that affects the operation life of these components. Triple R diesel filtration will improve fuel economy, increase horsepower and reduce the engine pollution of diesel mining and transport equipment. Cleaner fuels mean a cleaner engine internally, which results in lower lifecycle costs.