TransAlign ISM offers on-site machining equipment to maintain the integrity of mining equipment. The company also provides laser alignment services for mill motors and gear transmissions, for straightness and thermal growth on equipment.
Industrial transmission drive systems
TransAlign ISM designs, produces and installs industrial drive transmission systems for mining applications. The company also performs drive and lubrication equipment servicing and refurbishments, according to original equipment manufacturer (OEM) specifications.
TransAlign ISM engineers machinery for high-torque apron feeders and inching drives, conveyors, agitators and mixer drives.
The company uses high-quality components to ensure all of its products are long-wearing and suitable for heavy-industry use. It also enables higher speed input interface between the engine / electric motor and the pumps or transmissions.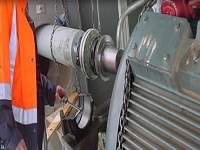 Onsite machining systems for mining operations
TransAlign ISM builds equipment for boring, facing, milling and grounding applications. The company employs hydraulic machining heads with specially developed quality control systems and laser technology to achieve the highest levels of accuracy possible. This enables refurbishment works to bring machinery back to 'as new' condition.
TransAlign also offers:
Line boring of equipment pivot pin and bush journals
Power generation engine refurbishment
Milling of fretted camshaft idler gear mounting interfaces
Entablature water jacket mounting
In-situ trunnion machining
In-situ bed milling
Dowelling and threading
Deep drilling for key and stud removal
Mine shaft rope sheave machining
Excavator slew bearing mounting faces
Flange facing of various pipe and structural bolted connections
Laser alignment for mine machinery drive components
TransAlign ISM's field service technicians provide laser alignment services for drive components to prolong the life of bearings and couplings. An alignment report is produced on-site for instant results.
The company's laser alignment equipment can be used for many applications, including mill motor and gear transmissions, and monitoring straightness and thermal growth.
The company uses SKF laser-cut shims to assist the alignment process and ensure a high standard of machine bed stability.
TransAlign offers onsite milling for both new and worn or damaged machine beds. The company can mill hydraulic pump drives in the 20kW to 150kW power range to reduce bearing loads on drive and driven units, and larger installations up to 10MW can be aligned with margins for thermal growth and other dynamic factors.
Mill shell boring and circular milling
TransAlign ISM has extended its milling capabilities to serve more clients.
The company's mill shell boring system now has precision-bored fixture plates and bearing-guided boring spindles running in a location cartridge, enabling it to service hole spacings from 200mm to 600mm centres along the mill shell.
In addition, TransAlign's in-situ circular milling offering has a slew facing machine (SFM) capable of circular flat and angular milling diameters from 1,800mm to 3,000mm.
The company's rugged SFM can perform pre-machine, weld build-up and final milling operations to reclaim worn cone crusher housings, slew bearing surfaces and mill end flanges.
Tapping pipelines and drill stud replacement
TransAlign ISM can tap live water and air lines while they are under pressure, so operators can install additional delivery outlets to existing pipelines.
Steel, ductile iron, AC and cement-lined pipes and flanged ends can be fitted with 50NB to 300NB outlets, complete with gate valve installed. Tapping bands for most diameters are available up to 1,600Kpa.
TransAlign replaces corroded or broken hold-down studs in concrete base plinth's with new, stainless steel, chemsetted studs. Removed equipment can be re-installed, shimmed and laser aligned for re-commissioning with minimal downtime.
Onsite fitting and equipment servicing
TransAlign's highly qualified technicians are experienced in fitting, machining and hydraulics.
The team provides a broad range of services including repairs, journal machining, rebuilding and installation of bearings and couplings, according to client specifications.
Service support is available onsite, including for mining operations in remote locations. The company aims to supply technicians as soon as possible, to reduce expensive downtime periods.
About TransAlign ISM
TransAlign ISM is a division of Fluid Power NT, an engineering and hydraulic service company specialising in industrial drive gear transmissions, laser alignment of drive couplings, flat bed, straightness and thermal growth on equipment.
The company undertakes boring, facing, milling and grinding using its five line boring machines, four facing machines and four portable milling units to cover a wide range of power generation and mining equipment reclamation.