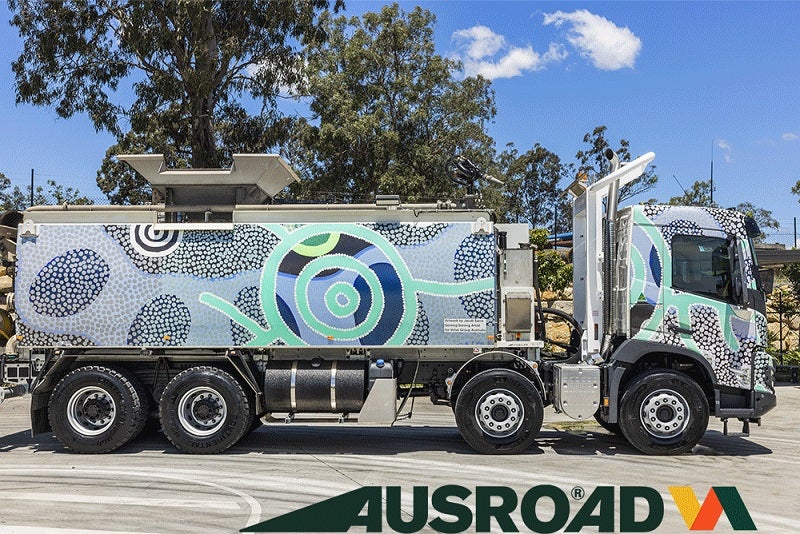 Ausroad's ongoing partnership with supplier Volvo Trucks has seen a significant gesture towards reconciliation. The latest water truck delivered to the BMA mine in Peak Downs, which will operate at the site 24 hours a day, 7 days a week, features a magnificent piece of Indigenous artwork.
Volvo Group Australia commissioned local Aboriginal artist Jacob Sarra to create the work, which symbolises both their journey and their commitment to reconciliation.
Taking about 25 hours to create, the original painting from which the vehicle artwork was created will hang in the Volvo Group Australia head office.
Ausroad Managing Director Stefan Dunlop said, "This incredible artwork is a wonderful reminder of Volvo and Ausroad's vision for reconciliation, and our acknowledgement of the traditional custodians of Country throughout Australia and their connections to land, sea, and community."
Artwork inspired by history, connectivity and environmental responsibility
Jacob Sarra is a Goreng Goreng artist, born and raised in Queensland. He lives and works on Turrbul and Jagera land, where the Volvo Group Australia head office is also located.
For tens of thousands of years right up until today, art has been a way for Aboriginal and Torres Strait Islander people to connect to culture, to Country, to ancestors, and to pass down stories and knowledge through the generations.
"In the artwork, I've taken into account the origins and the long history of Volvo," Mr Sarra said. "The bottom of the piece shows Volvo's growth throughout Sweden, and on the other side I've shown their growth in Australia and the pathway they've taken here."
"In between, it all represents the global connectivity and the global reach of Volvo, and the network that the trucks will travel throughout Australia in the present."
Volvo's commitment to reducing its environmental impact is also represented in the artwork. "In the foreground, you've got the stars that get lighter as they go up the painting," Mr Sarra said. "Stars have always been used as guides by Aboriginal people. That's to signify being on track with the mission of carbon footprint reduction."
As a whole, the artwork is an impressive visualisation of Volvo Trucks' history, both overall and especially here in Australia.
"We started with the foundation, the background and leading into the future and now. And this represents Australia, Sweden, and people worldwide," Mr Sarra said.
Custom-made water trucks for mining and civil applications
It's not only the truck's artwork which shows an impressive level of thought and design. Ausroad water trucks are built tough and designed to survive the rugged conditions of Australian mining. It makes them a reliable and robust solution for both general civil and mining applications.
With a massive water capacity of 21,000l, these trucks are ideal for large-scale mines needing efficient wet-down processes to reduce dust disturbance and subsequently increase safety.
As with every Ausroad vehicle, enhanced safety is at the forefront of this truck's design and application. For example, most processes are fully controlled from the driver's seat. Proportional hydraulic control allows accurate control of pump speed.
The company can tailor-build units to suit any cab chassis Gross Vehicle Mass (GVM). They feature:
Industry-leading design to optimise reliability and minimise downtime due to maintenance needs or mechanical failure
Spray-head configuration to suit application
Full epoxy tank lining to prevent corrosion
Full AutoCAD design service to ensure water trucks meet customer requirements
Rear sprayers and 'Pump Out' capability for dust suppression
Full mine specifications as standard
The custom-made Volvo water truck is now proudly showing off its new colours as it works to improve safety and efficiency for BMA at their Peak Downs mine site.
Managing Director Stefan Dunlop said, "The Ausroad Group are delighted to be included and associated with this initiative. It's just one example of Ausroad's commitment to diversity and inclusion within our workforce."