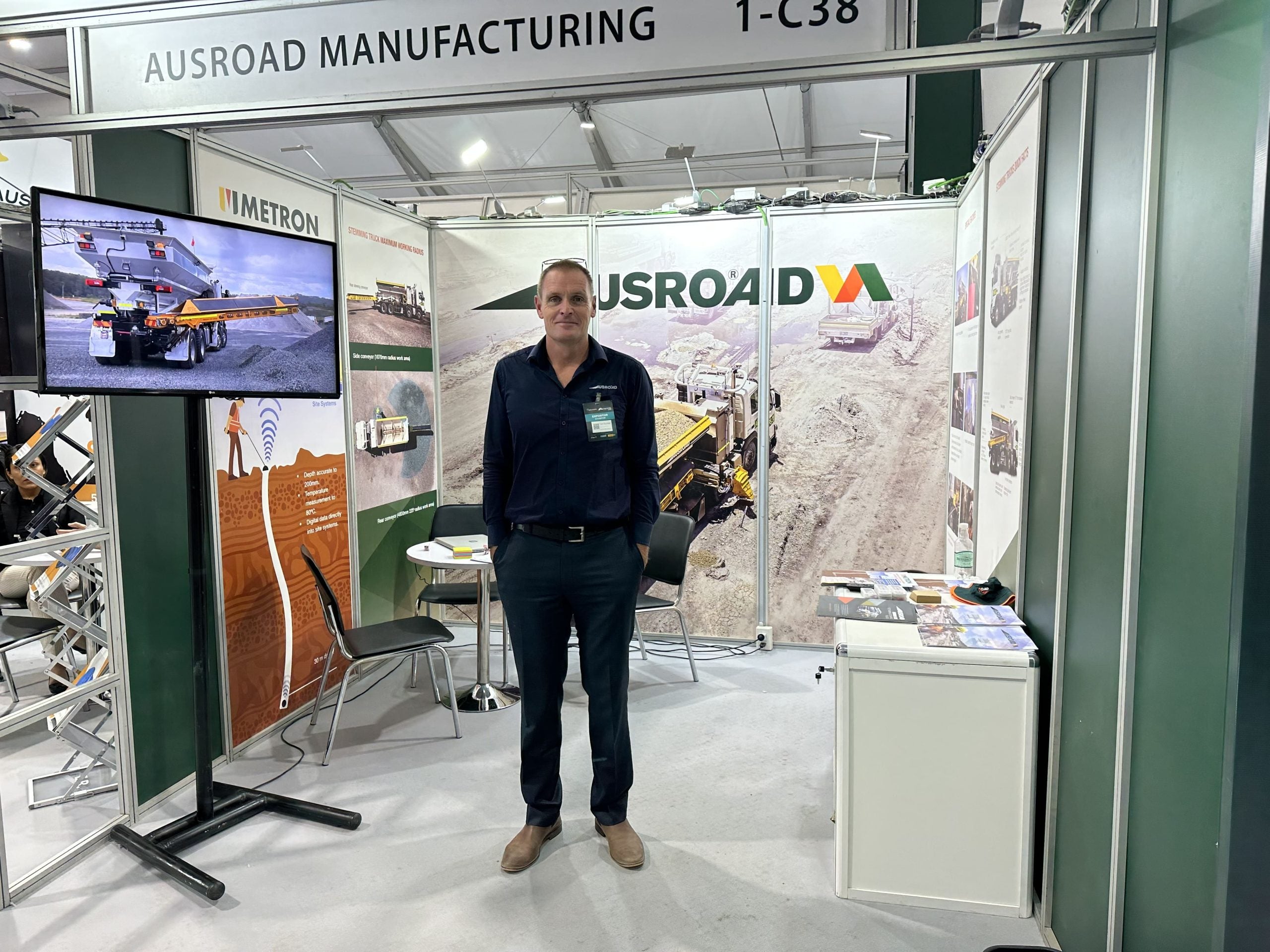 Ausroad, the specialist provider of drill & blast support vehicles, has impressed industry figures as an exhibitor at Latin America's largest mining conference.
State government body Trade and Investment Queensland approached Ausroad Managing Director Toni Dunlop with the idea of attending Expomin 2023 in Chile.
Ausroad were no strangers to the South American mining industry, having already supplied a stemming truck to the 'Minera San Cristobal' mine, an open-pit silver, lead and zinc operation near the town of San Cristóbal in Bolivia. The mine's feedback on the vehicle had been extremely positive.
Toni Dunlop recognised the opportunity to expand Ausroad's presence further into the South American market, and arranged for the company to host a booth within the Austmine section of the conference.
Exhibiting at the largest mining show in Latin America
Held across the 24th to 27th of April 2023, Expomin 2023 played host to more than 70,000 industry professionals from around the world. More than 1,000 exhibiting companies and sponsors from 35 countries took part in the exhibition.
The largest mining show in Latin America, Expomin 2023 aimed to, "promote the transfer of knowledge, experiences and especially technologies that contribute to innovation and increase the productivity of mining processes."
Thanks to their strong relationship with Trade and Investment and Austmine – Ausroad had opportunity to exhibit in the Australian pavilion at the mining show.
The expo was the ideal venue for Ausroad to present their new stemming truck technology, designed and manufactured in Australia.
Showcasing Australian mining support globally 
Ausroad Managing Director Toni Dunlop said, "Expomin 2023 was a major industry event and an excellent opportunity to further promote Australian manufacturing to an international audience."
"We found that very few companies actually specialise in blast and support vehicles," Mr Dunlop said.
It turned out that the Ausroad team had no trouble interacting with expo attendees. "Most people working in the major mines speak English as their international language, so communication was not a problem," Toni Dunlop said. "But funnily enough, the mine and support contact from Peabody Energy in South America turned out to be an Australian!"
"It just shows the impact Aussies are having on the mining industry in general, wherever you go around the world," Toni said.
Ausroad's stemming truck design impresses on the world stage
Getting a blast right first time is essential in maximising the value of minerals that can be extracted. Industry experts in the mining blast and support areas recognise that Ausroad vehicles' unique features support better blasts.
In fact, Ausroad's stemming trucks lead the way in stemming operations across the world in terms of accuracy, reliability, and safety. The stemming trucks feature:
Full water truck capabilities
State-of-the-art control system with reverse camera, load cell system with transmission lock out, automated calibrated delivery, blast design software integration
Dust suppression on discharge of material to protect ground crew
Wash down hose with hydraulic pump and 3,000L water tank
Hydraulic operated hopper hatch
Local maintenance facility
Ausroad Managing Director Toni Dunlop said, "Ausroad is committed to making mine blasting safer and more cost effective. This opportunity to interact with mining industry personnel internationally has shown us that Australian technology and manufacturing really is leading the way."
"We've made some great industry contacts at Expomin 2023 that we're looking forward to building on," Mr Dunlop said. "All of us at Ausroad are looking forward to further showcasing our tremendous Australian manufacturing abilities globally."