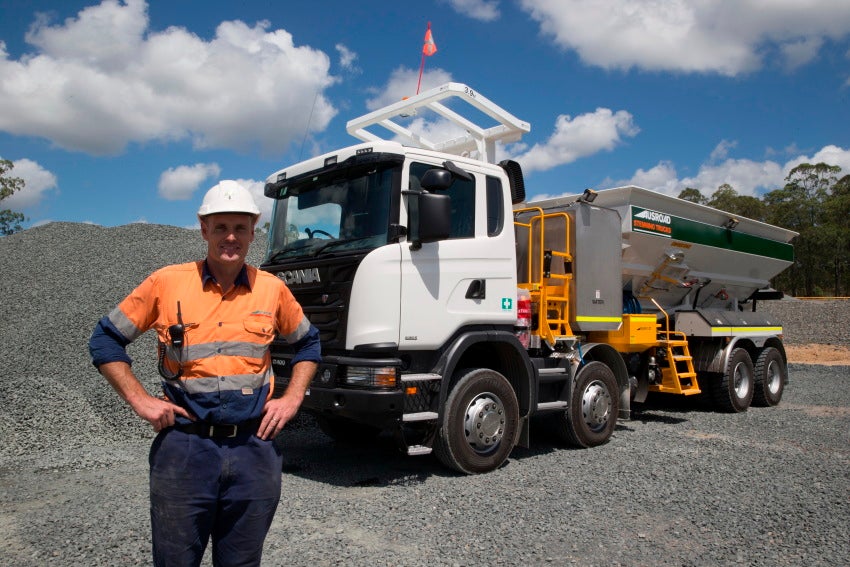 With 29 years of materials handling experience, Ausroad is the industry leader in hiring and contracting Stemming Trucks, Contour Loaders and Services trucks. With valued customers across Australia and the world, Ausroad is experienced in providing end to end solutions for the mining sector.
With support, training, operators and maintenance provided to clients, Ausroad ensures its customers are comprehensively equipped with all they need for a safe, efficient and productive hiring experience. Currently, the Ausroad hire fleet is situated Australia wide from Queensland to Western Australian mine sites.
After years of cultivating strong relationships with our valued contractors and hire customers, Ausroad guarantees your hiring experience will be productive and trouble free. We provide everything necessary to achieve the most out of your hire.
A hallmark of the Ausroad fleet, is that we provide our clients with extensive training for all dry hires. Full training and backup support are essential to ensure thorough communication and competent vehicle operation. Ausroad's inclusive training ensures your operators and team can get the most out of their hire, achieving optimal productivity, accuracy and safety.
Complementary to our contract and hire service, Ausroad offers a dedicated National Maintenance Manager who oversees and assists the operations of our valued customers. Our expert technical support is available around the clock – when you need us, we're available. Similarly, our fitters and maintenance personnel are on call and ready to help connect the right support and parts to you.
We have a workshop for local fleet repairs and maintenance in Moranbah, Queensland, with knowledgeable, dedicated mechanics who ensure your vehicle is fixed as soon as possible and runs to the highest quality every time. We also have a Perth-based Trainer and Assessor.
The majority of our fleet comes standard with 20 000kg SWL hopper capacities, side and rear slewing conveyors, full calibration and dust suppression.
We offer dry hire to full DTH Stemming Contracts and can modify our fleet to suit your individual requirements. Dry and wet hire rates are available. We have a fleet of 24 Stemming and six Water Trucks available for hire and deliver units to any part of Australia.
Ausroad is in the process of expanding its Water Truck fleet and is constantly innovating to bring new features and capabilities that optimise productivity, accuracy and safety.
Talk to us about options for hire and contract to suit your needs.