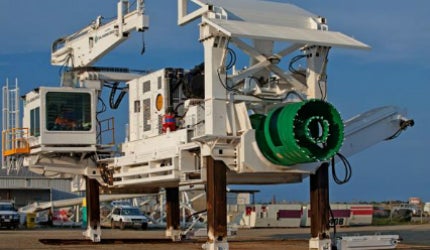 Coal Augering Services provides coal mine operators with a comprehensive turnkey auger mining service.
Our technical staff have the geological and geotechnical expertise to assess mining conditions and develop suitable plans and schedules to take operations from site assessment to implementation.
Cost effective access to otherwise sterilised coal reserves
A fundamental principal of surface coal mining is that as the cost of uncovering the coal approaches its sales value, operations must cease in that area and move onto the next. This leaves the coal mining company with both a problem and an opportunity.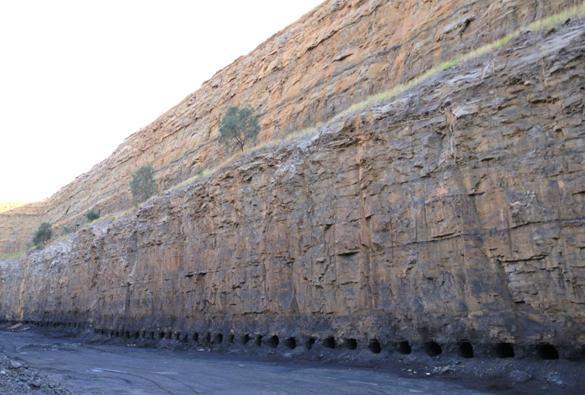 The high-tolerance to adverse ground conditions is demonstrated by the successful auger extraction in low-strength coal under high-cover above an area affected by longwall subsidence.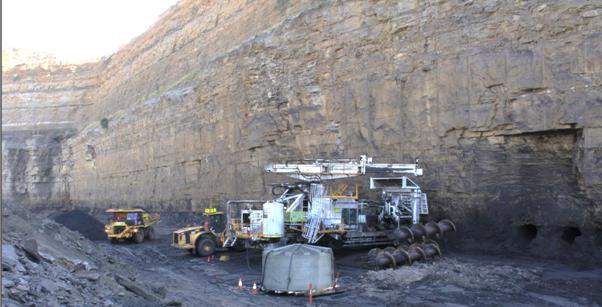 Turnkey auger operations include coal transport to out-of-pit ROM stock pile areas.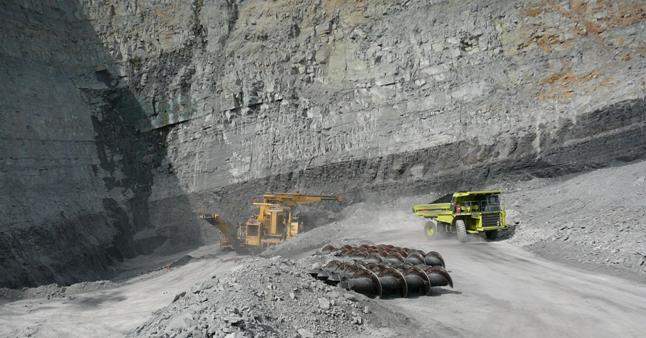 CAS Auger units are capable of operating on a 20° cross slope, as well as in thick coal seams from a bench incline of 8°.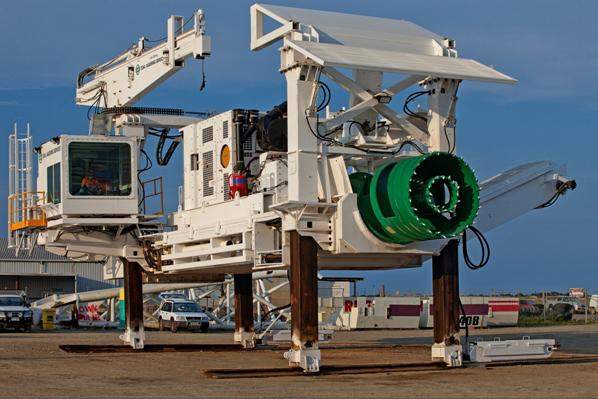 The CAS AM1500 coal recovery auger has a 1.83m diameter cutting head and 2.6m stroke jack legs when fully extended. The long jack leg stroke allows recovery from thick seams and operation on steep dips up to 20°, as well as cross dips.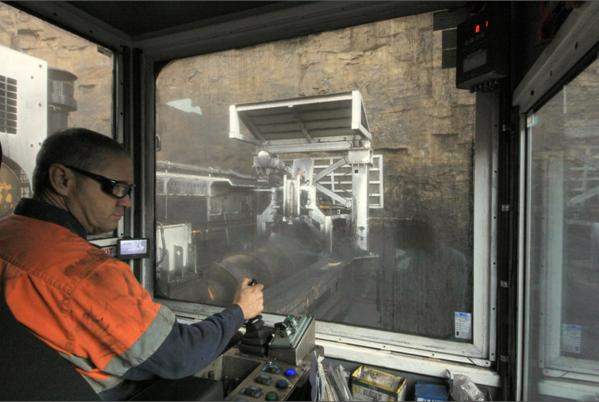 All machine functions are controlled from the control cab located at the rear of the machine beyond the highwall drop zone.

Inert gas pipes are mounted onto the front of the auger and over cut at the mouth of the hole to facilitate the introduction of inert gas.
The problem – the final excavation has to be rehabilitated in line with regulations and without any further revenue.
The opportunity – employing an auger offers cost-effective recovery of additional coal from the exposed seams without increasing the rehabilitation liability and helps offset the high cost of final rehabilitation.
Auger mining operations drill a series of parallel holes perpendicular to the highwall, leaving adequately sized pillars between holes to maintain the stability of the highwall and overlying surface area. The technique is also commonly used to recover coal beneath surface features which limit surface mining, such as rivers and roads.
Contract auger mining can be used by coal mine operators who are looking to gain access to additional coal reserves without employing additional capital or diverting any of their resources from current mining activities.
The incremental tonnes that low-cost contract auger mining can provide can significantly improve the profitability of the host mine.
Stand-alone auger mining capability
Our augers are stand-alone diesel-powered machines, which are able to operate with minimal support in relative isolation from other equipment.
A key strength of our augers is their operational flexibility, which makes them very attractive to customers as they cause minimal disruption to existing operations on-site.
The AM 1500 coal recovery auger has a maximum cutting head diameter of 1.83m, in-seam penetration depth of up to 200m, and production capacity in excess of 40,000t per month from a standalone operation. Additional features include:
Vertical self-jacking of up to 2.6m to enable double pass auger mining in thick coal seams
Ability to operate in seams dipping up to 20° from horizontal from a bench incline of 8°
Installed total power of 2,000hp provided by a 1,500hp diesel motor to drive auger cutting and conveying and a 500hp diesel motor to power the hydraulics and other auxiliary equipment
Integrated falling object protection canopy and covered walkways
Remotely operated loading and unloading of auger flights
Safe mining operations even in gassy seams
Coal Augering Services prides itself on its excellent safety record. The low manning level coupled with a high safety focus makes the company's safety performance amongst the highest in the industry.
All machine functions are controlled from within a fully air-conditioned and protected cab where the auger operator works.
The auger typically has a crew of three people, including the auger operator, one person to supervise coal clearance utilising the stacker and / or the dedicated front end loader, and another to assist with auger flight management.
Where methane levels in target coal seam horizons are high, we operate an inert gas generating (IGG) unit to maintain an inert atmosphere in the active auger hole during extraction.
The IGG unit burns diesel to generate a low-oxygen gas stream, which is introduced into the auger hole during cutting.
The continual use of this system maintains an inert atmosphere in the auger hole and prevents the entry of atmospheric air into the auger hole, which effectively suppresses the potential for any ignition.
Proven IGG technology and procedures permit safe operation even in high methane environments.
Scope of work for contract auger mining operations
Typical services provided in contract auger mining operations comprise:
Mobilisation of equipment and personnel, including site inductions and operational risk assessment focused on site specific conditions and equipment authorisations
Auger mining of coal to the pit floor, which is then stockpiled ready for loading by the Principals personnel or designated sub-contractors
Relocation of the augering equipment between operating areas
Demobilisation from site
In addition, the scope may be varied to include pit preparation ready for auger mining, water cartage for auger working area dust suppression, and coal haulage.
Contract auger mining costs are typically lower than surface mining, making it a cost competitive mining option even in the current low commodity price environment.