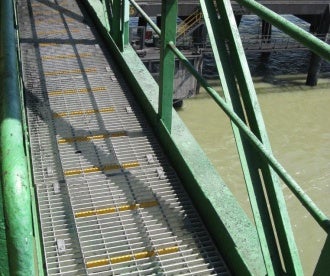 Excellence. Something Amco achieves and Gladstone Ports Corporation identifies as one of its key values. Here is how they define it:
"Excellence: we continually strive for excellence in all that we do and constructively challenge for a better way.
"We are open to learning and appreciate that shared knowledge and innovation are essential to our growth."
Note the keyword 'innovation' in the context of how they are keeping people safe.
Amco had the opportunity to work with Gladstone Ports in supplying the company with one of its signature products, U-Tred high-visibility stair nosings.
As opposed to traditional style steel stair nosings used throughout the mining, construction, and energy industries, the U-Tred is a major breakthrough in terms of effectively and efficiently dealing with the prevention of slips, trips and falls.
Research shows these hazards can be reduced. In the past, the traditional method of applying anti-slip to walkways and access points was to use the old style, steel anti-slip stair nosings.
These metal stair nosings, while effective for a time, soon clog with mud and other debris. The new, innovative way of dealing with this problem is through using U-Tred. These new-generation stair nosings eliminate the hazard of clogging, clipping onto the load bars of your standard steel step tread and allowing debris to fall away.
They can be used in virtually any application for applying anti-slip on steps, walkways, inclines and stairways. Locking onto your standard steel gridmesh, they give instant step definition and that grip that you can rely on.
Think again of that word, innovation. Here's how Gladstone Ports is doing it.
Please contact AMCO for more information.
---
Image: U-Tred stair nosings installed at Gladstone Ports Corporation. Photo: courtesy of AMCO.