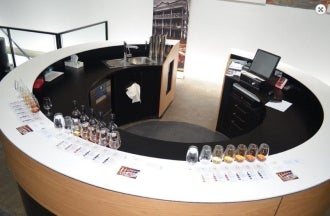 Next time you visit the Barossa Valley in South Australia, or if you happen to find yourself in Adelaide, be sure to drop in at Seppeltsfield.
Seppeltsfield is the creator of Para Port, and offers visitors to step in behind new circular tasting booths with new anti-fatigue matting, supplied by AMCO.
Orthomaster mats used inside the tasting booths are without doubt the best product on the market for areas where people are serving wine to budding sommeliers. It is also great for use on production lines, packaging lines and standing work stations.
As well as cushioning the feet with its anti-fatigue properties, Orthomaster is also a closed cell mat and very versatile.
There's more to matting than just stopping the feet getting sore, and did you know that a lot of back pain is linked to feet and lower leg pain. With your matting you want it not only comfortable, but also lightweight and easy to move, as well as custom-made to your specific needs, so that where you need cushioning, you get it, all the time, every time.
Orthomaster is one of the best mats for this scenario, as it can be custom-made to suit virtually any area you need it to. For the Seppeltsfield booths, they were made in perfect circles, giving 360° of comfort, 365 days of the year.
---
Image: AMCO Orthomaster matting inside a wine tasting booth. Photo: courtesy of AMCO.