Orlaco is a leading, global designer and manufacturer of robust camera and monitor solutions for a number of industries, including mining. Renowned for product quality and competitive pricing, Orlaco has build long-lasting relationships with many large manufacturers and distributors via our global network of subsidiaries and representatives. All our equipment is manufactured in The Netherlands.
Camera monitor solutions for increased safe productivity
Vehicles and machines require clear vision for an operation to progress smoothly and safely. Although equipment is increasingly becoming further advanced with elevated demands on efficiency and output, people are still required to handle it correctly. Operators have minimal vision around the vehicle and therefore blind spots must be dealt with in a professional matter. This is where Orlaco's vision solutions will be able to help to improve operational efficiency and safety.
We offer a total solution. Whatever the vision requirement is, we can offer ready-made and tailor-made solutions to ensure the perfect fit for a specific vehicle.
Enhanced ergonomics and comfort
Drivers must be aware of what is happening around their vehicle while they manoeuvre into tight positions. Drivers constantly turn around to overview the operation, which can lead to both short and long-term ergonomic injuries. By using an Orlaco monitor on your vehicle's dashboard, the driver can maintain the correct posture and work more comfortably. They feel safe, secure and in control of the surroundings and in the meantime the system provides comfort and less stress.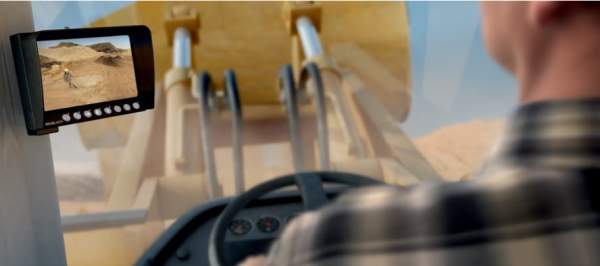 Orlaco supplies to the major heavy equipment OEMs worldwide.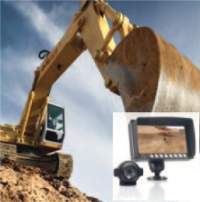 Orlaco's vision solutions are suitable for on and off-road mining machines.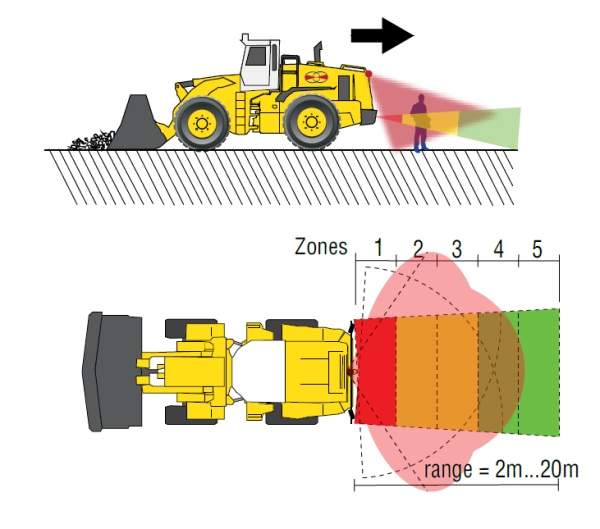 RadarEye unites visibility and active detection.
Vehicle cameras with active warning systems
Orlaco has developed several sight solutions for mining equipment. Due to the extreme conditions that these vehicles have to operate in, such as constant vibrations and temperature changes, the standards are extremely rigorous. The vision solutions that Orlaco has developed meet all of these requirements, which makes the equipment suitable for use on mining equipment and vehicles.
Our camera and monitor systems provide drivers with extra sight. When an object or person enters the danger zone, the RadarEye makes an audible alarm, then selects and activates the required camera. This is presented on the monitor by showing an overlay of green, yellow and red signal zones. The audible urgency increases as the person or object moves through to the red zone. Everything that appears within this zone is brought into sight to prevent personal injury and/or material damage.
Vehicle cameras for harsh environments
RadarEye can be integrated with a vision solution; the radar unit and the camera can be programmed and configured through the monitor. The detection radius is adjustable from 6.5ft (1.98 m) to 65.5 ft (19.96 m) and is divided into five equal zones. The operator can view the monitor to confirm the radar unit is working properly, while a signal will show when a defect appears.
The radar unit is not affected by environment or weather, such as snow, rain, mud and or temperature changes. This is particularly beneficial to mining equipment where reaction response times are crucial.
Our units are designed to withstand the shocks and vibration in the mining industry.
Because of its robustness, Orlaco camera systems are the prime choice for remote and remote controlled operations where good image quality and camera reliability are mandatory for continuous operation.
Certified quality, long-term customer relationships
Orlaco focuses on customer satisfaction through servicing and consistent manufacturing of high-quality products in various custom-designed formats. Quality control is a high priority at Orlaco; we are acting on the highest achievable automotive levels within TS16949 certification. We have made significant investments not only in innovation and product design, but also in certifying our processes and products. This has resulted in obtaining the necessary certificates that are commonly used (and in most cases mandatory) within your specific field. Orlaco is ADR, IECEX, ISO/TS 16949, ISO 14001 and ISO 9001 certified. By investing in continuous improvement, we aim for long-term, satisfied customers. Compatibility in products, systems and operations is a key element to create a reliable partnership. All aspects are documented clearly to achieve a zero-defect and first-time-right operation.
About Orlaco
We are personally committed to bring you the best camera and display solutions to help create safer and more secure workplaces around the world. Our professional team has spent over twenty years to design and manufacture a variety of certified, reliable and complete comara monitor solutions, eliminating the blind spots around machinery. We are confident that our systems not only help you to improve safety, security and efficiency for your fleet of machinery, but also provides better ergonomics and comfort to your operators. That is what Orlaco stands for.