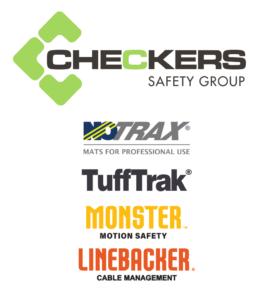 If you have visited the Checkers website recently, you will have no doubt noticed, Checkers is rebranding. It all starts at the top of the page with our new, sleek logo and name; Checkers Safety Group.
In 2015, we acquired seven different companies, all bringing different safety solutions to the marketplace, and as such, the 'industrial safety products' portion of name had to be altered.
'Safety Group' emphasises our mission: to provide revolutionary product designs and visionary safety solutions that protect people, assets, and the environment. The change from our yellow logo to our new green one symbolizes our commitment to sustainability, focus on social responsibility, and our continued growth in the safety industry.
Also new with our rebrand is the addition of our Power Brands. We believe that by marketing our services under four powerful brands with a long history of success we will have even greater marketplace impact. As a result we will be able to provide even more value to our customers. Our four Power Brands focus on ground-level safety solutions.
Notrax® Mats For Professional Use: Offers a range of ergonomic, entrance, anti-fatigue, and safety mats for industrial, commercial and food service environments. Notrax is one of the largest integrated manufacturers of floor matting products in the world
TuffTrak® Ground Protection Solutions: boasts a range of light, medium and heavy duty outdoor ground and turf protection products, such as temporary access roadways, platforms and flooring for special events
Monster® Motion Safety: deals with products for 'motion related' activities, such as vehicular and pedestrian traffic safety with the original range of wheel chocks, warning whips, beacon lights, and parking stops
Linebacker® Cable Management: focuses on cable management systems, cable ramps and hose bridges. Cable management systems are used in a multitude of industries to prevent damage to cables and hoses as well as to protect pedestrians and vehicles from being exposed to the cables