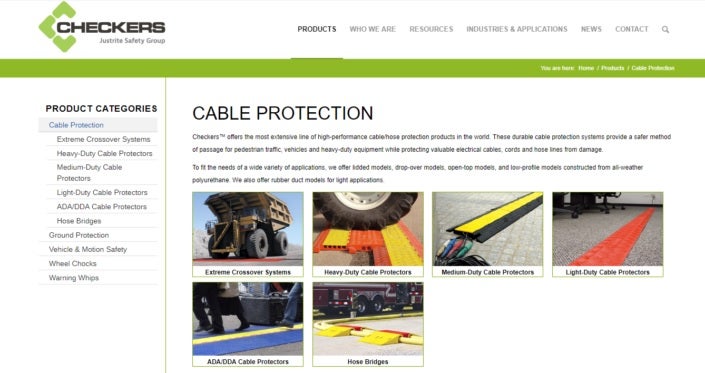 We're pleased to have the newly updated and redesigned Checkers website launched. This site, in-line with the new branding design, merges Checkers' three power brands into a single site. The goal of this renewed site is not only to update the branding, but to create a more valuable resource for our customers and team.
So, what's changed and what should you expect in the coming days?
This new content replaces what was on Checkers-safety.com. On the now-live site you will notice a few significant improvements.
The site has an improved, brighter look that is more inviting and engaging to the user
All Checkers' products are available on this single site. The Linebacker, Monster, and TuffTrak products are now branded exclusively as Checkers products. Only heavy-duty matting will retain the TuffTrak name
The product organization has been improved, reducing the number of clicks to reach a product
All literature has been rebranded with the new Checkers brand
All Checkers products are now able to be quoted from a single quote form. No more visiting different websites to quote different products
Each product page now has all specification data in table form that is easier to read and can be copied for easy sharing
Beginning now, customers can be directed to Checkers-safety.com for all product information
What Should You Expect?
Some changes could not happen until the updated site was live.
In the coming days we will begin the process of pulling down Linebacker-safety.com and Monster-safety.com. These URL addresses will automatically redirect to Checkers-safety.com
SEO (search engine optimization) and online marketing will be changed, directing to the updated site
Customers and general visitors will be able to easily navigate the website in a way that visitors to the old site couldn't. Every product page is tailored to be accessible and knowledgeable. With that said, we want to continually strive to be better. We look forward to making many new improvements and sharing them with you.
This is an accumulation of all Checkers proud family products. It portrays the hard work and community of this company, while also representing Checkers next large leap forward as part of Justrite.
This website represents an ushering in of a new chapter of Checkers legacy. We hope you enjoy the new site!