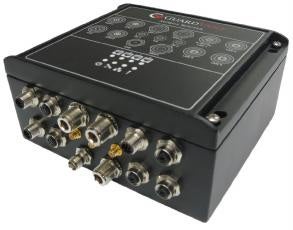 Guardvant Inc. is a provider of innovative mining technology and has released the Guardvant mobile router (GMR), which provides multiple communications options such as peer-to-peer, Wi-Fi infrastructure, cellular, and bluetooth 4.0 for onboard mining applications in a single device. The GMR greatly expands a mine's mobile wireless communication options, ensuring better transfer of data in real-time. As with a smartphone or tablet, the GMR switches from Wi-Fi to cellular when the Wi-Fi signal is weak or not available, ensuring real-time access to data.
Guardvant CEO Sergio Blacutt said: "We developed the GMR because we saw the need to provide multiple onboard communications options. Similar to modern mobile devices such as smartphones or tablets, the GMR can switch between 3G/4G LTE and 802.11, depending on user preference or signal strength. This provides tremendous flexibility for mines wanting to take advantage of cellular infrastructure, but also use their own Wi-Fi hot-spots."
The GMR is an onboard access point providing mobile wireless routing communications infrastructure to all mobile units in a rugged and efficient package. The GMR is equipped with four radio systems:
1. Wi-Fi 802.11 a/b/g/n
2. Mesh Wi-Fi 802.11 b/g or 802.11s mesh
3. 3G or 4G LTE cellular
4. Bluetooth 4.0
This impressive array of built-in radio systems helps to keep mines connected to the mine radio infrastructure and minimise data loss and latency.
Mines can also use the GMR as a data logger for applications that are not hosted on the Guardvant mobile server (GMS), and is equipped with a processor and up to 64GB of flash memory. The GMR contains an internal GPS/GLONASS + L1 receiver, a 3-axis accelerometer, six optically isolated digital inputs, and six switched 12VDC digital outputs to support multiple applications needing general access input or output.
The GMR will be on display at the Annual SME Meeting & Exhibition in Salt Lake City, Utah, on 23rd to 26th February 2014.
Visit Guardvant at booth 221 or see the company website for more information.
Suite of Mining Technology Solutions
Guardvant's suite of products improves safety in the mining environment while increasing productivity of
operators, and includes onboard applications for fatigue monitoring, collision avoidance and universal computing and communications. When combined, OpGuard and ProxGuard, which are installed on heavy equipment and light vehicle fleets, provide fatigue monitoring and improve the equipment operator's situational awareness. The Guardvant universal computing and communications platform provides flexible options to streamline installation and use of multiple onboard applications, regardless of the application brand. Each of these solutions helps give mines situational data that is needed to enhance their decision-making process on safety-related protocols.