Gielle
Fire Protection Services for Mines
Address
Via Ferri Rocco, 32,
70022 Altamura (Bari),
Other,
Italy
Phone
Gielle is a world leader in mining fire protection and is the largest provider of life safety solutions for the worldwide mining industry. Gielle provides electronic security and fire protection solutions in over 70 countries.
Gielle is also an authorised halon banking and reception facility for halon recovery and recycling activities (IMO authorised). Our Gielle clean-agent fire suppression systems offer the following:
Utilise existing piping
One-to-one cylinder / nozzle replacement
Existing halon systems / existing HFCs systems
Express service
Worldwide 24hr service
Full range of international approvals
Mine fire extinguishing systems and protection equipment
Gielle manufactures a wide range of fire protection equipment, from entire fire extinguishing systems to manual fire extinguishing devices. This includes, but is not limited to:
Argon extinguishing systems with nitrogen for wind turbines
Inergen®, Argonite® and Inert55 gas suppression systems
Fire detection and extinguishing control panels
Fixed water-based local application systems for engine rooms
Foam extinguishing systems for helidecks, tank-decks and engine rooms
CO2 systems for engine rooms and galley ventilation shafts
GL 1230 fire extinguishing systems with Novec™ 1230 for small engine rooms and special rooms
GL 200 fire extinguishing systems with FM-200 (HFC-227ea)
Fire detection systems
'Cold fire' wetting agents
Portable fire extinguishers
Electronic security and fire protection for the mining industry
Gielle's solutions can detect a developing fire, arrange for rapid automatic extinguishing, and consequently keep damages and interruptions to operations at a minimum. The systems are distinguished through the presence of the authorised and tested chemical extinguishing agents NovecTM 1230 and FM-200 (HFC-227ea).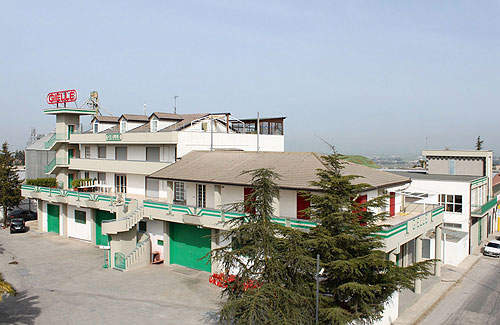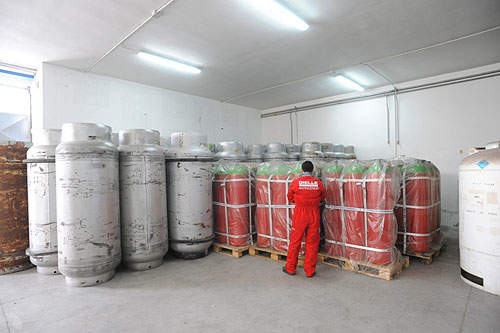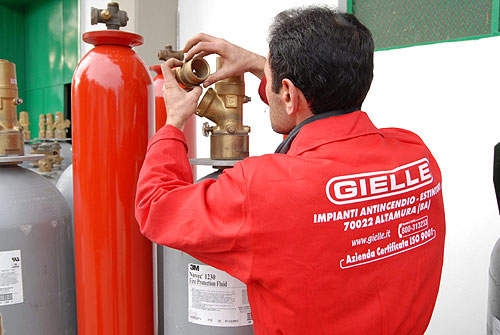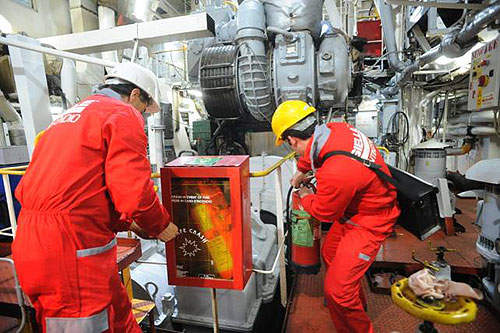 Gielle has the experience and technological knowledge to provide you with fire fighting solutions designed in accordance with IMO/SOLAS regulations and many classification societies and national authorities.
Our team specialises in meeting your specifications, no matter how specific, to supply precisely the system you need.
Installation maintenance and repair of mining fire extinguishing systems
From Houston to Abu Dhabi, we perform whatever service is necessary including installation, retrofit, recharge, maintenance and emergency repair.  It's our global commitment to keep your Gielle systems functioning perfectly and in accordance with applicable mining fire protection regulations.
In accordance with the relevant type-approval procedures, Gielle offers services including capacity calculation, operating instructions and FM-200 and Novec flow calculations.
Gielle can provide the services (design and installation, retrofit, recharge, and maintenance) necessary to keep your system functioning properly and in compliance with all applicable mining fire protection regulations. Because we hold nearly every international mining approval, we can perform your work wherever you are, whenever you need us.
Testing of mining fire extinguishing systems
The new ISO standard 14520 and NFPA 2001 includes a multi-point door fan test as means of determining the retention period. Gielle carries out the door fan test in conformance with NFPA 2001 and ISO 14520 for engine rooms, computer rooms, tape storage, battery and UPS rooms,  communications rooms, control rooms and turbine rooms protected by FM-200, Novec 1230, Inergen, Argonite, and other clean agent systems
Fire fighting wetting agent
Liquid foam concentrate, non-toxic and biodegradable, Cold Fire® is the only patented, concentrated, alcohol-resistant and microbial fire fighting agent on the market today. Once the fire is out or the spill is covered with finished foam, the microbes begin remediating the AFFF, hydrocarbon and alcohol wastes.
Cold Fire is designed for both class B hydrocarbon and polar solvent fuels. On class B hydrocarbon fuels, it creates an aqueous film that effectively shuts down the fire. Cold Fire is U/L-162 listed and CE approval granted under the standard EN 1568-3.
Gielle
Via Ferri Rocco, 32
70022 Altamura (Bari)
Other
Italy



Telephone Number




Fax Number




Email Address