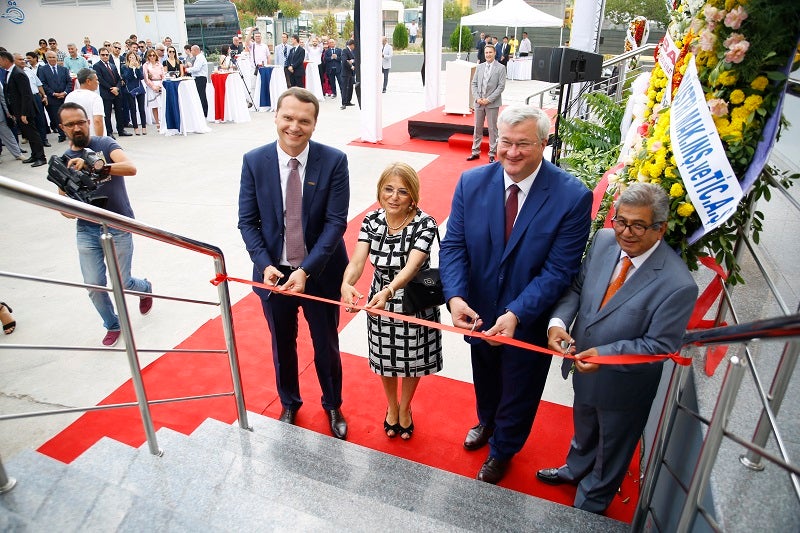 DEZEGA has started producing its respiratory protective equipment at the junction of Asia and Europe. DEZEGA's newest plant is located in the Aegean Free Economic Zone.
21 September 2017 is a significant day in the history for DEZEGA. The official opening of a new high-tech plant has been held in Izmir, the Republic of Turkey. Among the honored guests of the grand opening ceremony were a representative of the Ministry of Economy in the ESBAS zone, the CEO of ESBAS, the prefect of the Gaziemir region, Ambassador of Ukraine to Turkey, representatives of the State Service of Ukraine for Labor and representatives of the Independent Trade Union of Miners of Ukraine, and others.
DEZEGA Chairman of the Board Anton Sakovych welcomes all the guests of the ceremony in both Russian and Turkish. He noted that, for a company with a half-century history and eight years on the Turkish market, the building of the Izmir plant is a logical and economically viable solution.
"The decision to create a new production abroad was made in early 2013. At that time, our products were used in 30 countries around the world. Turkey, as the country for a new production site, was chosen for a number of reasons: the presence of strong local partners, proximity to a number of our traditional markets, and also convenient logistics," said underlined Anton Sakovych.
DEZEGA does not stand still. We are rapidly developing and actively moving into new markets. Currently, our company's products are being used in 49 countries. This decision reflects the great importance of our cooperation with the Republic of Turkey, which is now not only a market for us, but also a location for the production of our plant.
In 2013, DEZEGA conducted a deep analysis of the Turkish market to localize its own production in the country, explored several potential production sites, and then chose the Aegean Free Economic Zone in Izmir. This site has an advantageous geographical position, close to current and potential customers. The region also has an experienced technical and administrative staff.
DEZEGA has already created several dozen jobs at the plant and plans to gradually increase capacity and increase the number of specialists.
The new plant covers 1,800m². At this production site of DEZEGA SP, the company will be able to produce about 120,000 self-contained respiratory devices and auxiliary equipment a year.