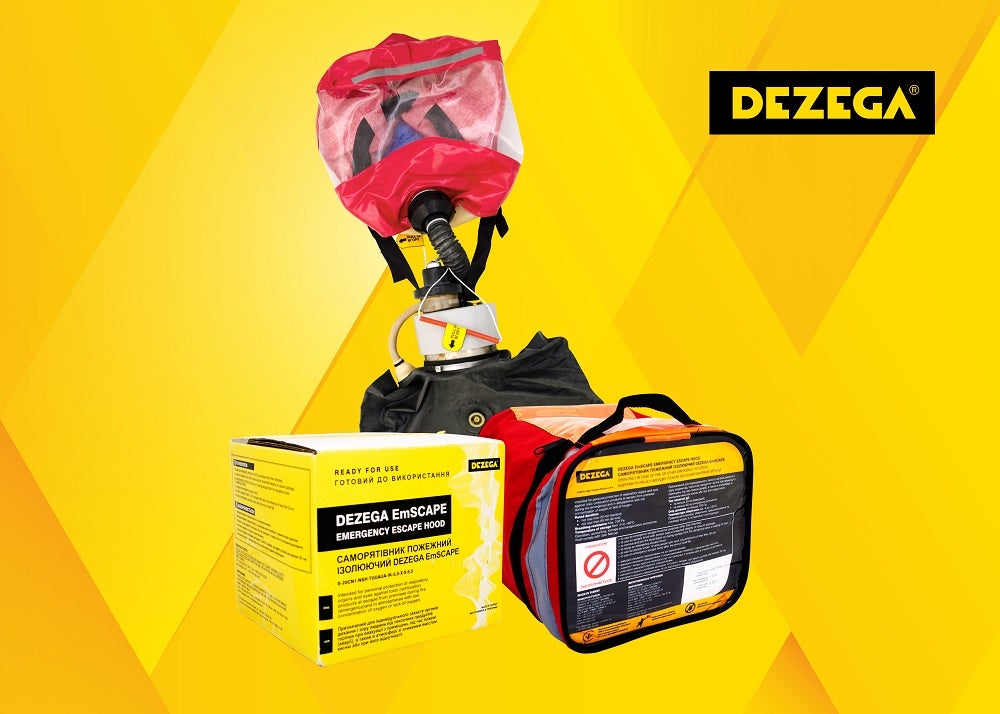 DEZEGA, a world designer and producer of breathing equipment with a closed circuit, has presented an innovation among personal respiratory protection equipment for the civilian evacuation in case of smoke or fire – DEZEGA EmSCAPE emergency escape breathing device.
The specialists of DEZEGA R&D center have developed, put into production, certified and introduced this device to the Ukrainian market. DEZEGA EmSCAPE is a simple and affordable solution for respiratory and visual organs protection. The apparatus complies with the requirements of Technical Regulations of Ukraine PPE (Resolution of the Cabinet of Ministers of Ukraine #761), which is confirmed by the received certificates of conformity. In addition, it complies with DSTU 9052: 2020 'Personal protective respiratory equipment. Self-contained breathing apparatuses on chemically bound oxygen for evacuation and rescue operations in case of fire. Classification, technical requirements and test methods'.
According to the Law of Ukraine on Fire Safety, personal protective equipment must be in all high-rise buildings including, business and entertainment centers, industrial facilities, hotels, dormitories etc. As contrasted with filtering breathing apparatuses, DEZEGA EmSCAPE self-contained self-rescuer will help to escape and evacuate, even if there is no oxygen in the room or unusually toxic or unknown materials are burning. The product completely isolates the user from the surrounding atmosphere. The device has its own oxygen resource and an absorber of carbon dioxide, which a person emits when breathing. It is worth to note that, depending on the material of the product, during the burning, hazardous gases such as carbon monoxide and carbon dioxide, hydrogen cyanide, nitrogen oxides and many others can be released, from which the filter breathing apparatus cannot protect.
Unfortunately, recently the number of loss of human lives in fires has become more frequent. For example, an incident in a nursing home in Kharkiv on the 21 January 2021, as well as near Kyiv, which happened in 2016. Elderly people, who were not able to leave the premises quickly, could wait for help for a safe evacuation if they used self-contained self-rescuers, but instead, they were poisoned by carbon monoxide or other hazardous gases. The same applies to kindergartens and dormitories, where the person responsible for fire safety, using such RPE, can organize a safe evacuation. Nevertheless, the fire safety rules and requirements of the law of Ukraine are systematically violated, which leads to human fatalities.
DEZEGA EmSCAPE is a simple and easy in use apparatus. In case of emergency, the user can easily don it, so, no initial training is required. The nominal rated duration is enough for an effective escape from high-rise buildings, including residential ones; underground premises, parking lots; industrial facilities, as well as crowded public places. In addition, the fire-resistant hood of the self-rescuer will protect the eyes and skin from the dangerous effects of fire.
"As practice shows, only after major accidents, fires and a large number of victims are real steps taken to improve the level of safety, both in the mining industry and in case of the civilian evacuation. Therefore, after major accidents in different countries worldwide, began to pass laws on mandatory use of self-contained RPE," underlined Yuriy Spivak, Business Development Director, DEZEGA.
"All enterprises that belong to DEZEGA group have been developing and manufacturing personal respiratory protective equipment for more than decades. We employ specialists with unique knowledge and niche deep expertise. We are guided by many years of experience and the best world practices in the development and manufacture of rescue equipment, applying the latest technologies. We applied all the experience and competencies that we use for the mining market in the development of DEZEGA EmSCAPE to help the civilian safely leave the premises during the fire or smoke."