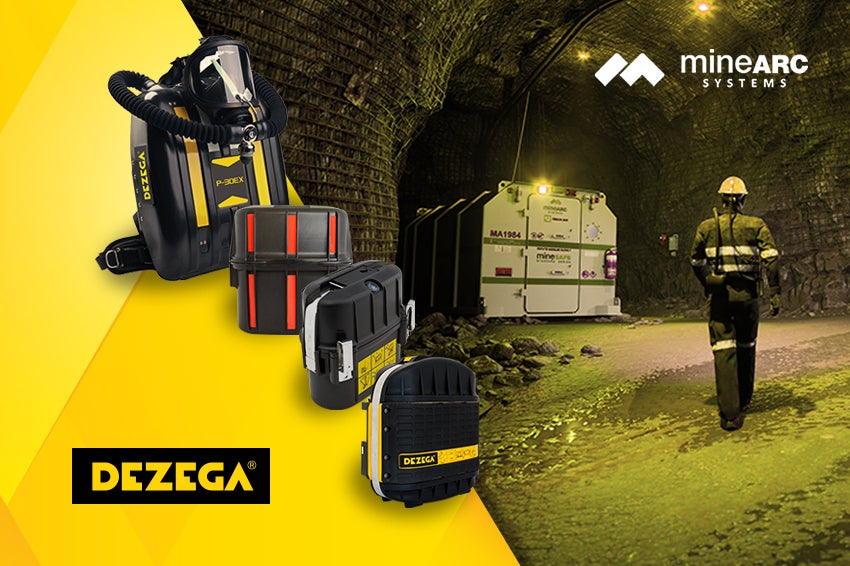 On July 3, 2020, DEZEGA, one of the world's largest designers and producers of mine rescue equipment, and MineARC Systems, the global leader in the design and manufacture of emergency safety products across the mining, tunnelling and petrochemical industries, signed a global cooperation agreement. Under the current agreement, MineARC Systems will distribute DEZEGA products worldwide.
MineARC Systems will distribute DEZEGA self-contained self-rescuers alongside its range of life-saving refuge chambers across the mining, tunnelling and petrochemical markets. In addition, in accordance with the signed agreement, MineARC Systems intends to promote and distribute the entire DEZEGA product line, including compressed oxygen self-contained breathing apparatuses (CO SCBAs) and training self-rescuers to simulate the donning procedure and breathing conditions of an SCSR.
DEZEGA supplies its products to more than 50 countries and is compliant with international and national standards of the EU, Ukraine, Australia, India, South Africa and the Eurasian Customs Union. DEZEGA develops RPE using modern design and production technologies, taking into account the many years' experience in operating devices of its own production, as well as feedback and suggestions from end-users.
"We are pleased to announce the beginning of our cooperation with MineARC Systems. Our companies have a great responsibility to our customers and a common goal – to help users in the most difficult situations and emergencies," said Anton Sakovych, Chairman of the board of directors, DEZEGA.
"Together with MineARC Systems, we will be able to provide new integrated solutions and advanced technologies to raise safety standards both for underground workers and mine rescuers, as well as for workers in other industrial sectors. Indeed, behind each of the products of our companies are the lives of people. MineARC Systems is an innovative company. We are impressed by their systematic and strategic approaches to work. We are confident that in the near future the synergy of our actions and cooperation will bring the desired outcomes for our clients. DEZEGA Company not only moves with the times but also sets the pace and rhythm of movement; often looking ahead and anticipating the already high needs of our customers. We will continue to follow the set course."
MineARC Systems MD Paul Ness said: "MineARC Systems is excited to be partnering with DEZEGA; bringing together a combined total of 80 years' experience in high quality, safety equipment manufacturing. The introduction of Self-Contained Self-Rescuers (SCSRs) and Self-Contained Breathing Apparatuses (SCBAs) to MineARC's range means that not only can we shelter and protect personnel during an emergency, but we can now get them there safely too. Complementing MineARC Systems' experience in safe refuge, SCSRs and SCBAs have been the missing piece to our suite of globally adopted safety products.
"MineARC was drawn to DEZEGA's innovative and progressive company culture and their forward-thinking approach to the development and manufacture of safety equipment. We are confident that DEZEGA will be recognized as the leading brand of SCSRs and SCBAs globally, and we are thrilled to support them in this journey."