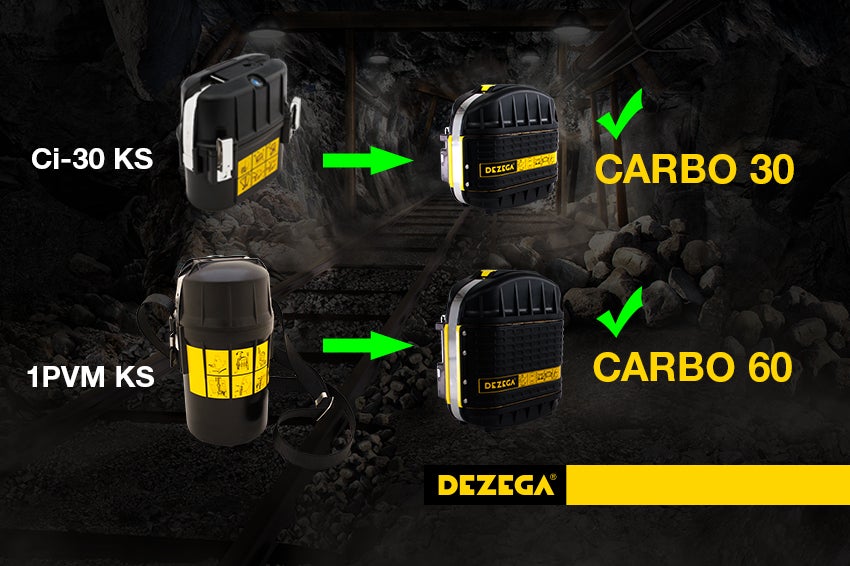 DEZEGA introduces a new line of self-contained self-rescuers: CARBO 30 and CARBO 60 – innovative solutions for occupation safety.
DEZEGA, a global leader in the production of personal protective equipment, is pleased to introduce updates to the product line of self-contained self-rescuers (SCSRs) with a rated duration of 30 and 60 minutes. The new CARBO 30 and CARBO 60 SCSRs are designed to replace Ci-30KS and 1PVM KS self-contained self-rescuers, which have proven themselves highly effective over the years.
One of the key advantages of the new CARBO line of self-contained self-rescuers is their thoughtful design. The ergonomic and flat case, with the center of gravity positioned as close as possible to the user and a large contact surface ensures optimal balance and comfort during daily use. The rounded shape and reduced attack angles significantly reduce the risk of SCSR damage. Additionally, the unique fully automatic starter, which activates upon opening the cover, reduces the risks of mistakes during the donning procedure.
CARBO self-contained self-rescuers have a lower weight compared to other models available on the market and are designed for daily use, either on a shoulder or waist belt, with or without a pouch.
Both CARBO series self-contained self-rescuers are also notable for their ability to be repaired on-site without the need to contact a service center. The specially designed construction allows for efficient and easy repair of components that undergo maximum mechanical stress, significantly reducing the overall cost of ownership and eliminating the need for complete replacement of the SCSR in case of casing elements damages.
Safety always remains the top priority in any personal protective equipment, and CARBO self-contained self-rescuers are no exception. Their innovative design includes protection against unauthorized openings, and fasteners that eliminate the risk of falling and damage of the SCSR during donning procedure.
CARBO self-contained self-rescuers are certified in accordance with the legislation requirements of various countries worldwide and meet the highest standards of industrial safety. Positive feedback from users who have already conducted testing in Poland, Australia, Germany, Turkey, Ukraine, Colombia, The Republic of South Africa, and other countries confirms the advantages offered by CARBO self-contained self-rescuers.
DEZEGA is continually working on improving its products by implementing new technologies and innovative solutions. We understand the importance of safety and comfort for our customers, which is why we continue to develop products that meet the highest standards and requirements of our users.
For more detailed information about CARBO 30 and CARBO 60 self-contained self-rescuers, please visit our official website at www.dezega.com. There, you will find a comprehensive list of features, videos, photographs, and technical specifications. If you have any questions or require additional consultation, please contact us at info@dezega.com or reach out to our regional dealers and representatives in your country.
DEZEGA is a trustworthy partner in the field of personal protection and industrial safety. We provide reliable protection for workers through innovative products that meet your needs, preferences, and requirements