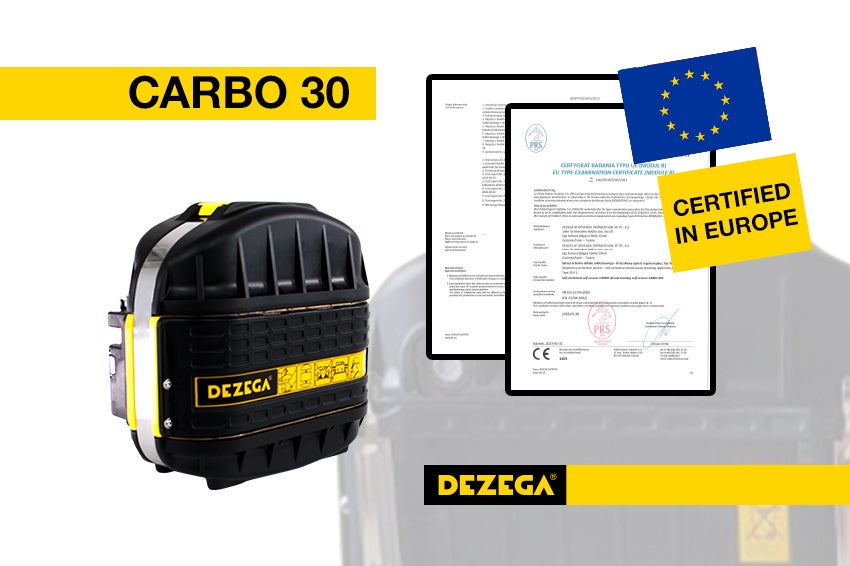 DEZEGA is excited and proud to announce the market launch and successful certification in Europe of our new innovative product – the CARBO 30 self-contained self-rescuer. It has obtained the EU Type Examination Certificate in accordance with PPE regulation 2016/425 and  EN 13794:2002 standard in June 2023.
The path from concept to production and  certification of CARBO 30 involved several years of extensive research, joint testing with our clients, and development at the DEZEGA Research and Development Center. At the very beginning of this journey, we started testing the original prototype, taking into account modern design manufacturing technologies, as well as the requirements and preferences of our clients. Throughout the development process, we actively sought input from end-users and valued customer feedback, ensuring that the CARBO 30 meets their specific needs and requirements. This collaborative approach distinguishes CARBO 30, along with other new products of DEZEGA, from all respiratory protective equipment available on the market.
The CARBO 30 represents a significant breakthrough in the industry, setting new standards in ergonomic design and performance. DEZEGA prioritized comfort, convenience, and usability, while complying with relevant regulations. The self-rescuer was meticulously designed to minimize the load on the user, ensuring convenience and ergonomics for daily carrying and a straightforward, intuitively understandable donning procedure. At the same time, CARBO 30 provides the highest level of protective properties throughout the entire service life, even in tough operating conditions. The CARBO 30 surpasses both customer expectations and industry standards.
CARBO 30 can be carried on DEZEGA shoulder or waist belts, or in a special pouch. It stands out as the most ergonomic SCSR, providing the user with oxygen for at least 30 minutes during active evacuation. The dimensions and shape of the device ensure placing the gravity center as close to the user as possible, minimizing discomfort from the bouncing of the self-rescuer during movement and work. Its concave casing ensures a wider surface of contact with the user's body, effectively distributing the load on the lower back, resulting in significantly reduced perceived weight of the self-rescuer.
Great attention is paid to the ergonomics of donning and handling of CARBO 30. It features a fully automatic starter that activates as soon as the lock lever is opened, minimizing the risk of oxygen loss and eliminating the risk of the apparatus falling to the ground. The device's position on the user's chest after donning provides maximum visibility, convenience in confined spaces, and unhindered head movement due to the design of the breathing tube.
CARBO 30 has numerous advantages, including exceptional ergonomics for everyday wear or use, comfortable breathing with reduced resistance and lower temperature of inhaled gas. Its automatic starter, patented stowing method, and the ability for customer service without the need to contact a service center further enhance its convenience and usability. Additionally, the CARBO 30 features a designated area for marking personal mine numbers, ensuring easy identification.