Creative Safety Supply
Safety Products for the Mining Industry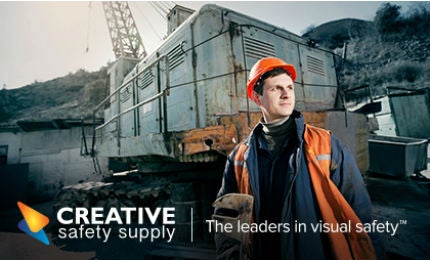 Creative Safety Supply offers a wide range of safety products to support safety and facility managers of organizations concerned with OSHA compliance, the safety of their staff and the effects of solid lean manufacturing practices and training tools.
Whether you are in the field or in a stationary brick-and-mortar facility, danger can be found in all areas where you work. Although our visual safety products lean more towards the facility environment, offering safety labels, signage and floor tape and signs, we also carry a solid collection of safety harnesses, hard-hats, work gloves and other PPE equipment.
On-demand label and signage printers
We offer a lineup of professional, on-demand thermal label printers. The sturdy design of the LabelTac printers allows them to stand up to the rigors and demands of intense manufacturing or service environments. A full spectrum of supplies in various colors, sizes and materials allow you to create in-house labels at an extreme saving, such as GHS, Arc Flash, LO/TO labels, and much more.
As a complement to our facility labeling solutions, we also offer a diverse range of safety floor tapes for creating an effective visual workplace in your warehouse or production facility.
High-traffic-resistant floor markings and safety tape
Floor marking tape that holds up to forklift traffic, heavy carts and other factors that floors are subjected to in a modern, aggressively busy facility is an absolute must. To make things worse, it isn't always easy to know by reading a product description if a particular floor tape will hold up to the abuse your facility will throw at it.
We have designed SafetyTac for just that – long-life and service without failure when it counts. Spills from chemicals, oils and solvents, whether indoor or outdoor – our SafetyTac line can take it. If you would like to test it yourself, simply request a sample from us.
Organizational and occupational health and safety supplies
To support your lean, safety and 5S initiatives, we also offer organizational and occupational health and safety supplies for creating a more organized and safer workplace in general – things like 5S Red Tags, KanBan board materials and much, much more.
To support all of our lean and 5S products, we also offer lean six sigma, 5S, 6S and kaizen instructional and educational products for reducing waste, saving money and making your workplace the most efficient facility around. We carry a large inventory of industrial marking, 5S training and implementation materials (5S Posters, Red Tags, etc.), industrial label printers, foam organization products and more – and we can typically ship most orders the same day.
The fact that many of our clients have been with us since our inception, many years ago, speaks to the quality of the service we provide.
About Creative Safety Supply
With a true passion for innovation and creativity, our team at Creative Safety Supply understands that improvement and safety never clock out. Regardless of business type, our desire is to provide you with the latest protective products that enhance safety, boost efficiency and increase productivity in the most cost-effective manner.
In providing you with the highest quality products and award-winning customer service, we'll support you in building the continuous improvement and safety culture you hope to achieve. As our mission statement says, we're here to 'help our customers build a safe and efficient workplace.'
Creative Safety Supply – the leaders in visual safety.
Creative Safety Supply Images