The ANSUL® brand includes a full line of special hazard, fire protection products including fire suppression/detection systems, extinguishing agents, and portable fire extinguishers. ANSUL products are developed at the ANSUL Fire Technology Center, one of the most extensive fire research and testing facilities in the world. A global network of over 1,000 trained distributors supports ANSUL products. In response to the mining industry's need for vehicle fire protection, the first ANSUL vehicle fire suppression systems was developed and introduced in the 1960's. As mining equipment evolved in size and complexity, we have met the challenge by providing fire suppression equipment to meet those needs.
LT-A-101 Dry Chemical Fire Suppression Systems
LVS® Liquid Agent Fire Suppression Systems
LT-A-101/LVS® Twin-Agent Systems
Triple IR Fire Detection
CHECKFIRE® Detection and Actuation Systems
RED LINE® Hand Portable Fire Extinguishers
LT-A-101 DRY CHEMICAL SYSTEM
You will find LT-A-101 cartridge-operated dry chemical systems on more mining equipment than any other brand – and for good reason. LT-A-101 systems are designed to be reliable in the most hostile environments and operate in extreme temperatures ranging from -65°F to 210°F (-54°C to 99°C). Dependable expellant gas cartridges are tested to detect a leak rate of just .75oz (7g) over 127 years.
LVS® LIQUID-AGENT SYSTEM
The LVS® liquid agent system is the solution to satisfy the need for a system that will provide rapid cooling capabilities. LVS wet chemical agent is stored in 15 or 30 gallon (57L / 114L) tanks connected to expellant nitrogen cartridges. As a liquid, the LVS agent tends to flow down the same path as the burning fuel to areas otherwise not accessible to firefighters. LVS system components are corrosion resistant, built for rugged environments, and designed to operate within a temperature range of –40°F to 120°F (-40°C to 49°C).
LT-A-101/LVS® TWIN-AGENT SYSTEMS
The LT-A-101/LVS® system is the ultimate fire protection solution for non-road mobile equipment such as large excavators, shovels, draglines, haul trucks, and wheeled loaders. This larger equipment contains hundreds of feet of highly pressurized hydraulic lines with hundreds of gallons of hydraulic fluid creating a substantial source of fuel. With size in mind, ANSUL® system engineers and agent chemists jointly developed a new generation of vehicle fire suppression systems featuring the one-two punch of the time-proven LT-A-101 Dry Chemical System and the LVS Liquid Agent System. This combination offers the rapid flame knockdown and pressure-fire extinguishing capabilities of FORAY® Dry Chemical… PLUS the superior cooling effects of LVS Wet Chemical.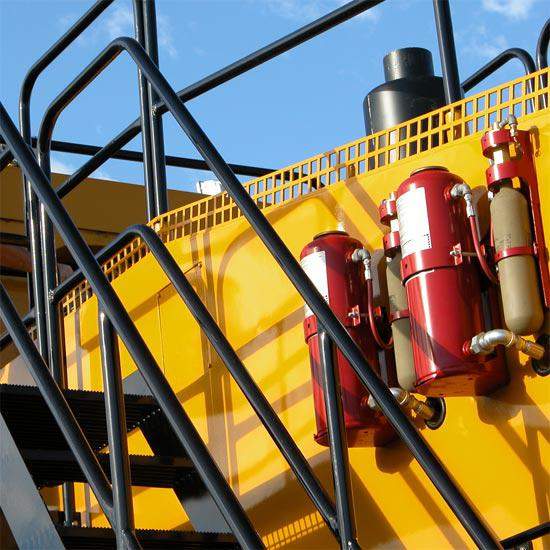 This LT-A-101 installation features two 30lb (13.6kg) dry chemical tanks that discharge simultaneously through a hose and nozzle network.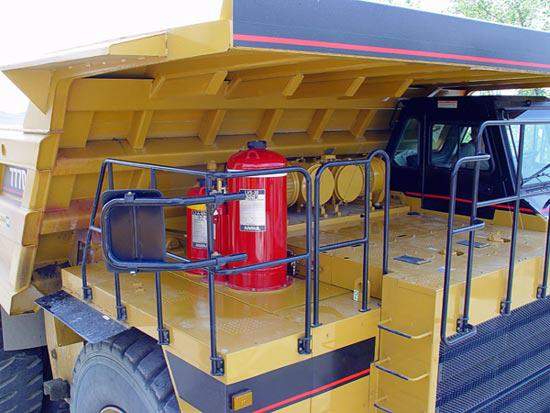 An LT-A-101-125lb (56.7kg) dry chemical tank and 30gal. (114L) LVS™ liquid agent tank supply this 'twin-agent' fire detection and suppression system.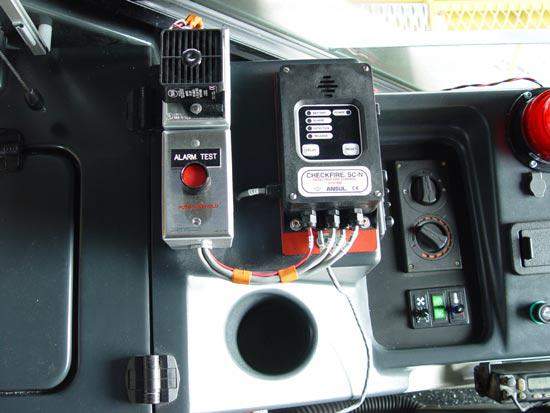 The control module of the CHECKFIRE® SC-N detection and actuation system is installed in the vehicle operator's compartment.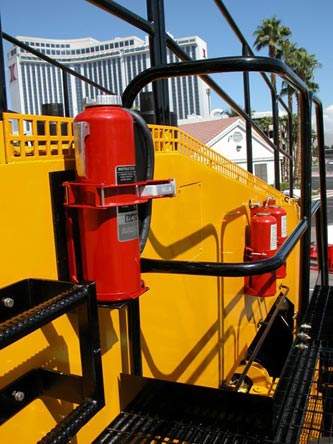 RED LINE® 30lb (13.6kg) hand portable, dry chemical extinguishers are typically installed in a path of egress from the vehicle operator's compartment.
CHECKFIRE® DETECTION AND ACTUATION SYSTEMS
For 24-hour protection, CHECKFIRE® systems provide automatic fire detection, alarm, equipment shutdown, and fire suppression system(s) operation. The environmentally sealed control module is shock and vibration resistant; and features a self-contained internal power source (and/or vehicle power connection), self-checking diagnostics, and supervised circuitry. Detection options include combinations of Triple IR, linear detection wire or spot thermal detectors. The CHECKFIRE MP-N System is MSHA and FM approved for Permissible Applications in Methane/Air Atmospheres.
RED LINE® HAND-PORTABLE FIRE EXTINGUISHERS
As fires on large vehicles and equipment can sometimes be unpredictable, RED LINE® dry chemical extinguishers should be installed as back-up to any fire suppression system. These rugged cartridge-operated extinguishers have been protecting high-risk industries since 1939.