Ansell provides health and safety protection solutions for the mining, oil and gas, construction and infrastructure markets. The company offers a range of gloves, aprons, sleeves and vests suitable for industrial applications through a variety of brands, including HyFlex®, AlphaTec®, MicroFlex®, RINGERS, ActivArmr® and Edge®.
As well as these products, Ansell provides solutions for companies through its AnsellGuardian business, focusing on increasing safety, compliance and productivity, as well as reducing procurement and transactional costs.
High-performance gloves for mining operations
Ansell's ActivArmr, RINGERS, HyFlex and Hynit glove brands are ideal for mining applications. The RINGERS R074 glove features thermo plastic rubber (TPR) impact protection on the top of the hand and down the full lengths of digits, as well as polyvinyl chloride (PVC) coating for waterproof and chemical resistance. The glove's inner lining gives 360° cut resistance and the durable textured palm coating enhances the wearer's grip.
The ActivArmr 80-813 glove offers ergonomic design, comfort, dexterity and flexibility based on patented technology. The proprietary soft foam coating ensures a secure grip in wet, oily and dry environments to reduce slippage when handling tools and materials.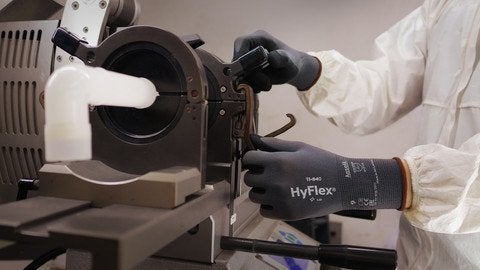 Ansell ActivArmr 97-631 gloves provide grip and flexibility with their PVC coating.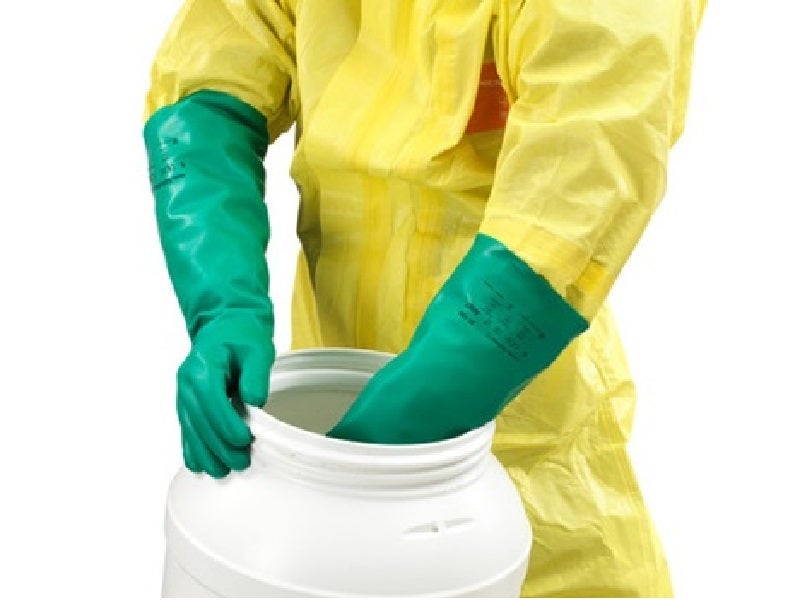 Ansell AlphaTec Solvex 37-185 gloves reduce the risk of lint contamination and other external impurities.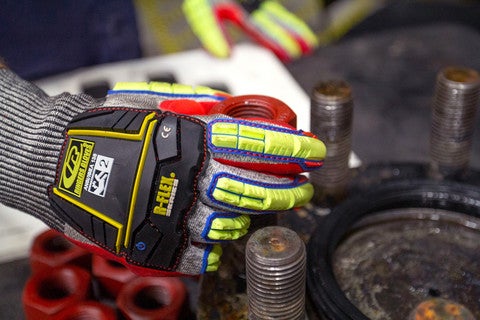 Ansell RINGERS R074 gloves feature TPR impact protection to keep the wearer safe at all times.
Chemical protection for oil and gas applications
Ansell's glove brands are designed with the oil and gas industry in mind. The AlphaTec 53-001 glove provides protection against a wide range of chemicals, from acids and bases to hydrocarbons and organic solvent. The AlphaTec Solvex 37-185 contains no inner cotton flocking, reducing the risk of lint contamination and making it ideal for production areas sensitive to external impurities.
Ansell gloves are designed for comfort, with a natural, curved ergonomic shape and soft feel, and some are compliant with US Food and Drug Administration (FDA) food handling requirements.
High-strength hand protection solutions for construction projects
Ansell gloves are well-suited for use in construction projects due to their dexterity, grip and comfort. The AlphaTec 53-001 glove features the company's MICROCHEM™ chemical barrier technology for superior protection in hazardous environments, and its GRIP™ Technology for handling wet or oily parts.
The AlphaTec 79-700 glove uses Ansell's AQUADRI™ technology to provide excellent moisture absorption, keeping users' hands drier for longer periods of time. The ActivArmr® 80-658 glove carries an EN407 level 2 rating, meaning workers can safely handle warm objects while wearing it.
Oil and impact resistance for infrastructure
Ansell's AlphaTec, ActivArmr and RINGERS gloves are designed to meet the needs of infrastructure and maintenance companies. The AlphaTec 04-003 glove features oil-resistant coating and a special rough grip for handling dry, wet and oily materials, as well as its ergonomic design.
The ActivArmr 97-125 glove offers advanced bumper design for impact resistance, and its enhanced oil grip reduces hand fatigue and injury by increasing control while reducing the amount of force needed to safely handle items. The ActivArmr 97-631 glove provides excellent grip and flexibility in any temperature with its PVC coating, and its flexible nylon exterior protects against mechanical risks, including cuts, and offers maximum dexterity to the wearer.
About Ansell
Ansell Limited is a public Australian company listed on the Australian Stock Exchange (ASX:ANN). The company operates primarily in the industrial and healthcare sectors and currently employs 13,000 people.
Ansell has operations in North America, Latin America/Caribbean, EMEA and Asia Pacific, serving customers in more than 100 countries. As well as its head office in Melbourne, Australia, Ansell has operational headquarters in the US, Belgium and Malaysia.