Donaldson
Filtration Products for Every Phase of Mining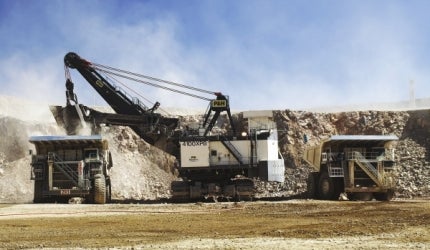 Effective and efficient filtration is the best preventive maintenance there is for hardworking equipment in the mining industry. Donaldson delivers the most comprehensive line of filtration solutions for above and below-ground mining, processing and distribution.
Donaldson delivers:
Increased engine and equipment protection
Extended service intervals
Reduced downtime
Increased operating efficiency
It all adds up to maximising your uptime across your entire operation with filtration solutions from Donaldson.
When it's time for filter replacement, Donaldson provides the right combination of quality and value to help you operate efficiently.
Single source for filtration
Donaldson delivers a complete line of innovative mining filtration solutions, coupled with superior customer service and technical support. Our unrivaled research and development, commitment to lean manufacturing and unmatched global reach combine to make Donaldson your best source for filtration, whether in the pit, underground or in the processing plant.
Depend on Donaldson when every operating hour counts.
Efficient air filtration optimises machine performance
Today's high-performance engines and tougher emissions standards demand higher-performing air intake systems.
Air cleaners: Donaldson filter media is specially formulated to better trap dirt, dust and soot before they reach your engine
Replacement filters: Donaldson delivers better protection for heavy-duty off-road equipment with Donaldson Endurance™ filters or PowerCore® filtration technology
Pre-cleaners: extend air cleaner life by preventing larger particles from reaching the filter. The TopSpin HD® is designed for rugged mining conditions
Effective lube filtration reduces equipment downtime
Donaldson lube filters keep oil clean by capturing contaminants that can cause engine damage.
Lube filters: capture wear metals, soot and contaminants to maintain today's higher cleanliness standards
Extended service lube filters: operate longer between service intervals with Donaldson Endurance™ filters with Synteq® media
Innovative hydraulic filtration assures performance under any pressure
Protect expensive hydraulic components with Donaldson's complete line of spin-on, cartridge-style and in-tank hydraulic filters.
Low-pressure: rated for working pressures up to 350psi, in-tank and in-line configurations are available
Medium-pressure: Donaldson Duramax® filters have become the industry standard for operating pressures up to 2,000psi
High-pressure: heavy duty filters rated for pressures up to 6,500psi for critical applications
Cartridge style: DT filters, using Donaldson Synteq™ media technology, help extend the life of heavy duty equipment
Off-line filtration: polishes new lubricating oils and achieves baseline ISO cleanliness levels – prior to dispensing into equipment, gearboxes and reservoirs
Fuel filters provide superior clean fuel quality
Donaldson filters help prevent premature pump wear and injector clogging by delivering clean fuel to your engine. They're a better way to filter fuel.
Fuel filters: Donaldson provides filtration solutions that protect engine components and help extend equipment life
Cummins® engines: Twist&Drain™ filters with integrated WIF sensors simplify the complicated task of removing water
Racor® fuel systems: Twist&Drain™ filters with threaded sensor ports work with existing WIF sensors
Stanadyne® Fuel Manager® FM 100 fuel systems: universal interface allows one part to fit multiple applications
Clean fuel and lube solutions guarantee optimal fluid storage
Removing contaminants and controlling moisture in your bulk supply tanks prior to pumping fluids into equipment allows onboard filtration systems to do their job better. Donaldson can design a system that's a powerful first line of defence in protecting your equipment.
Clean fuel and lube solutions: bulk assemblies feature parallel flow configurations to reduce pressure drop
Single pass filtration: allow you to achieve targeted fluid cleanliness on the inlet side
Tank accessories: control dust and moisture entering bulk storage tanks with the T.R.A.P.™ vent breather and the Active Reservoir Vent™
High pressure filters: specially designed for point-of use applications on the outlet side
Mufflers and exhaust accessories for a clean environment
Donaldson's products include a range of mufflers and exhaust accessories such as:
Clamps and accessories: reduce exhaust leaks and noise with our full line of exhaust clamps
Mufflers: complete line for medium and heavy-duty diesel powered equipment
Proven filtration expertise and innovation
For more than 90 years, Donaldson has helped customers around the world to meet their evolving filtration needs with a broad spectrum of products and technologies. Today, Donaldson is one of the largest filtration manufacturers in the world.
Our global organisation consists of professionals who are dedicated to providing filtration products and systems that improve people's lives, enhance equipment performance and protect the environment. Donaldson serves customers in the industrial and engine markets, including dust collection, power generation, specialty filtration, compressed air purification, off-road equipment, industrial compressors, heavy trucks and light vehicles.
---
Cummins® is a registered trademark of Cummins Inc. Racor® is a registered trademark of Parker Hannifin Corporation. Stanadyne® and Fuel Manager® are registered trademarks of Stanadyne Corporation.
Press Release
Donaldson Company, a leading, worldwide manufacturer of filtration systems and parts, is pleased to introduce the TopSpin HD, the company's newest air pre-cleaner.
Read more