RIEGL Laser Measurement Systems is an Austrian-based company specialising in the research, development and production of laser scanners and laser scanning systems for terrestrial, mobile, airborne and industrial applications.
For the mining sector, RIEGL provides a range of high-performance, high-resolution 3D laser scanners which perfectly meet the demanding requirements of surveying in situations such as open-pit mining or tunneling.
RIEGL's proprietary digital online waveform processing technology, integrated in the new RIEGL V-Line® laser scanners, results in new possibilities for acquisition, analysis, classification and processing of laser scan data and offers pulse repetition rates of up to 300kHz.
High-speed, high-accuracy 3D terrestrial laser scanner
The RIEGL VZ®-400 is a 3D terrestrial laser scanner offering very high-speed, non-contact data acquisition at a scanning range of 100° x 360°, while working at eye-safe Laser Class 1.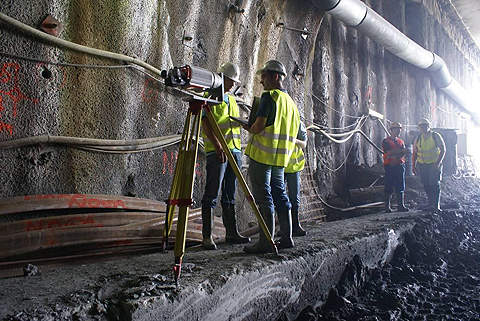 High-accuracy range-measurement in tunnelling: 3D terrestrial laser scanner RIEGL VZ-400 offering a scanning range of 100°x360° at Laser Class 1.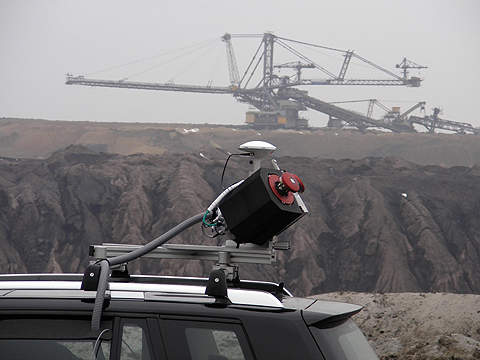 Surveying of slope stability: The RIEGL VMX-250 mobile scanning system offers new perspectives for speeding up surveying of open-pit mines and stockpiles.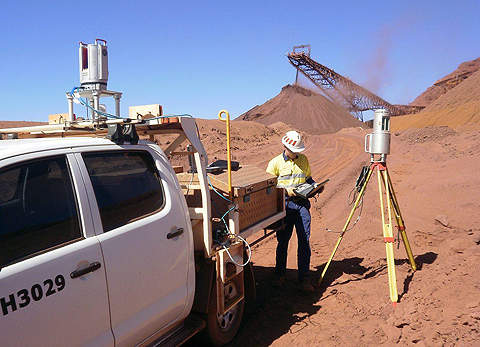 Surveying in open-pit mining: 3D terrestrial laser scanner RIEGL VZ-1000 offering a very long range up to 1,400m and multi target capability to measure better through dust.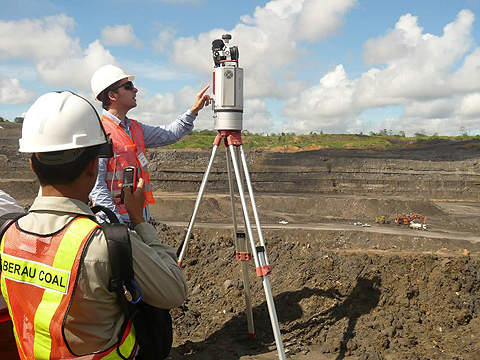 RIEGL VZ-1000 3D laser scanner: special features like the rechargeable add-on battery and the combination with a high-resolution digital camera for photogrammetric applications facilitate working in the field.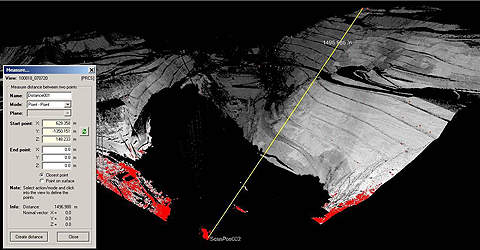 RIEGL VZ-1000 3D laser scanner: state-of-the-art laser technology offers high-accuracy measurement results even for very long ranges in open-pit surveying.
With a maximum measurement range of 600m and a precision of 3mm, it perfectly meets the challenges in applications like tunneling, as-built surveying or city modeling.
Long-range 3D terrestrial laser scanner
The high-speed, high-accuracy and long-range RIEGL VZ®-1000 3D terrestrial laser scanner was specifically designed for surveying in open-pit mining.
This specialised product offers a very long range of up to 1,400m, combined with high accuracy and high precision of 5mm. Much like the VZ-400, this scanner also operates in eye-safe Laser Class 1.
Multiple target detection for each laser shot
RIEGL's state-of-the-art laser technology offers multiple target detection for each single laser shot.
This target detection enables you to measure through dust and to penetrate (to a certain degree) obstructive vegetation that often covers large disused areas in open pit mining.
As you would expect, given their operational areas in mining and tunnelling, both instruments are dust and splash-proof. A water and dirt-resistant keypad with large buttons allows the scanner to be operated with wet or dirty hands, or even while wearing gloves.
And as a consequence of our lightweight design and the integrated human-machine interface (HMI) for stand-alone operation without computer, a single person in the field can easily operate the scanner.
An internal storage capacity of up to 32GB and the optional add-on rechargeable battery support straightforward, fast and efficient data acquisition.
Integrated inclination sensors, a laser plummet, and a compass provide additional information, increasing the possibilities of data processing. The in-built GPS receiver with antenna allows smooth integration in mobile scanning applications, and for combined photogrammetric applications, the scanner can be equipped with an external high-resolution and fully calibrated digital camera.
3D laser scanners for industrial applications
For industrial applications with high demanding requirements, the VZ-scanners can be protected with a climate-controlled housing, power supply and data interfaces provided by industrial standard HARTING® connectors and supply cables.
The high-speed data acquisition scanners are ideal for applications like automatic stockpile surveillance, automatisation of stackers and reclaimers, slope angle control, process automation and autonomous navigation.
Intelligent software packages for user-friendly industrial integration
RiVLiB, a software library developed for V-Line instruments, facilitates seamless integration into automated industrial data acquisition and control systems.
Furthermore, special monitoring software, RiMonitor, allows stand-alone monitoring applications by autonomous operation of the scanner. Acquired scan data are continuously pre-processed, analysed and may be compared to a predefined reference scan or model.
Parameters for processing and analysis can be defined by the user, such as thresholds for alarms.
Mobile laser scanning system
The RIEGL VMX®-250 mobile scanning system is a mobile laser scanning solution for extremely fast and cost-effective data acquisition of large areas from moving platforms, such as boats, trains, road and off-road vehicles.
This new product really offers a different perspective and a new way of speeding up the surveying of open-pit mines and stockpiles.