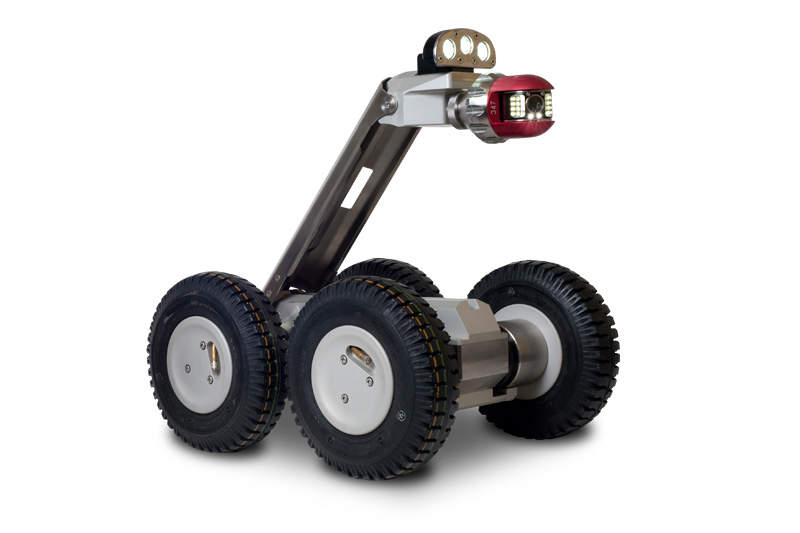 Robotic crawlers are widely used for safe, efficient and reliable remote visual inspection (RVI) of assets and equipment in many different industries, including energy, mining, oil and gas, aeronautical and utilities.
They offer unsurpassed functionality and performance when it comes to real-time inspection of enclosed areas which are difficult to access such as voids, tanks, pipelines, containers, mine-shafts, reactor pressure vessels and are even used for military operations and in search and rescue operations.  The safety of personnel is not compromised and the information provided by the crawler can be used for many different purposes including weld inspection, flaw or damage detection, verification of serial numbers, locating items and planning preventative maintenance.
If you have a robotic crawler system and are interested in learning how to streamline your inspection processes or if you're considering buying or renting one for your operation, you will find the following suggestions helpful.
Tip 1: Consider all uses for a robotic crawler
It can be helpful to learn about how other people in similar industries use their robotic crawlers as this may assist decision-making about a particular product or even alert you to broader functionality for your existing device.
Here are some of the applications for a robotic crawler:
Inspecting storage tanks: welds, heating, ventilation and air-conditioning (HVAC), evaluating corrosion
Inspecting reactor pressure vessels
Conducting surveillance during offloading and refuelling of pressure vessels
Internal inspection of areas that are difficult to access such as railroad and truck cars, elevator and mine shafts, steam generator bowls, pumps and pipelines
Tip 2: Choose the right tracks for your particular environment
Crawler tracks are manufactured in a number of different materials to suit various environments, plus they come in both regular and extended lengths.  Understanding the differences between the track types can be helpful in deciding which robotic crawler is best-suited for your needs.
Brass tracks weigh more so they provide better traction plus they offer good chemical compatibility and are non-sparking
Stainless-steel tracks also have higher weight and therefore better traction and like their brass counterparts, they have good chemical compatibility and are best suited for nuclear decontamination work
Aluminium tracks are lightweight and can therefore handle bigger payloads. They are suitable for non-caustic environments and are ideal for both vertical and/or magnetic crawlers
Tip 3:   Customising your crawler for your unique application
Although off-the-shelf robotic crawlers are designed to be versatile, some inspection situations may require a customised configuration.  Products from reputable suppliers such as the Inuktun range of robotic crawlers come with a range of tracks and standalone accessories (including extended track lengths, sensors and manipulator arms), making it easy for the various components to be customised to suit a particular situation.
Tip 4: Don't be put off by long-range inspections
Innovative design means there are robotic crawlers on the market which can inspect pipelines over two kilometres in length, with a single entry point – even under water.  For example, the Versatrax 300 is waterproof to 60 metres and can travel further than 2ks with its extended track lengths, plus it can be fitted with three cameras and a variety of sensors.
Tip 5: Need to inspect different pipe diameters? 
Again, modern design means there are robotic crawler systems such as the Versatrax 100 which have been engineered for quick and easy reconfiguration to suit a variety of pipe diameters.
Tip 6: Choose the right crawler for vertical inspections (eg pipes, poles, conduits, pilings etc)
Many crawler systems are engineered to travel vertically but it is worthwhile taking the time to investigate just how the different devices perform in situ.  Each one has unique capabilities and it is helpful to see them in action before deciding on which crawler is right for a specific vertical inspection.
Some suggested products are:
The Versatrax Vertical Crawler which can remotely expand its tracks in order to travel vertically and navigate multiple bends.
The Versatrax MicroClimber: comes with eight crystal cam cameras and is designed to navigate virtually any inclined or vertical cylindrical structure. It is perfect for pipes, pilings, ropes and guy wires and can be adapted to accommodate a variety of non-destructive testing (NDT) devices, additional cameras or cleaning tools
The Versatrax 100 MicroMag and Nanomag are both fully customisable and can accommodate a range of accessories such as sensors, cameras and cleaning brushes. They are also both fitted with a magnet so that they can travel vertically on metal pipes and metal structures