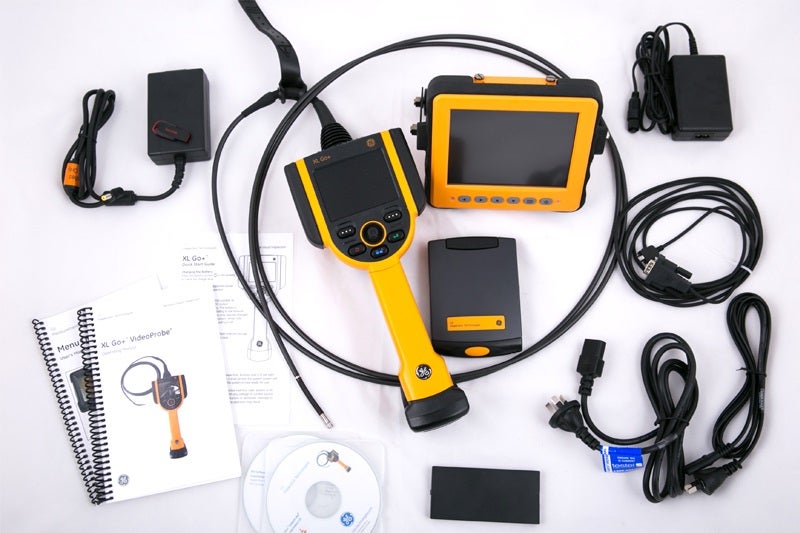 As far as tough environments go, US Navy fighter jets are at the top of the order and they need an inspection system that's as rugged as they are in order to keep them in peak condition and ready to tackle the most challenging mission.
That's why the US Navy specified the XL Go+ VideoProbe for its fleet of aircraft including the F18s because it needed a portable inspection and measurement instrument that could handle the tough environment and still deliver the best possible quality of defect information.
But the XL Go+ hasn't just built its reputation on helping keep the US Navy's aircraft fleet in peak condition and mission-ready. It's built tough to withstand the rigours of any challenging industrial workplace and has come out tops in performance tests in a wide range of environmental conditions, including blowing rain, humidity, explosive atmospheres, shock, icing and freezing rain, sand and dust, snow, salt, fog and vibration.
Innovative design and rugged construction ensure peak performance whether the device is being used to test a 30m-high wind turbine or an aircraft engine which has 'cooled down' to a hot 1000C. The housing is sealed and the shock-absorbing materials and seals are strategically placed to resist impact damage and to protect against dust and water ingress to IP55.
Here's a list of benefits which make the XL Go+ VideoProbe the number one choice when a rugged borescope is needed for a tough environment:
A US Navy spokesperson described the XL Go+ as a 'game-changer', citing its superior portability as a key benefit. Since the unit is battery-operated and doesn't have a bulky base unit, backpack, power cords or tethered scopes, it can be held in one hand and at only 1.73kg, it's much smaller and lighter than competitive products
The XL Go+ has high-output white LEDs and crystal clear VGA LCDs, all of which provide inspectors with sharp, detailed inspection images. This 60% increase in light output improves image quality and readability even when the device is being used in poor lighting conditions such as bright sunlight or snowy conditions. It also improves the probability of accurate detection in larger area applications
Integrated temperature warning system
The unit has a sensor integrated into the camera head which monitors temperatures to prevent damage from high temperature environments such as aircraft engines. A key bonus is that the probe can withstand temperatures up to 100°C, which enables faster access in higher-temperature environments
Guided inspection software
Its intuitive user interface and patented menu-directed inspection (MDI) software automatically auto-generates reports, intelligently saves and organises files and can decrease reporting time by up to 70%. Data can be shared easily and quickly, errors are reduced and productivity is improved, all of which are key benefits in the field of non destructive testing
Unprecedented ease of use and improved safety
The unit is cordless, ergonomic and lightweight and can be held in one hand, which makes it very easy to use while improving operator safety at the same time. This is a key advantage when inspectors are required to produce accurate inspections when working in challenging situations such as climbing a 100m wind turbine or crawling on top of a refinery heat exchanger