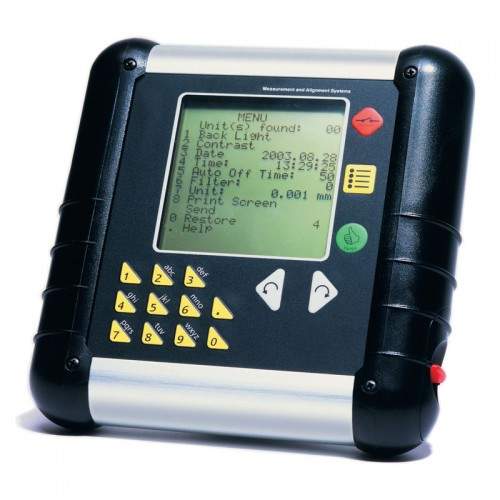 A portable laser alignment tool puts cost control in the palm of your hand and you'll be amazed at the savings that this deceptively simple device can deliver.
From lower electricity bills, improved efficiencies, less downtime, reduced maintenance and equipment replacement costs to improved, safer working conditions, increased productivity and longer equipment life, the benefits are significant.
If you rely on moving machinery in your operation, you'll be interested in how laser technology will protect the integrity of your assets, help maximise your outputs and minimise your costs.
The Easy LaserTM range of laser alignment tools has become the accepted benchmark around the world for keeping machinery aligned in accordance with prescribed tolerances.   And it's not just big industry players who move hundreds of tons of product along their conveyors on a daily basis who rely on this revolutionary technology – small operations will find that these devices soon pay for themselves in terms of the cost savings that they provide.
So why is correct belt alignment so crucial?
These are some of the problems that can arise if belts are out of kilter, even by the tiniest margin:
Excessive vibration
Premature wear and tear of parts
Leaking seals
Bearing failure
Higher energy consumption
Equipment breakdowns
Unexpected, costly downtime and maintenance
Production losses and delays
A noisy and unpleasant workplace
Transmissions with more than one belt or which utilise several large, wide belts are particularly sensitive to misalignment problems.  The machine's efficiencies will be compromised if all belts aren't driven equally or if there's tension between the inner and outer belts, and as soon as one belt is worn, all the belts will need to be replaced which leads to increased costs.  Sheaves and pulleys are also affected by misalignments.
Unlike conventional methods which rely on manual operation using string or rulers, this easy-to-use, yet highly advanced tool uses powerful beams of light to automatically calculate the alignment of stringers, pulleys, idlers, belts, conveyors and other components with precision accuracy.  The system records the data and produces a comprehensive report detailing the necessary corrections.
The Easy Laser is also unique in that it offers live digital read-off of the angular and offset values (with separate display units available for some models), making it fast and easy for technicians to interpret results, identify irregularities and get the equipment back to full function as soon as possible.   Digital readings also mean greater precision.
The Easy Laser is lightweight and its innovative design makes it easy to use and operate – and it only requires one person (and far less time) to do the work.  The operator only needs a couple of seconds to attach the laser transmitter to one side of the sheave or pulley with the detector attached to the other side.   The unit then reads the relative position and produces a live display of the adjustment values, including the machine's shim and adjustment values.
To learn more about the Easy Laser range of alignment tools, and to find out how your operation can benefit from laser technology for belt alignment, get in touch with Nexxis.