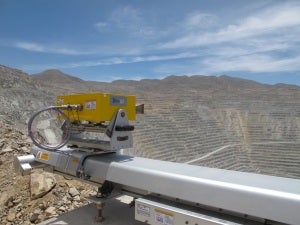 During the second half of October 2012, IDS, along with its Peruvian partner Quimica Suiza Industrial, installed two IBIS-M slope monitoring radar units at Toquepala, a mine located in Tacna Province, Tacna Department, Peru, owned and operated by Southern Peru Copper Corporation (SPCC).
Toquepala is a large open pit porphyry copper mine almost 3km wide and 800m deep mainly producing copper, molybdenum, rhenium and silver.
The mine represents an ideal site to fully exploit the unique capabilities of IBIS-M. In fact, due to the long range and the high resolution of the IDS radar, it was possible to install the two units on the pit rim. This means that the maximum distances to the slope ranges between 2.6km and 2.8km, allowing the radar to cover a huge portion of the pit walls.
During the installation period the local mine staff were also fully trained on the use of the IBIS-M radar.
The installation at Toquepala testifies to the increasing levels of trust held by the leading Peruvian mining companies in IDS radar technology. Peru is becoming one of the most important markets for IDS in South America.
ApplicationsThe IBIS-FMT system is the latest addition to the IDS family of slope monitoring radars...