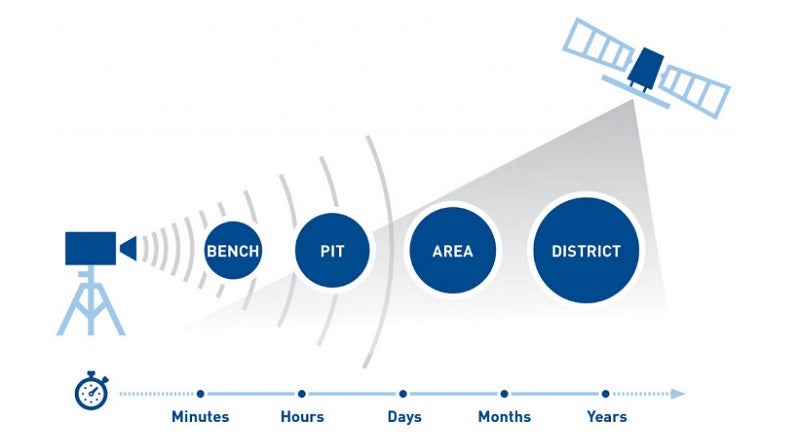 IDS GeoRadar, the leading provider of slope monitoring radar systems (IBIS) worldwide, and TRE ALTAMIRA, the worldwide leader in ground-monitoring services using satellite InSAR, are pleased to announce a new integrated monitoring service to mine companies, capitalising on their expertise in synthetic aperture radar (SAR) technologies. The integrated use of satellite and ground-based SAR enables mining professionals to extend the concept of safety monitoring in space and time.
IDS GeoRadar and TRE ALTAMIRA are committed to offering a comprehensive solution to fulfill all mine stability needs, ranging from monitoring large-scale mining operations over hundreds of square kilometres, to specific movements at the pit scale.
Thanks to the large spatial coverage of satellite data, TRE ALTAMIRA can identify unstable areas over wide areas, also with the ability to extend the analysis of deformation back in time, thanks to the availability of historical archives of satellite images. All mining assets can be monitored regularly and precisely for deformation.
Over the last eight years, IDS GeoRadar IBIS radars have been installed in hundreds of mines across five continents, providing critical monitoring of fast movement, with a very-short timing response, enabling the implementation of early warning alarms and tracking of slow movement for long term risk mitigation.
Through the analysis of satellite data, mine operators can complement ground-based radar measurements to identify anomalous instability over large areas, to address and properly plan the best monitoring array. The two technologies are complementary, with satellite radars mostly sensitive to the vertical settlement of ground and IBIS to rock face movements of steep walls.
ApplicationsThe IBIS-FMT system is the latest addition to the IDS family of slope monitoring radars...