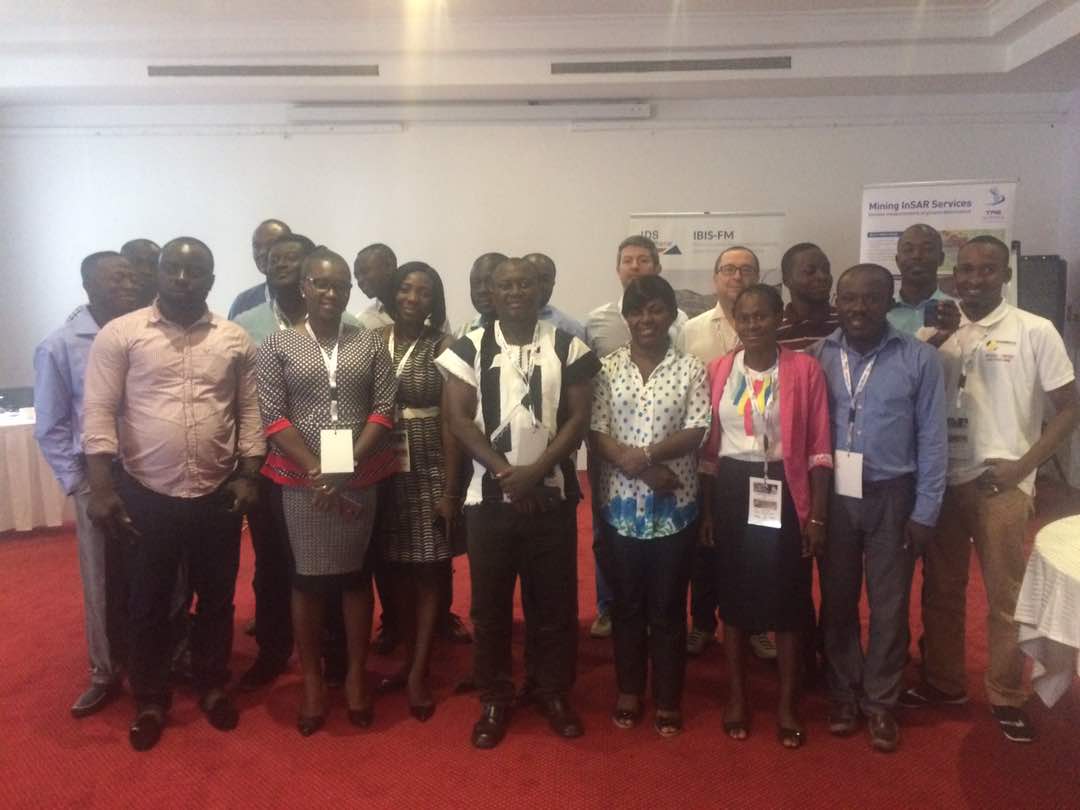 IDS GeoRadar and TRE ALTAMIRA as leading providers to the mining industry continue collaborating to offer a radar integrated solution covering all mine stability issues.
A dedicated workshop on slope monitoring technologies for the mining sector took place in Accra (Ghana) between 3 and 4 May 2017. The event was organized by the local company PDSA, which represents IDS GeoRadar in West Africa. Around 20 representatives, mainly from local mining companies, attended the workshop.
PDSA managing director Maxwell Ansah, TRE Altamira sales area manager Davide Colombo and Giovanni Funaioli, IDS GeoRadar mining division sales and marketing manager successfully showed a synergic slope monitoring solution where 'Everyone does its Job' to enable mine operators to select the most appropriate sensor according to their specific needs.
Together with IBIS ground-based radar, InSAR offers a synoptic view of the whole mine site, allowing geotechnical teams to optimise their global understanding of ground deformations. Satellite and IBIS ground-based radar-monitoring solutions guarantee a safe mining, while ensuring high-efficiency to the operations. Detailed robotic Total Station and global navigation satellite systems (GNSS) displacement data are now automatically imported within the Guardian True Vector processing software by IDS GeoRadar.
Through the presentation of test cases of some renowned mine sites, participants were able to appreciate how satellite data can complement ground-based radar measurements to identify criticalities over large areas, and to address and properly plan the best monitoring array, at the basis of a reliable geotechnical risks management.
ApplicationsThe IBIS-FMT system is the latest addition to the IDS family of slope monitoring radars...