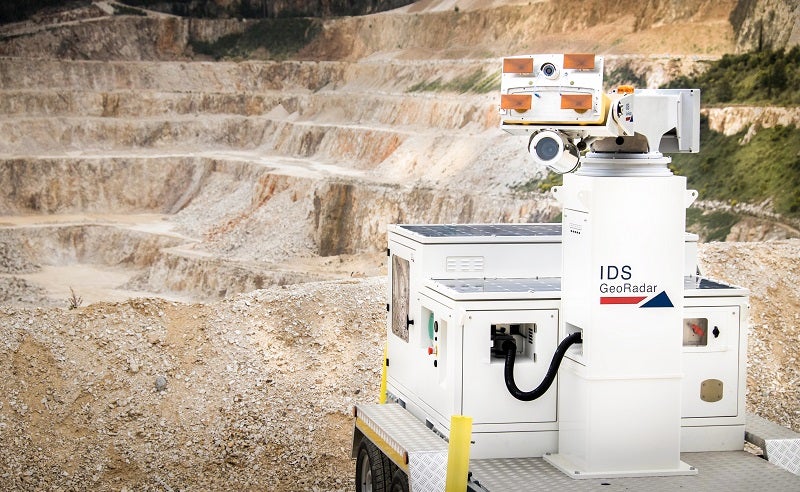 As the world's first 3D SAR radar, the new system IBIS-ArcSAR introduces a technological revolution to support critical decisions and ensure the highest safety standards in the mining industry.
"IBIS-ArcSAR is a game-changing radar designed around robustness and performance to ensure the highest safety standards and manage risk conditions with confidence. IBIS-ArcSAR delivers unprecedented flexibility and performance to support geotechnical engineers in critical decision-making," said Niccolò Coli, manager of the IDS GeoRadar mining business unit.
Investing in safety monitoring
IBIS-ArcSAR is the first and only radar in the mining industry to provide 360° pit coverage from one single platform. The system leverages the widest and longest range (5,000m), and the shortest scan time (360° in 40s; 180° in 20s), as well as built-in GNSS for auto-geocoding. The system also features integrated panoramic HD camera providing real time imagery of pit walls and immediate visualisation of critical areas.
Whether it is a strategic or tactical positioning, the radar's outstanding spatial resolution of ten million pixels sets new standards for critical safety monitoring by covering the full scale of slope instabilities from sub-bench to broad wall movements even at long distances.
Integrating seamlessly into the Guardian FPM360 suite, IBIS-ArcSAR can dramatically expand overlap areas of multiple IBIS radars to exploit the unique TrueVector capabilities, delivering a rich geotechnical environment. One solution combines radar data, prism displacement and slow movement analysis into a single versatile platform without the need to invest in additional software.
ApplicationsThe IBIS-FMT system is the latest addition to the IDS family of slope monitoring radars...