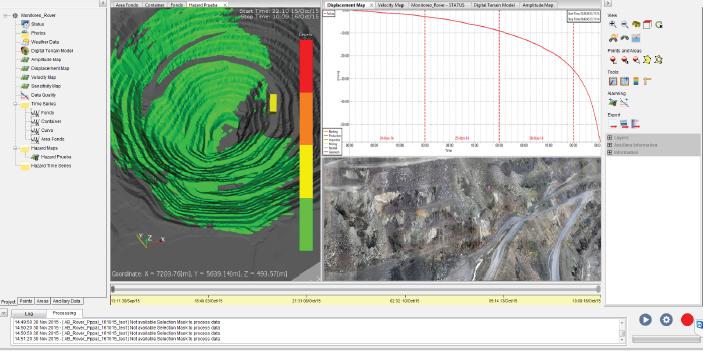 IBIS have introduced a slope monitoring radar system able to resolve the spatial direction of displacement over hundreds of thousands of pixels, in real time.
With the introduction of IBIS Guardian TrueVector, IDS has set a new standard in radar monitoring, by enabling the integration of multiple IBIS radar units to resolve the spatial displacement vector over the monitored area with the sub-millimetric accuracy typical of IBIS radars.
No prisms or markers are required to be placed on the slope. TrueVector is 100% remote sensing and takes advantage of the unique full pit monitoring capabilities of IBIS Guardian to combine multiple and overlapping radar datasets into a single interface. For example, by combining a long-range IBIS-FM monitoring network, scanning from semi-permanent locations around the pit, with the mobile, shot-range and wide coverage IBIS-Rover, users can take advantage of broad overlapping areas where they can rapidly record continuous spatially dense vector information.
IBIS Guardian TrueVector also offers fully automated integration with TPS and GNSS datasets (Leica GeoMoS© and Trimble T4D©), allowing users to plot displacement trends from geodetic monitoring systems against the radar data for a comprehensive interpretation of movement behaviour.
Stereonet charts for vector data are also available in support of geotechnical and geo-structural analysis.
Receiving the direction of movements in real time enables you to:
Use the extreme accuracy, fast scan time and high resolution of radar technology, with no more line-of-sight measurement limitation, to improve safety and minimise risk
Plan adequate mitigation strategies and emergency action plans according to the expected movement direction
Complement the spatially dense radar displacement maps with the 3D displacement information of prism monitoring to provide an indication of the direction of the movement
Map the evolution of movements according to the geo-structural settings of the rock mass
Improve the understanding of the 3D kinematics of a large rock slope and further assist in better mine planning and design, hence allowing more efficient mine operations
Quickly collect high quality information with an in-built redundancy by merging modern monitoring techniques
Distribute prompt information to all involved users and maximise confidence in critical decisions