In 110 countries around the world, SEI is recognised as a world leader in industries such as oil and gas, mining, remote construction, military operations, wildland fire management and aviation and disaster response.
Secondary containment products for mining spills
As companies adopt green business practices, SEI's secondary containment products provide safe, reliable and responsible options to prevent or manage a spill of any kind. We stock a selection of standard-sized secondary containment berms and can also provide custom-sized berms to fit specific applications or environments.
We provide certified engineered secondary containment systems suitable for collapsible fuel tanks, steel tanks or drum fuel.
With decades of manufacturing and engineering experience, SEI's environmental products enable customers to meet environmental spill regulations and practice good environmental stewardship.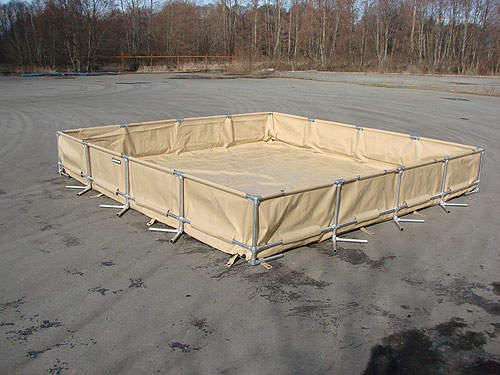 The rugged aluminum structure of the Frame Berm is easily assembled and disassembled for quick transport. It can be deployed with just one tool and provides superior protection for large applications.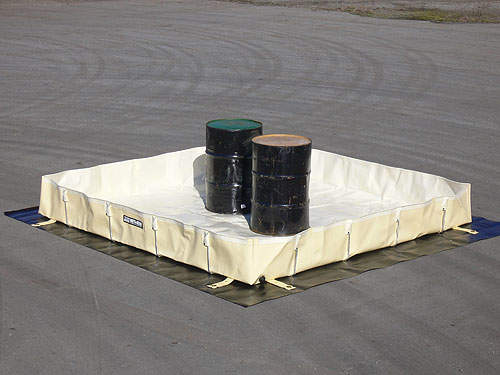 Insta-Berm's L-shaped rods hold up berm walls securely, yet fold down easily for vehicle entry and exit. Constructed of durable, chemical-resistant material, this berm is fully collapsible for compact storage and easy transport.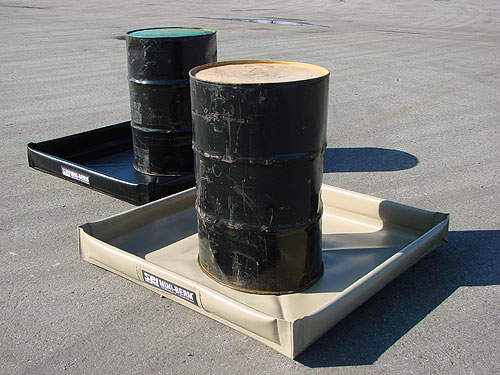 Chemical-resistant to fuels, oils and most chemicals including acids, the Mini-Berm is an ultra-lightweight and convenient spill tray for clean-up operations and spill containment during fuel and chemical transfer.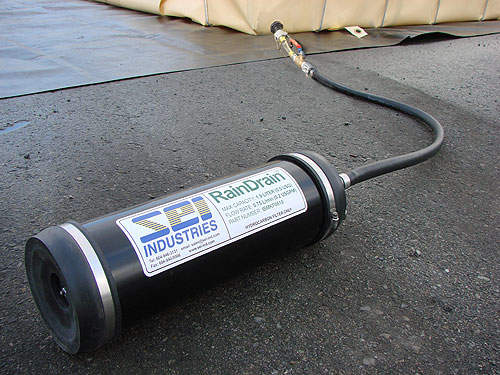 The RainDrain automatically removes collected rainfall and water through gravity drainage while retaining hydrocarbons and contaminants inside the berm. Easily installed within minutes, this filter is an essential environmental item.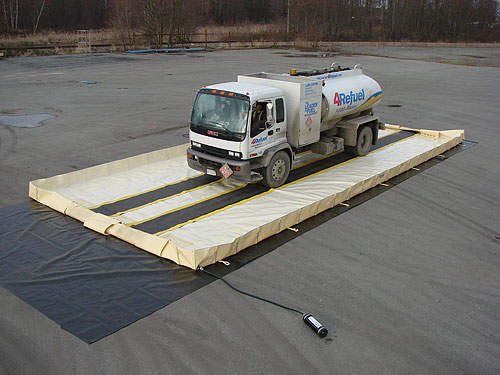 Collapsible hands-free flotation walls allow even heavy tracked vehicles to repeatedly enter and exit the Ride-Side berm without manual set-up while L-Rod side walls provide rigid support. Compatible with the RainDrain filtration system.
Secondary containment spill berms
To ensure companies meet tough environmental protection regulations, SEI manufactures a series of secondary containment spill berms made of industrial-strength fabrics that are durable, portable and easy-to-use.
Typically, these berms are used in spill response and spill prevention as well as to safeguard external fuel storage tanks. Secondary containment systems are also used to store toxic materials, provide protection in fuel transfer areas, and assist with site decontamination and remediation.
Chemical-resistant fabric berm
Frame-Berm™, the frame-supported Insta-Berm, is a fully collapsible fabric berm made from engineered, chemical-resistant material. You can count on the frame-supported Insta-Berm for durable and reliable secondary containment, and for larger applications that require superior environmental protection.
Frame-Berm is recommended for use with fuel tanks and complies with EPA CFR 40 part 112.
Fully collapsible, rapidly deployable fabric berm
Insta-Berm™ is a fully collapsible, rapidly deployable fabric berm made from custom, chemical-resistant material that guards against toxic spillage. You can use the Insta-Berm virtually anywhere for secondary containment that's durable and reliable.
Insta-Berm is your impenetrable barrier between dangerous liquids and the environment. It complies with today's strict environmental rules, including EPA CFR 40 part 112.
Fabric berm for clean-up operations and spill containment
Mini-Berm™ is used for clean-up operations and spill containment. The Mini-Berm is easily placed under valves and fittings, trucks, drum and machinery. It's compact enough to fit into tight spaces, yet still built to the toughest specifications, using our rugged, chemical-resistant fabric.
The Mini-Berm is best suited to containment of waste water, petroleum products and other chemicals.
Berm spillage protection
You can ensure your berm has enough capacity to protect you in the event of a spill with the RainDrain™. This uses gravity to filter hydrocarbons out of rainwater, allowing operators to safely drain rainwater from their berms.
The RainDrain is a go-no-go filter that automatically shuts off when full. Featuring rugged construction and an easy-to-use filter cartridge replacement, the RainDrain is an essential addition for environmental safety.
Remote site refuelling and temporary secondary containment berm
Specifically designed for vehicles, the Ride-Side™ Berm has collapsible walls that allow vehicles to enter and exit without manual assistance. This makes it ideal for capturing liquid under vehicles, remote site refuelling or temporary secondary containment around tanker trucks. The rugged design of the Ride-Side Berm allows it to be used in the toughest environments.
Quality Engineered
SEI Industries is an ISO 9001:2008 certified company that constantly undergoes testing and enhanced development of its products to ensure the highest levels of quality. Because of its extensive field experience and long-standing customer relationships, SEI has been able to push its testing to limits well beyond the operational requirements of most companies.
From mining operations in South America to exploration projects in the vast, frozen Arctic tundra, our customers take our products to the edge and beyond.  It is their endeavours that prompt us to constantly innovate further – always striving to envision and engineer the ultimate product for the most demanding purpose.