Nederman MikroPul
Separators, Dust Collectors and Scrubbers for Air and Environmental Impact Control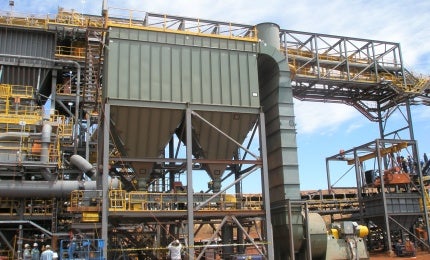 Nederman MikroPul is a leading provider of environmental impact reduction systems for the mining industry, offering solutions that reduce air pollution caused by industrial activities.
Based in Australia, Nederman MikroPul provides world-class engineered solutions to all parts of the world.
Inertial separators and dust collector cyclones
Nederman MikroPul high-efficiency cyclones are the most cost-effective solution for separating dry particulate (five microns or larger) from gas streams. With more than three decades of experience in research, design and successful commissioning of cyclones, Nederman MikroPul has the expertise to select the appropriate cyclone design to meet the most demanding needs of any application in the mining industry.
Inertial separators are the simplest type of dust collector. They are normally used to reduce the volume of particles from the mass flow of an air stream or as a pre-separator or pre-filter for collectors handling greater efficiencies.
Named for their vortex motion similar to that of cyclones and tornados, cyclone dust collectors are large, funnel-shaped tubes. Dust and debris is pulled into the tangential inlet at a high velocity, forcing material against the walls in a cyclonic motion. Larger particles slide down into the hopper while smaller or fine dust exits out the other side.
Reverse pulse collectors and bag filters
Nederman MikroPul invented the first pulse jet dust collector in 1956 and has since installed more than 160,000 systems in many industries. The company's comprehensive applications database allows Nederman MikroPul to review similar applications and recommend the best, proven solution for each operation.
Mikro-Pulsaire® baghouse collectors are available as small bin vents, modular units, cylindrical designs and large multi-section systems, including the K/LP low-pressure collector for cement kilns. The company's patented Advantaflo® inlets can greatly improve performance, providing savings on capital equipment, operating expenses and maintenance for the life of the equipment. Nederman MikroPul's Long Bag™ technology provides a greater capacity from the same footprint.
Wet scrubbers for air pollution control
Nederman MikroPul has been a worldwide pioneer of providing wet scrubbers to solve air pollution control problems for almost 50 years. The company offers designs to meet almost any requirement in several configurations and a full range of sizes. Construction materials include carbon steel, plastics / FRP and exotic alloy steels.
Nederman MikroPul has the demonstrated capability to engineer a wet scrubber system that efficiently meets the needs of clients in the mining industry.
Wet scrubbers currently available include:
Mikro-Vane Scrubber – a basic wet scrubber for high inlet dust loadings
Dynamic Scrubber with integral wetted fan, for all industrial and mining applications
High Efficiency Venturi Scrubber, designed to suit any process gas requiring particulate removal
Multi-Venturi Scrubber, which uses a venturi-rod deck consisting of a series of rods arranged to create the venturi effect between each rod
Absorption Tower – the packed tower arrangement can be applied as gas absorbers, coolers, humidifiers or condensers
After-market services
Nederman MikroPul offers a full range of after-market services, including supplying spare parts, carrying out planned and preventative maintenance work, as well as an emergency breakdown service. The company stocks a wide range of spare parts for all designs of dust collection systems.
About Nederman MikroPul
As the original designer and developer of the reverse pulse cleaning system in 1956, Nederman MikroPul has been working with clients since 1920 to provide air pollution control (APC) systems in a wide variety of industries. The bredth of applications and innovative engineering designs has resulted in many patented products being available from Nederman MikroPul.
MikroPul was acquired by the Nederman Group in Sweden, with the plan to merge the companies and strengthen the common customer proposition. Nederman is the global leader in industrial air filtration.
Operating as Nederman MikroPul from its Melbourne base, the company offers solutions across the entire APAC region from its global locations; reducing air pollution from industrial activities using a range of different solutions.
Press Release
Nederman MikroPul managing director Brian Hooker has released a statement about a change in the company's operations.
Read more
Nederman MikroPul Australia Pty Ltd