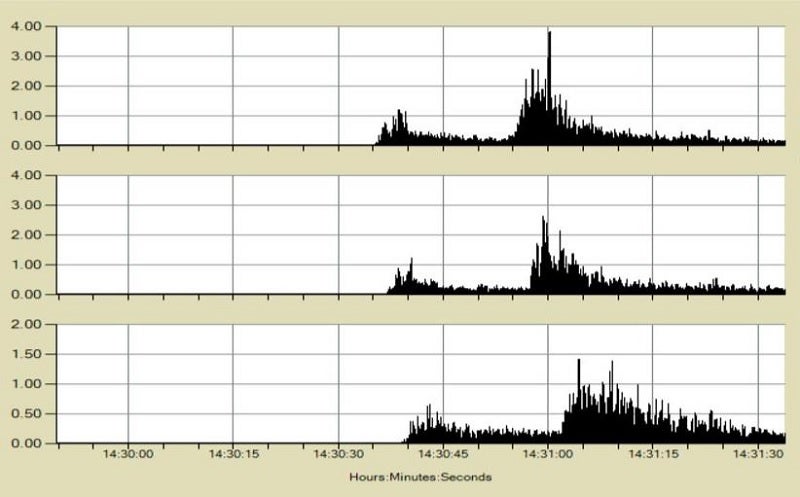 A recent 5.3-Richter earthquake near Mackay, Queensland left more than a few people (literally) shaken up. Just minutes later, the earthquake data was being analysed thousands of kilometres away by Ecotech's staff in Melbourne via our blast monitoring systems. This technology can ensure the Australian mining sector is prepared for the unplanned, keeping our communities safe.
Blast monitoring – recording vibrations and movement in real-time
During the recent earthquake, blast monitoring services coordinator Taral Madhiwala was one of the first people to see data confirming the vibrations.
"I was looking at the results and thought 'this is happening at a strange time' and the reading was quite big," said Taral. The readings, coming from all mines in the area, peaked Taral's interest and prompted him to give one of them a call.
"I thought perhaps that a large piece of equipment, or a truck had triggered the system,but the mine confirmed the earthquake."
Results from Ecotech's system help mining companies in their internal risk assessment, including the kind of damage done to infrastructure and how to plan ahead to minimise the impact of any future vibrations or movement.
Improving efficiency and keeping communities safe
With help from our blast monitoring, mines can ensure they comply with tightly controlled industry standards. However, events like earthquakes highlight alternative ways Ecotech's systems can be used to ensure safety in communities across Australia.
The classic Richter scale provides information on the size and impact of an earthquake only from its epicentre, meaning variations in movement and its subsequent impact on areas outside the earthquake's epicentre aren't recorded. Our blast monitoring system is different.
"[Ecotech's] system shows the vibrations at a number of places, even those a few kilometres away from the centre of the quake, making it much easier to plan ahead," Taral said.
Ecotech NSW, VIC, SA and ACT regional manager Michael Preston says the technology can help mining companies detect signs of any ground movement, improving evacuation and emergency processes, helping prevent damage to infrastructure and equipment and keeping people safe.
Ecotech blast monitoring is Australia's only NATA-certified monitoring service
With a capture rate of 100%*, Ecotech's blast monitoring is the only system in Australia certified by the National Association of Testing Authorities (NATA). Independent accreditation means our customers can "close their eyes and trust us, in our reports, our data and our instruments,"Taral said.
Ecotech's multilevel approach to managing the system ensures we are able to offer the highest level of data available. Our specialised capabilities in blast monitoring enable our customers to reduce risk of non- compliance and assures proven, reliable data capture.
Michael believes Ecotech's customers can rest easy knowing all monitoring is hosted by us, and that our communications systems ensure we know what's happening on your site in real-time: "We continually test in the middle of the night to make sure things will operate the way they're needed to, when they're needed. People can take comfort in the fact we know it'll be operating in the right place at the right time."
The 'Integro™ LIDAR Network' by ECOTECH is a tried and tested technology for the real-time...