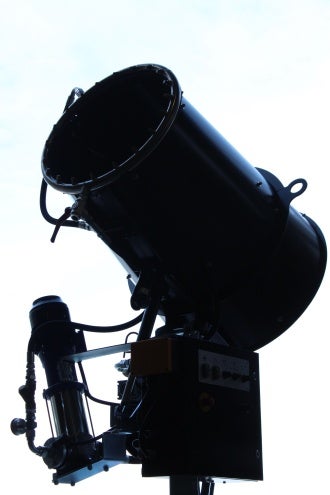 Swedish dust suppression machine manufacturer DUZTECH has launched a new mist cannon model at INTERMAT 2015 in PARIS.
The new mist cannons are compact, light-weight and have low power consumption. The units have remote control functions as standard, so automatic swing operation is possible to distribute the mist over large areas.
The small version T300 RMT is connected to a 16 A socket with a 30m mist throw range. The bigger T400 RMT uses a 32A and has a throw of 40m.
DUZTECH's water cannon provides an extremely fine mist that is effective against airborne dust, and an adjustable water flow.
For more information, please visit the company website.
---
Image: DUZTECH's new mist water cannon. Photo: courtesy of DUZTECH.
Duztech creates solutions for dust suppression, humidification and cooling.Water pushed through fine nozzles forms an...