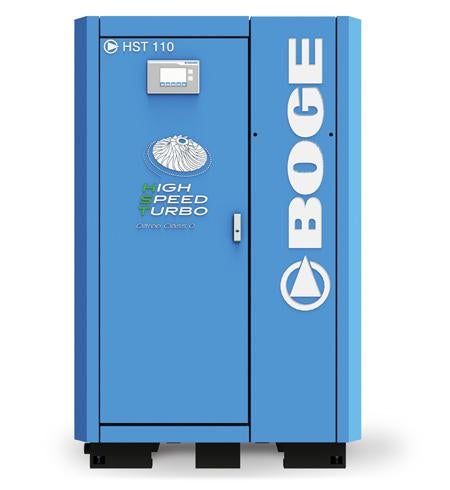 BOGE will present at the Hanover trade fair in Hall 26, Stand B 48.
The company will exhibit numerous new developments for energy-efficient and intelligent compressed air systems, which are equipped with the latest generation of BOGE control and monitoring systems.
The entire compressed air supply can thus be integrated into an intelligent, adaptive overall system ('smart factory'). As a special highlight, BOGE will herald in a new era in the production of oil-free compressed air with the new high-speed turbo compressors.
New era in the production of oil-free compressed air
With the development of its new high-speed turbo (HST) technology, BOGE is setting standards in the industry. The expert in compressed air is achieving decisive improvements compared with the current state-of-the-art by radically reducing the number of components and introducing an extremely intelligent design principle.
With innovative turbo drive, the HST compressors produce 100% Class 0, oil-free compressed air at the highest degree of efficiency and with minimal maintenance effort. Cost savings of up to 30% compared with conventional oil-free screw compressors are realistic.
The new compressors are driven by a permanent magnet motor, which is characterised by a very high-energy density. The outstanding feature: BOGE has succeeded for the first time in using air-lubricated bearings in the drive shaft, which is a prerequisite for extremely high speeds of well beyond 100,000 rotations.
BOGE airstatus: future-oriented remote diagnostic tool
With airstatus, the BOGE portfolio contains a mature and future-orientated remote diagnostic tool that comes very close to the ideal of the modern factory in which all processes are networked. airstatus offers users maximum efficiency, security and transparency in the supply of compressed air. With the free BOGE app, this status orientated remote monitoring tool can be operated conveniently using a smartphone or tablet PC.
The essence of Industry 4.0, the focus control 2.0 compressor control system
With focus control 2.0, BOGE is presenting an intelligent compressor control system, which in the age of Industry 4.0 can be ideally integrated into modern, networked production. It allows up to four compressors to be connected. Information can be read comfortably via the high-resolution colour display and capacitive keys in touchscreen style make it extremely easy-to-use.
An RFID interface allows authorised operating personnel to contactlessly log in to the controller.
C 15 DR series: space-saving for custom applications
Due to the small amount of floor space that they take up, BOGE screw compressors in the C 15 DR series are particularly suitable for use where space is tight. All of the individual elements are configured according to the customer's specification, fully assembled and delivered as a complete compact unit ready to be connected.
Super sound insulation ensures extremely quiet operation for all models, which means that the C 15 DR compressors can also be operated directly at the workplace. Numerous treatment and filter options make the BOGE complete solution the flexible all-rounder.
Oil-free scroll compressor for sensitive applications
Compressed air that is completely oil-free is a must in sensitive working environments. BOGE has developed the new EO series for users who require a compressor that is quiet and compact enough to be able to set it up close by at the workplace. Its scroll compressors work extremely quietly with minimal vibration.
A modular concept with one to four compressor stages ensures that the compressor can be specifically adapted to requirements and that a maximum variety of options is available – whether on a container, with refrigerated dryer, as a dual system or with cyclone separator.
SL and SG series: Continuous-run compressors for constant compressed air
The compressors of the SL and SG series stand out mainly for their performance and offer users the greatest possible convenience in terms of cost efficiency, longevity, and operational reliability. The screw compressors of the SL series have a direct drive while those of the SG series have a direct drive with integrated gear unit.
Both compressors thus guarantee maximum operating hours and practically wear-free operation under a constant load, even in a high-dust environment such as in the cement industry or mining.
BOGE S-4 series: More efficient and quieter than ever before
With the next generation of the S series, BOGE is launching the most efficient screw compressor to date. Power consumption, sound pressure and maintenance costs have been minimised to such an extent that the lowest levels have been reached across the industry. The total operating costs of the new S series are considerably reduced due to the extended maintenance intervals and additional energy saving options.
BOGE airbike: Apprentices present bicycle powered by compressed air
As a modern company that trains apprentices, BOGE attaches great importance to fostering junior employees – with concrete projects that the apprentices must design and implement by themselves. With the BOGE airbike, three apprentices are thus presenting one of the first bicycles worldwide to be powered by compressed air. From design through to assembly, the junior employees converted the bicycle completely on their own.
---
Image: A BOGE HST compressor for air quality and efficiency. Photo: courtesy of BOGE.