Vulkan Drive Tech is a dedicated division of the Vulkan Group and has over 120 years of experience in designing, manufacturing and delivering mechanical power-transmission and braking systems.
Vulkan products are designed using the latest finite element model analysis tools and are available in a wide range of sizes and different versions in order to satisfy the most critical application requirements, ensuring reliable products for all static and dynamic conditions.
Vulkan counts on 15 wholly owned subsidiaries worldwide, and more than 30 external offices and representatives, guaranteeing a constant presence for our customers.
Customised mining conveyor belts, hoists and gantry cranes
Our strength is the capacity to offer a complete and customised package of products suitable for mining equipment, such as conveyors belts, hoists and gantry cranes, stackers and recliners, etc. Our product portfolio includes:
Vulkan Couplings: 1) Flexomax GE flexible coupling, 2) Flexomax GBN flexible coupling, 3) Speflex flexible coupling, 4) Vulastik L highly flexible coupling, 5) Denflex rigid coupling, 6) Discflex rigid coupling.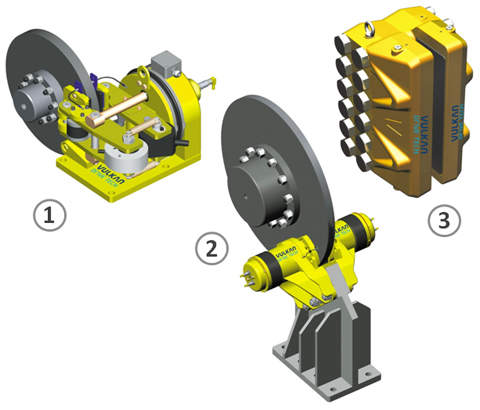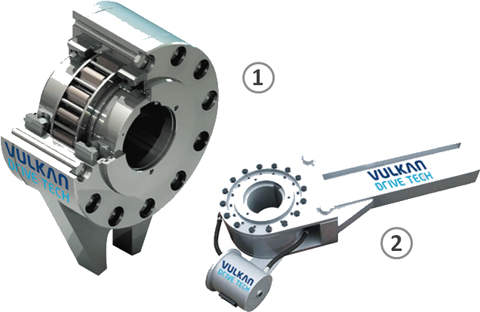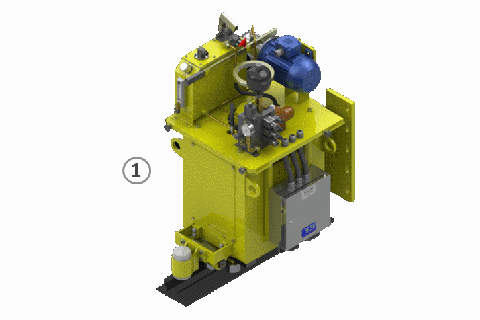 Vulkan brakes: 1) Electromagnetic brake, 2)Hydraulic brake, 3)Hydraulic yaw.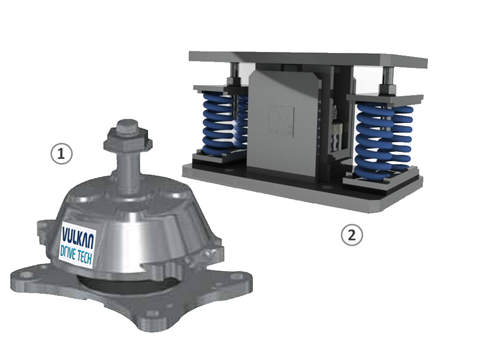 Torsionally flexible and highly flexible couplings
Gear and disc metal couplings
Hydrodynamic couplings
Hydraulic, electrohydraulic and electromagnetic brakes
Electromagnetic and electrohydraulic drum brakes
Low and high-speed backstops
Freewheels
Actuators
Industrial clutches
Rail clamps
Resilient and shock mounts
Rigid and flexible couplings for mechanical drives
Vulkan offers a range of couplings for mechanical drives, including torsionally highly flexible couplings, jaw couplings, tyre couplings, gear couplings and disc couplings with different levels of stiffness, depending on the result to be achieved.
Our rigid couplings transmit synchronous torque values with high axial displacement capacity and are best for working in aggressive environments and on applications subjected to frequent motion inversion.
Flexible couplings absorb shock loads and vibrations deriving from either driving or driven equipment, are easy to install and are maintenance free. This makes them well-suited for heavy-duty applications. The typical claws design guarantees the possibility to transmit the motion, even if the elastic element might be damaged.
Hydrodynamic couplings for mining applications
Highly flexible couplings transmit definite torque values with high elasticity, making them ideal for applications subjected to torsional vibrations.
Our hydrodynamic couplings are specifically designed for mills, conveyor belts, fans and all machinery with proper high inertia. They provide smooth engaging and disengaging of the motion, overload protection for driving and driven machinery, and variable torque transmission capacity ranging from 80% to 270% of the operating torque.
Brakes for conveyor belts and cranes
Vulkan provide pneumatic brakes, electromagnetic brakes, electrohydraulic brakes and hydraulic brakes for applications including conveyor belts, hoist and gantry cranes. The drum brakes line (electromagnetic or electrohydraulic) is ideal for heavy-duty applications used in the mining industry.
Our 100% in-house production allows us to customise all products according to individual requests.
Backstops, freewheels and electromechanical actuators
We offer both high and low-speed backstops and freewheels for conveyor belts, elevators, cranes, velocity reducers and pumps used in the mining industry.
Vulkan electromechanical actuators are developed to activate silo gates, raw material gauges, ventilators, cranes' mechanical locks, loaders, and paper and pulp-making machines. These actuators bear applications from 30kg to 4,000kg at varied speeds, position sensor and easy-to-adjust overload.
Industrial clutches and rail clamps
Vulkan industrial clutches are designed for specific installation on PTOs, mainly used in the actuation of machinery that requires operation interruption without needing to stop the driving equipment. This equipment may include cranes, hoists, compressors and fans, etc.
Our rail clamps allow you to provide safer clamping of loaders and unloaders, ore stackers and recliners, locomotives, overhead cranes, and gantries.
Anti-vibration mounts for power generation
Vulkan anti-vibration mounts use rubber dampers to isolate vibration from machinery such as propulsive engines (diesel and electric), generator sets, pumps, compressors and any accessory that requires significant structural-borne noise isolation.
Our rubber dampers are specifically manufactured to isolate the supported machine from external forces such as shock excitations, while damping vibrations produced by the machine itself.