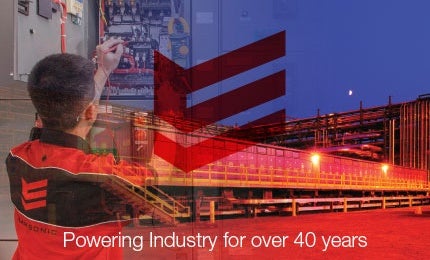 For over 40 years, Sonic Enclosures has built a reputation for integrity, uncompromising quality and engineering excellence in the design and manufacturing of modular enclosure solutions and metal structures worldwide. Sonic Enclosures' products are suitable for a wide range of sectors, including the mining, oil and gas marine, offshore and forestry industries.
Applications include electrical houses, mobile and stationary equipment enclosures, A-60 offshore enclosures and operator cabs, all suitable for any environment.
Electrical houses designed for mine sites
The company's key service is designing and building electrical houses, or E-Houses, for the mining industry.
E-Houses provide operations with an industrial metal building to hold and protect critical equipment. Each E-House is constructed according to the needs of the customer's operation and the specific application it is designed for; the electrical equipment can be included, or ready-supplied equipment can be installed.
Sonic Enclosures' E-Houses are produced and insulated by a sheet metal liner around a formed metal-panel exterior; they can also be mounted on a structural steel base to make the unit portable. Once built, the enclosures can be divided into as many sections as necessary to ship them by truck or barge.
All electrical houses comply with regional building and electrical codes. Sonic Enclosures has delivered products to several of North and South America's leading copper, gold and silver producing mines over the past 20 years.
Safe enclosures for mechanical equipment
Mechanical houses are enclosures specifically for mechanical equipment, which may include boilers, gas turbines, diesel generator sets and ROV launch and recovery controls.
Sonic Enclosures has a strong in-house base of registered mechanical and electrical engineers with extensive knowledge and many years of experience in North and South America. This, coupled with the company's modern facility, enables it to design, manufacture and assemble enclosures for a diverse range of industries and needs.
Heavy-duty DNV enclosures
Sonic Enclosures offers marine structures that are capable of operating in adverse conditions.
The converted ISO freight containers or heavy-duty models are manufactured by Sonic, depending on the needs of the application, as well as the industry standards and regulations. Heavy-duty units are governed by DNV, ABC and USCG. Sonic's DNV enclosure range includes:
Berthing quarters
ROV control rooms
Workshops
Chemical storage
Marine biology labs
Clean room labs
Isotope research labs
Critical temperature labs
Antarctic expedition labs
Generator enclosures for power supply
Sonic Enclosures custom designs generation sets to support the power supply for light and heat, or to drive equipment and back-up systems.
The generator enclosures include supply and discharge air silencers as well as fuel tanks, controls and engine exhaust systems. They are sound attenuated to reduce excessive noise levels and robust enough to withstand harsh environments.
About Sonic Enclosures
Sonic Enclosures believes that: "We don't ship hardware, we ship our reputation". Get in touch to experience the Sonic difference. Sonic looks forward to being of service on your upcoming projects.
Sonic Enclosures has extensive experience with gas detection, pressurisation, blast design and electrical zones one and two. As an ISO 9001:2008 registered company, customers are assured that their orders are met in a timely manner and to their specification.
The company is dedicated to offering superior customer service, complete support and successful project management. Sonic understands the importance of time in each industry so completes and delivers each product on time and within budget. It provides complete service and support to manage scope and schedule, and can handle all aspects of design and manufacturing.
Sonic Enclosures
7127 Honeyman St
Delta
British Columbia
V4G 1E2
Canada