Sicame Australia supplies a wide range of electric transmission and distribution components for original equipment manufacturers (OEMs), as well as the mining, oil, gas and infrastructure sectors.
Electrical components for mining applications
Sicame Australia offers a broad range of electrical fittings and equipment, including low-voltage aerial-bundled cable (LVABC) fittings, low-voltage (LV) and mid-voltage (MV) bare overhead fittings, high-voltage (HV) transmission fittings up to 500kV, and di-electric self-supporting (ADSS) and optical fibre grand wire (OPGW) cabling.
The company also supplies waterproof insulation piercing connectors for underground applications, customised underground joints, and a full range of electrical safety equipment and personal protection.
Sicame Australia also designs and manufactures portable earthing systems, and LV bonding for overhead and underground applications, as well as supplies specialist connectors and fittings for the industrial and commercial markets.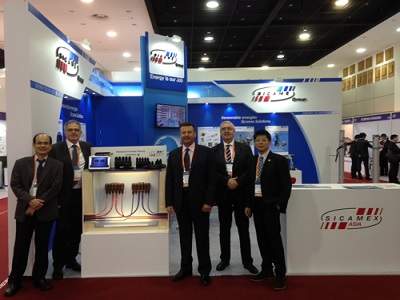 Custom-engineering and manufacturing capabilities
Sicame's engineering department oversees the product development process, by providing quality assurance, tooling, sub-component assembly design, process control and final testing to ensure the end-product meets the client's requirements.
In addition to staying up-to-date with new technologies in material science and processing, the company incorporates advancements into new and innovative products.
Quality and sustainability assurance accreditation
Sicame Australia implements the ISO 9001: 2008 quality management systems (QMS), which is integral to reducing waste and risk, while increasing customer confidence and business performance through consistent improvements.
Our systems are regularly reviewed and independently verified by SAI Global.
Certified to ISO 14001, Sicame Australia actively manages its environmental footprint, and has effectively integrated the environment management system framework into its existing operations.
Sicame is continuously revising and enhancing its manufacturing, business and management systems for optimal environmental sustainability.
About Sicame
Established in the mid-1980s, Australia Pty Ltd was initially a line equipment supplier to the Australian utility industry. By the 1990s, the Sicame Group had fully acquired the company as Sicame Australia.
The organisation gradually expanded and dominated the growing market of LVABC connector equipment in Australia.