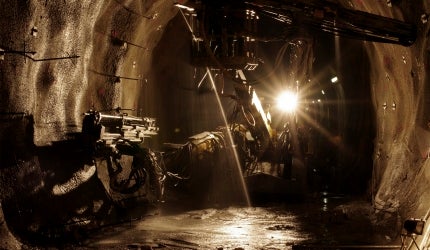 A powerful machine requires powerful lights. The success of Nordic Lights™ products is based on their durability. This is the number one criterion for our customers, hence our slogan: "Lights for Heavy-duty". All our products go through extensive test procedures before they are released on the market. Our products utilise our patented dampening solutions.
Heavy-duty work lights for the mining industry
Nordic Lights work lights are used in the most difficult and demanding working environments all over the world. The visibility offered by the high-quality optics of the lights supports your machines in maintaining high working efficiency during dark working hours, while the lights themselves need very little maintenance. The use of Nordic Lights products ensures that darkness, vibration, shock, dust and humidity will not affect visibility when the results of your work and safety depend on effective lighting.
Work lamps for heavy-duty applications
Nordic Lights aims to offer the right solution to each customer. As a result, a large number of our manufactured products are tailor-made. Combinations of different light patterns, brackets, vibration dampeners and cable connections can be applied to optimise a light for different applications and a specific set of conditions.
Anti-shock and vibration work lights
Nordic Lights is a company based in Finland that designs and manufactures LED, HID (Xenon) and halogen work lights for heavy-duty on-road and off-road industry, as well as innovative Xenon driving lights. We remain a pioneer in supplying light technology to heavy-duty equipment.
The Nordic SCORPIUS LED work lamp offers outstanding illumination and is available with the revolutionising QUAKE dampening system. Suitable for harsh conditions and a range of applications. Operational up to 3,700 lumens.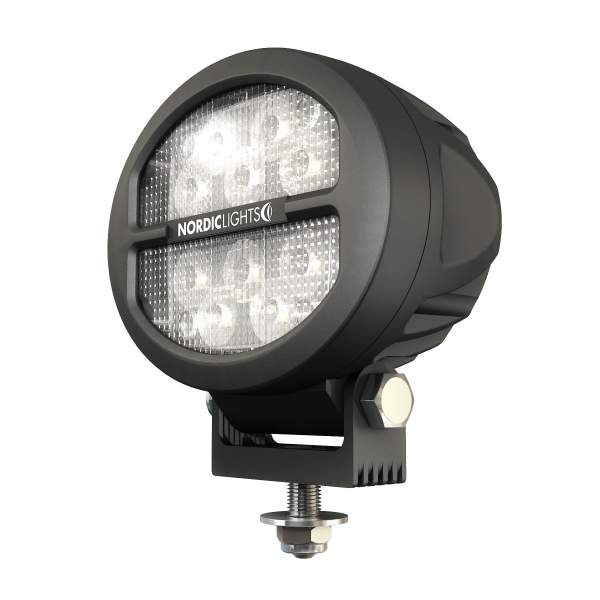 The Nordic ANTARES LED work lamp offers high durability with low maintenance. The lamp is made to withstand tough conditions. Operational up to 3,700 lumens.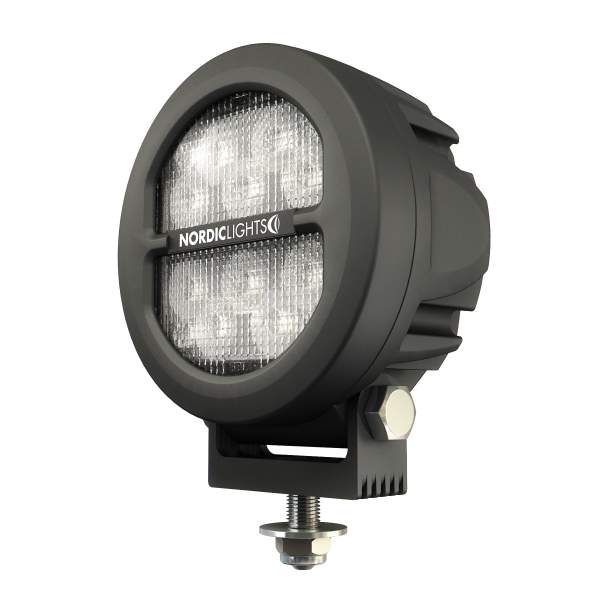 The Nordic VIRGO LED work lamp offers high durability with low maintenance. The lamp is made to withstand tough conditions. Operational up to 3,700 lumens.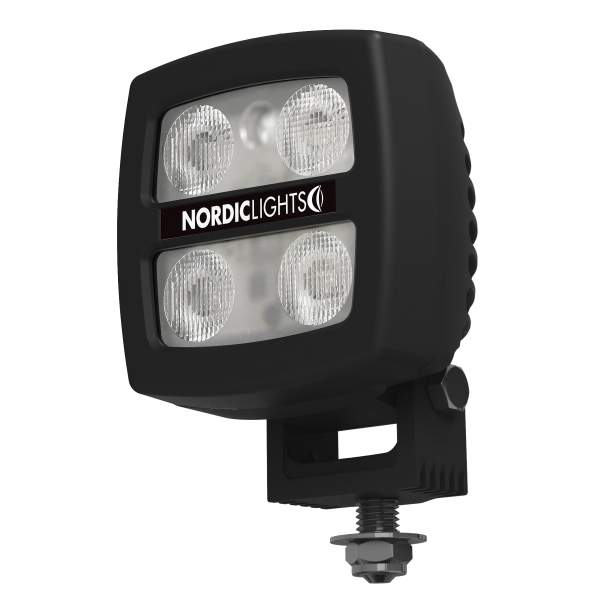 The Nordic SPICA LED work lamp offers a durable compact lighting solution. The lamp is available also with handle and switch and extensive multi voltage. Operational up to 750 lumens.
The Nordic CANIS LED work lamp offers an ultra compact and lightweight lighting solution. Suitable for applications needing to withstand the powers of nature. Operational up to 850 lumens.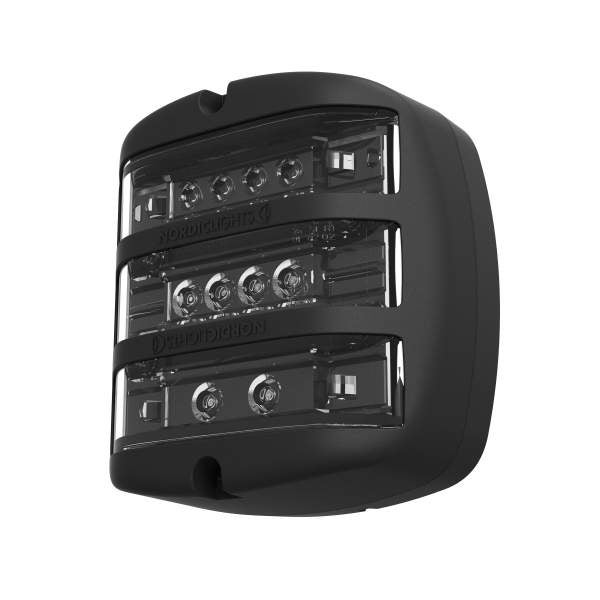 The Nordic DORADO LED tail light is designed for continuous heavy-duty applications on heavy-duty machines where incandescent tail lights will fail due to high vibration and shock.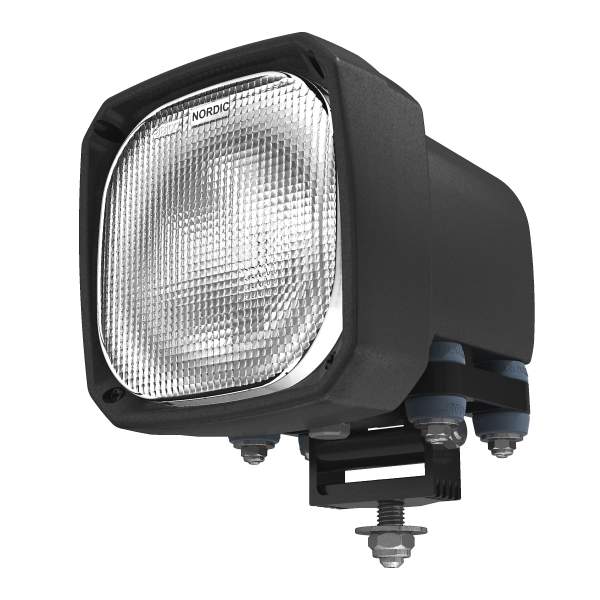 The Nordic N400 HID has been developed for use in harsh conditions. The N400 HID is highly resistant to shock and vibration. Booster version operational up to 3,500 lumens.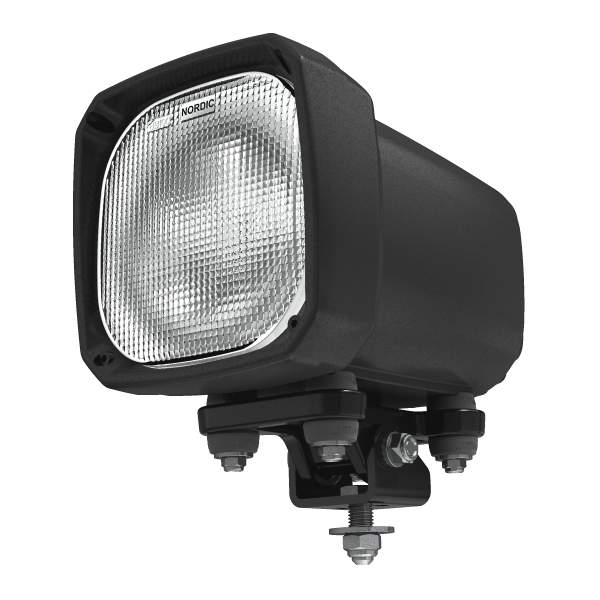 The Nordic N200 HID is a strong living legend among heavy-duty applications. Designed to withstand the rugged conditions of the mining industry. Operational up to 2,500 lumens.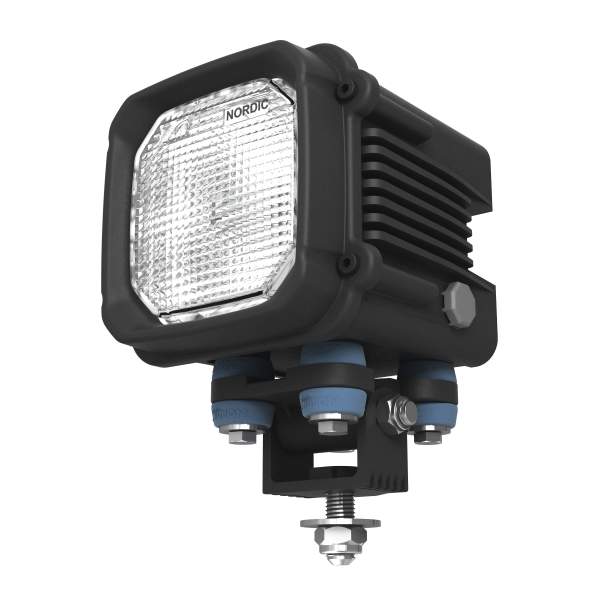 The Nordic N45 HID is a compact, heavy-duty lighting solution. The N45 HID is highly resistant to shock and vibration. Booster version operational up to 3,500 lumens.
Our products can be found on machines and vehicles within the mining, construction, forestry, agricultural, material handling and truck, trailer and emergency industries. We supply lighting solutions to many of the world´s leading manufacturers of heavy-duty machinery. We continuously improve our performance while minimising the environmental impact of our operations and our products. We utilise Six Sigma methodologies, are certified according to the ISO 9001 and ISO 14001 standards and are compliant with ISO/TS 16949.
Heavy-duty LED work lights for mines
The emergence of high-power LEDs (light emitting diodes) has made LED work lamps the new favourite on the market. The lifespan – up to 50,000 work hours – by far outlives any bulbs. LED lights are maintenance-free with low power consumption. There is also a size advantage, since the LED diodes are very small and the direction of the light emitted is easier to direct. High-power LEDs give a cool blue-white colour temperature to maximise light output. The LED technology is very suitable for Nordic Lights' heavy-duty work lights due to the high resistance to shock and vibration.
Heavy-duty HID / Xenon (high intensity discharge) work lamps
HID technology has been the most efficient in terms of lumens / watt light output, even if the LED technology is closing up. HID (high intensity discharge) commonly known as gas discharge (often referred to as Xenon – the chemical element), offers many technological advantages over conventional halogen lights – most notably, higher colour temperature, reduced heat and a considerably longer lifetime (on average ten times that of a standard halogen bulb).
The illumination of an HID light is considerably brighter and greater compared with a halogen light – in other words, twice the illumination of a 70W halogen for only half the power consumption. The light emitted is also very similar to daylight.
Heavy-duty halogen work lights for the mining industry
Nordic Lights halogen work lights use only high-quality heavy-duty bulbs supplied by one of the world's leading manufacturers. A standard halogen bulb has a lifetime of approximately 500 hours. Halogen or incandescent (heat-driven) light technology offers a much more affordable solution for your lighting needs.
With Nordic Lights' optics and patented dampening solutions you will get a richly durable, easily serviceable bulb, providing a lot of light for your money.
Tailored lighting solutions
Nordic Lights has years of experience in developing and manufacturing durable work lights. This has also produced a competent team of engineers that utilise their expertise in optics, electronics, material properties and dampening solutions. We work with the most up-to-date light simulation software in order to establish specific working environments and analyse the behaviour of light on different types of apparatus. Nordic Lights has its own modern extensive state-of-the-art light laboratory. All these resources provide our company with unique working conditions and opportunities to test and develop lights, not only to develop our own range of work lights and versions to meet customer requirements, these engineering capabilities also enable Nordic Lights to develop its unique customiaed lights, tailored for the specific needs and appliances required by each individual customer. By choosing us as your partner you will have a light built to last.
Increased efficiency
Choosing Nordic Lights as your supplier is the best alternative if you want to play it safe. We will help you boost your efficiency by the concept of our products. You have the opportunity of getting a light customised to suit your applications and working environments. With our engineering expertise we can create a unique light – just for you! The fact that R&D and manufacturing are located at the same plant enhances levels of efficiency in terms of communication and development. Nordic Lights implements just-in-time deliveries. In this way, you can feel safer when it comes to the deliveries and need to keep a smaller stock. The consistent level of quality ensures fewer stops in your production and fewer complaints / claims from your customers. If problems arise, we move swiftly. The durability of our lights also minimises any unscheduled maintenance of your equipment.
Different light patterns
Nordic Lights work lights come with different light patterns to match your specific lighting solution needs. Generally, our light patterns can be classified as follows: high beam, low beam, flood and wide flood.
A high beam light pattern is quite narrow, focusing straight ahead, producing a long-distance range of light.
A low beam light pattern is notably wider, still focusing straight ahead, producing a short-distance range of light.
A wide flood light pattern has a very wide spread of the light for lighting up the whole work area close to the application.
A flood light pattern has a wide spread of light for work close to the application.